The Loop
Fitness Friday: Does compression clothing make sense for golfers?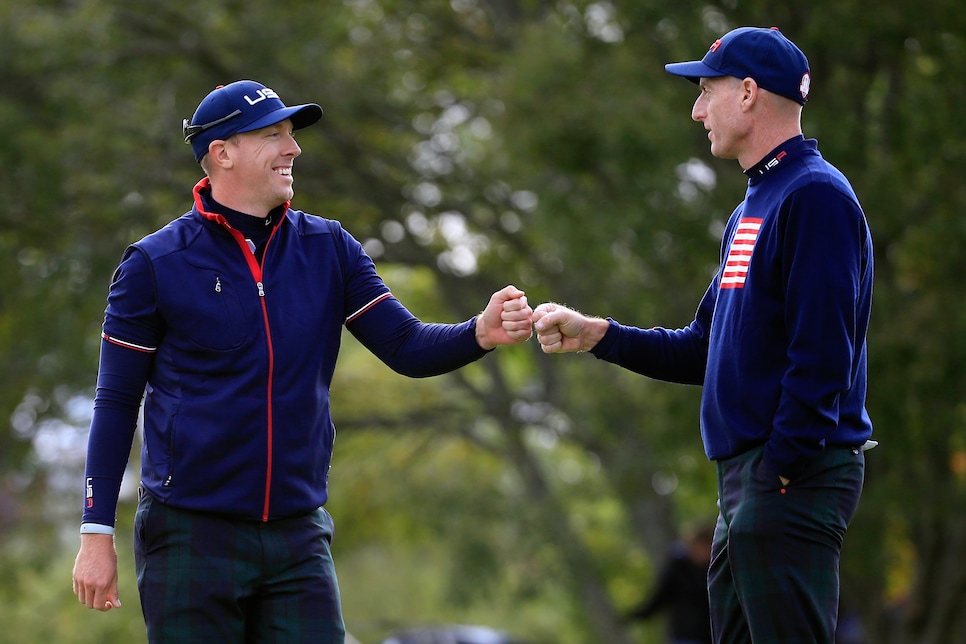 Compression clothing is among the fastest-growing athletic-gear genre. Whether it's shirts, shorts, leggings or sleeves for elbows or calves, there is a huge demand in skin-tight products that claims to improve performance, prevent injuries and aid in the recovery of soft-tissue damage. Persistence Market Research estimates that the compression-therapy industry will be valued at $3.2 billion by the end of the decade, growing at annual rate of 5 percent.
While many golfers have taken to wearing it, such as Hunter Mahan (left in the photo above) at the 2014 Ryder Cup, several studies examining the beneficial claims made of compression wear by manufacturers over the past 15 years have been inconclusive. If you're a golfer, here's what you need to know:
There is only anecdotal evidence that golfers will play better if they wear compression clothing. It could provide a psychological boost to golfers, but every independent study done that looked at benefits to athletic performance as a result of wearing the fitted items came up short in drawing a conclusion that it would help. There are many examples but to cite two: 1. An Indiana University study of distance runners who wore lower-leg compression sleeves in 2014 found, "they do not alter the energetics of running at submaximal speeds through changes in running mechanics or other means." 2. "So far there is little evidence to suggest that wearing compression garments during an event can improve performance," Dr. Mike Hamlin, an associate professor of exercise and sports science at New Zealand's Lincoln University told Time Magazine after conducting a study on rugby players in 2012.
That being said, if wearing a compression shirt makes you feel like your swing posture is improved or if an elbow sleeve allows you to swing with confidence despite reoccurring tendinitis, then by all means keep wearing it. Just don't be upset if your golf scores stay the same as they were when your shorts of choice had pleats in them.
Many studies have found that compression not only seems to accelerate recovery of soft-tissue injuries such as tendinitis, it reduces the severity of delayed onset muscle soreness (DOMS) after working out or spending a long day on the golf course. This is particularly good news if you have tendon/ligament issues around the joints such as the elbows, shoulders and knees. Compression clothing works on two levels when it comes to pain and injury. By increasing pressure on the skin, it prevents blood from pooling and increases circulation of blood and natural healing agents to injured areas. This helps relieve pain and speed recovery. This theory is still hotly debated, but the idea does seem to be supported by the widely accepted injury-rehab prescription known as RICE (rest, ice, compression and elevation).
Where compression clothing really shines is in recovery from muscle soreness. Many studies have concluded that including one in 2013 published in the Muscle, Ligaments and Tendons Journal that said that treadmill runners who wore compression clothing had 26.7 percent less total injury after exercise than those who did not. Another study, published in 2013 in the International Journal of Sports Physiology and Performance stated, "the benefits of compression clothing seem to be most pronounced when they are applied for recovery purposes 12 to 48 hours after significant amounts of muscle-damage-inducing exercise."
Golf Digest fitness advisor Ralph Simpson (@ralphsimpsonpt) adds, "in practical terms, if a golfer were doing conditioning exercises to such an extent as to cause muscle damage, and that damage was limited, he could golf sooner or do more conditioning if he wasn't suffering from DOMS."
Another Golf Digest fitness advisor, Dr. Ara Suppiah (@draraoncall), says he recommends it for many of his patients who are professional golfers. He advises to wear it post workout or post golf in the evenings. Wear it for a prolonged period (hours), but don't sleep with it on. "Compression helps reduce lactic acid and oxidative free radicals from tissue, especially the legs," he says.