News
Elin Nordegren, who reclaimed her maiden name when her divorce from Tiger Woods was finalized earlier this week, has never once agreed to an interview -- not before Woods' sex scandal broke nine months ago, and certainly not after. Until now.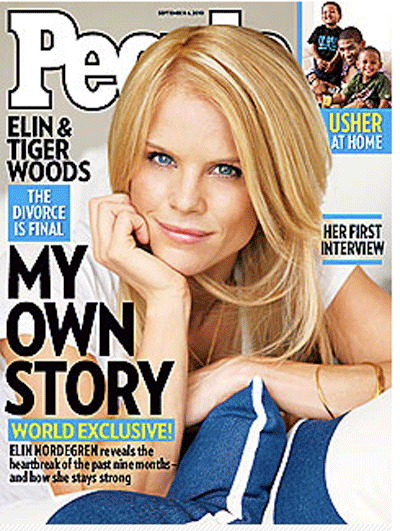 In a 12-page spread in People magazine, out this Friday, the famously private Swedish psychology student opens up about her life in a surprisingly candid way. It is, she says, the first and last time she will do so. "For my kids, I felt that [remaining private] was the only normalcy I could give them, since they have a very famous dad. But after everything that happened and everything that was written and speculated--what I did or didn't do--I felt like setting some things straight."
People writer Sandra Sobieraj Westfall, who was given 19 hours of access to Nordegren in her rented home in Orlando over the course of four days, confirmed in an interview on the Today Show this morning that Nordegren's people had reached out to the magazine, not the other way around. "She was interested in just once getting her side of the story out and maybe telling a little bit of who she was," said Sobieraj Westfall.
According to the article, Nordegren set careful ground rules for the interview, discussing Q&A questions in person but responding in writing to make sure she got her thoughts expressed correctly in English. The feature is chock-full of new images of the beautiful Swede shot at her home by famed photographer Nigel Parry, but Nordegren would not let her kids, three-year-old Sam and 19-month-old Charlie, be photographed. "I want to shelter them as much as I can," she says. She did, however, provide People with photographs from her wedding, her own childhood and fishing and scuba-diving trips she took with her ex-husband.
In the interview, Nordegren declines to go into details about the divorce settlement or specifics regarding last Thanksgiving, the night the scandal broke. The only thing she wants to make perfectly clear about that night is that she never tried to physically harm her husband: "The speculation that I would have used a golf club to hit him is truly ridiculous. Tiger left the house that night, and after a while when he didn't return, I got worried and decided to go look for him. That's when I found him in the car. I did everything I could to get him out of the locked car. To think anything else is absolutely wrong."
Among detailed revelations about her childhood and learning to live as a celebrity in the U.S., these are some of the other things that stand out in the article:
-Nordegren claims she had absolutely no idea her husband was having affairs. She describes her emotions following the revelations as "absolute shock and despair. I felt stupid as more things were revealed--how could I not have known anything? The word betrayal isn't strong enough. I felt embarrassed for having been so deceived. I felt betrayed by many people around me."
-She says her mother's December collapse in the Woods home and subsequent trip to the emergency room was due to a stomach bug and low blood pressure. Contrary to what media reported at the time, it was Nordegren herself who called 911, not her identical twin sister Josefin Lonnborg.
-Nordegren says she has "been through hell" and has been going through intensive therapy. She is also finishing her own bachelor's degree in psychology at Rollins College in Orlando and plans to start a career as a counselor for children from broken homes after she earns her master's degree.
-In the wake of the scandal, she claims the couple tried "for months and months" to repair the damage before she finally concluded that the marriage was beyond salvation. "If there is no trust between the parents, it's better for the children that the parents split up. I am now going to do my very best to show them that alone and happy is better than being in a relationship where there is no trust."
-She and the kids have a new home in Sweden but will continue to spend the majority of their time in the U.S., and will move from Orlando to southern Florida within the year to be close to Woods once he occupies his new compound on Jupiter Island. She's excited to find her own place: "I have visions of a great pool with slides. A house you really live in--modern but cozy--and where all the kids want to play."
-When asked if she has forgiven--or will ever be able to forgive--Woods, she says "Forgiveness takes time. It is the last step in the grieving process. I am going to be completely honest and tell you that I am working on it. I wish him all the best in the future, as a person and as an athlete. I feel privileged to have witnessed part of his golfing career."
Still, Nordegren also confesses that since the scandal broke, she has "not watched one minute of golf."