News
Final Say: Youth Versus Experience? Seems 2011 Favored The Former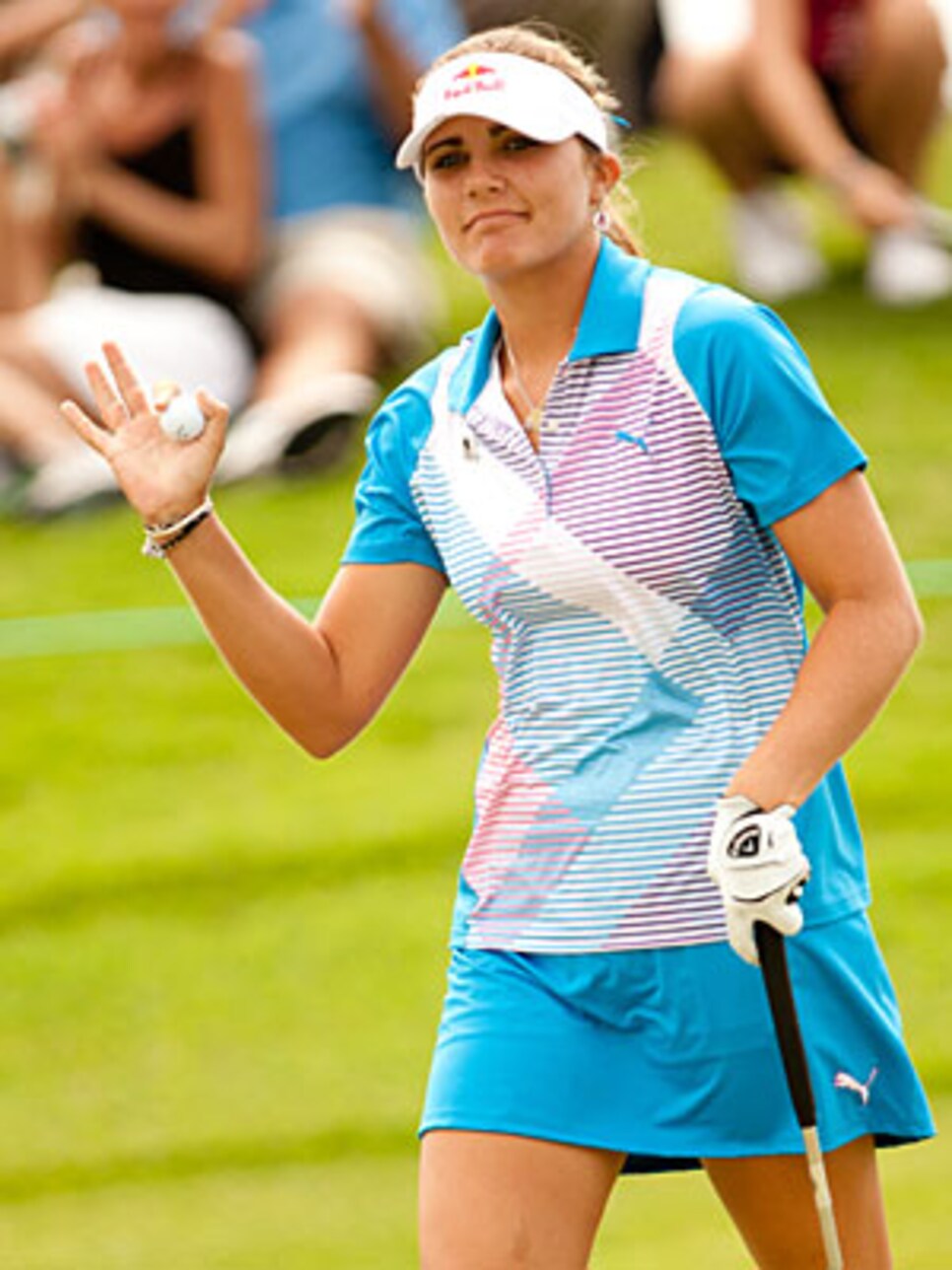 Lexi Thompson, 16, became the youngest LPGA winner ever in 2011.
In September, a young woman had lost a name and won a tournament. The tall, strong 16-year-old wasn't Alexis Thompson anymore, she was simply Lexi. Oh, her surname still came along for the ride--and what a ride it was, from a historic victory at the Navistar LPGA Classic in Alabama to a wide-eyed victory tour in New York City--but she really didn't need it.
Her golf, developing like a beautiful orchid for a decade, had seen to that.
To put Thompson's maiden LPGA triumph, one of golf's signature moments in 2011, into perspective, it is necessary to invoke Bob Beamon, the long jumper who shattered the world record by nearly two feet in the 1968 Olympics. Staying out of the sand, Lexi became, at 16 years, seven months and eight days, the youngest multi-round LPGA winner by more than two years, displacing Paula Creamer, who was 18 years, nine months and 17 days old when she won the 2005 Sybase Classic.
As Tom Watson and Hale Irwin showed during this past year, golf can be played beautifully by players in their 60s. Darren Clarke, north of 40 and with some hard miles on his personal odometer, was peerless at the British Open. Juli Inkster played on her ninth Solheim Cup team at 51, her putting diminished but her drive as perky as someone in the Red Bull generation.
Experience is always going to count, and crow's feet are going to keep reflecting off important trophies. Yet there is a sense, because of what Thompson and a cadre of other young players achieved, that 2011 was the year when competitive golf began to skew inexorably toward the young. And major-championship success by 22-year-olds Yani Tseng, who won her fourth and fifth, and Rory McIlroy, who won his first, was only the beginning.
There was Italian Matteo Manassero, proving his record European Tour victory at age 17 in 2010 was no fluke by winning again this season. Twenty-year-old Ryo Ishikawa of Japan continued to be a mainstay and was a solid performer on the International Presidents Cup team. Tom Lewis, a 20-year-old English amateur, shared the first-round lead at the British Open, then, in his third tournament as a pro, birdied five of the last seven holes to win the Portugal Masters. American amateur Patrick Cantlay also showed he wasn't afraid to go low at the Travelers Championship, the 19-year-old shooting a second-round 60.
All the youthful excellence was fitting, too, because this was the largely overlooked centennial of the 1911 U.S. Open victory by Johnny McDermott, who at 19 years, 10 months and 14 days is still the event's youngest winner. But much has changed in the century--or more to the point, the last quarter of it--since McDermott became the first American-born U.S. Open champion.
Lighter, more forgiving and age-appropriate equipment allows juniors to groove repeatable swings earlier in life. The best instructors aren't video-centric, but technology takes a lot of the guesswork out of solving flaws before they become ingrained. Home-schooling, which is how Thompson is getting her education, is popular because days can be scheduled to maximize time for golf. "It is never a chore or a duty," Lexi said this fall. "I just love going out and practicing."
More parents in other parts of the world are following the lead of the culture in South Korea, where many teens are allowed to fully immerse themselves in golf at the expense of their education. Lewis, who didn't like and wasn't good at school, dropped out at 16 with his parents' blessing to concentrate on the sport he loved and wanted to make his life. One can debate whether it was good for the boy, but it is hard to argue that it wasn't good for his golf.
Moreover, extensive tournament opportunities for the best up-and-comers produce golfers who are much more calm, cool and collected--as a rule--than young players in previous generations. Thompson's T-10 in the 2010 U.S. Women's Open came in her fourth appearance in the championship. Despite shooting the PGA Tour's low round of the year and finishing in the top 25 in four tour events, the taciturn Cantlay acted as if he had been there and done that--even though he hadn't. The fact is, golfers of his ilk are amateurs in asterisk only.
Beamon's long-jump record lasted for 23 years, but if golf's trend continues, Thompson's remarkable feat won't endure nearly so long.