The Loop
Fifteen years removed from his most dominant summer, Tiger Woods' staggering decline was on full display at Chambers Bay
UNIVERSITY PLACE, Wash. -- Once, 15 summers ago, Tiger Woods won the U.S. Open by 15 shots. How many centuries ago that must feel to him, a man now 39 years old. It must feel as if someone else did it in what was once his body. Once the lord of all he surveyed, Woods now is forlorn. Once triumphant, winner of 14 majors. Now, defeated.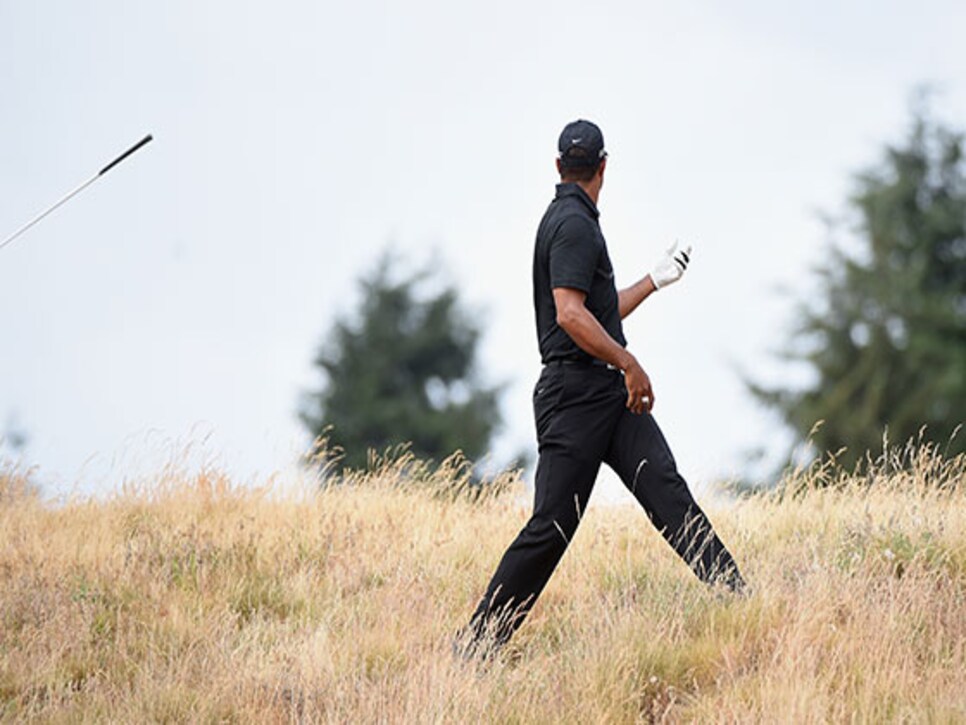 As if seven bogeys without a birdie in the first 13 holes of this U.S. Open was not torture enough, Woods sent three shots into bunkers on the 14th and three-putted for a triple-bogey 7 that left him 10 over par and on the way to an 80, his worst Open round since a 77 as an amateur in 1996.
He could not put a drive in a fairway. He made no putt outside the leather. His body language, for so long a swagger, spoke of despair bred by confusion. At the eighth hole, gouging a recovery from ankle-high grass, he lost his grip on the club, watched it fly away, and had to retrieve it from behind him in the twisted foliage of a sand dune. At the par-5 18th, he cold-topped a 3-wood second about 100 yards into a head-high pot bunker called "Chambers Basement." Yikes.
Say this, though. Woods played on. Damnable faint praise for a player who once may have been the best ever, but faint praise is due, for he finally made a birdie at the 16th, tapping in a two-foot putt. In thanks for kind applause from a tiny gallery on the far edge of Chambers Bay, Woods touched the bill of his cap. And played on.
At the 18th, finally done and spared further humiliation, Woods shared weren't-we-all-terrible chuckles and smiles with playing partners Rickie Fowler, who had an 81, and Louis Oosthuizen, a 77. Then he stood for a couple minutes with the media, cool, composed, saying, "I'm not very happy," and then adding, as he has done a hundred times in these hard times, that it's just a matter of playing more, that his back surgery of 2014 was more critical and slower to heal than his knee surgeries of years before, that he was "trying as hard as I can."
He even gave us a laugh line. "The bright side," he said, "is that I kicked Rickie's butt."