The Loop
Fields: Love captaincy a fitting milestone
Becoming a Ryder Cup captain certainly doesn't signal that a golfer's playing career is over, because owing to better fitness, equipment and the Champions Tour it's been a long time since fortysomethings were put out to golf pasture, but the occasion remains a milestone.
I started covering golf full-time in 1984, and after only a couple of months on the job saw Love, then a 20-year-old student at North Carolina, play for the first time. It was a sunny May day at the North and South Amateur on Pinehurst No. 2 course, and Love's talent was as stunning as the weather.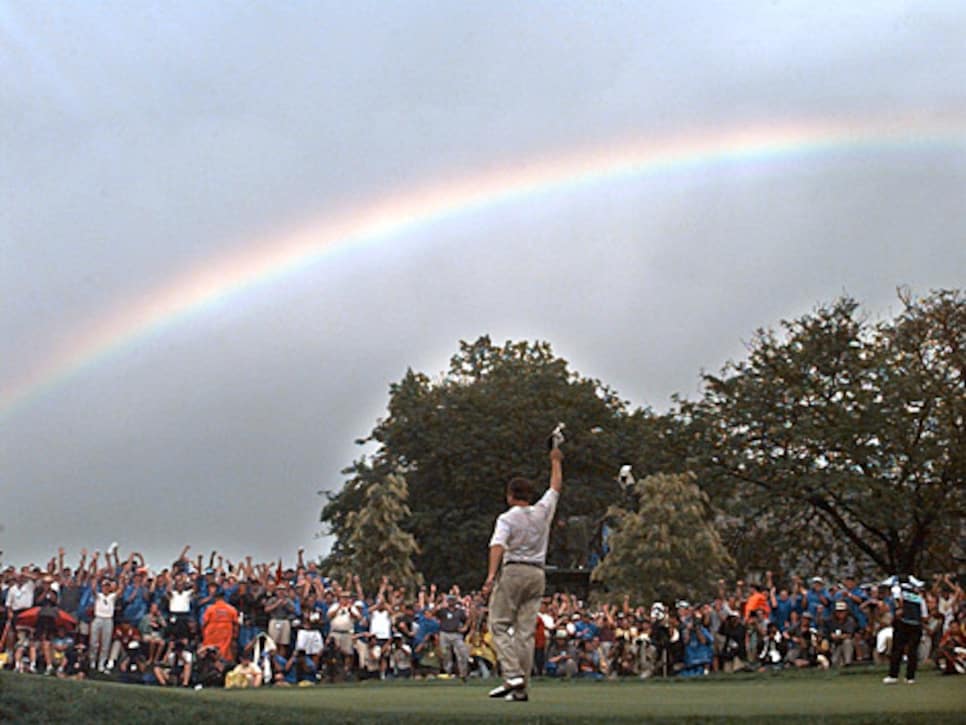 Love's memorable win in the 1997 PGA at Winged Foot was his only major championship. (Photo by AP Images)*
He had an all-around game, but his power was what you noticed first. Defeating Tar Heel teammate John Inman in the 36-hole final, Love routinely outdrove Inman by 40 or 50 yards. I went to a bound volume to check my memory, and I was right. He drove it over the  547-yard par-5 fourth hole with a 7-iron, and he reached the 578-yard par-5 10th hole with a 1-iron. This was with a steel-shafted driver with probably a 160 cc-sized persimmon clubhead and a balata-covered ball with rubber bands on the inside. Tiger Woods' early long-and-straight driving is the only thing I've seen since that rivals what Love could do in those days. It was something to behold.
As most players do, Love throttled back as he got older, but he never got short. If his putting had matched his power, the 20 PGA Tour victories he owns -- only 32 men have won more tournaments -- might be double that total. Everybody remembers the lone major title Love has to his credit, his rainbow-accented victory in the PGA Championship at Winged Foot in 1997, but for those of us who have followed his career closely, it is hard not to think of a couple of other big ones that got away.
I go back to the 1996 U.S. Open at Oakland Hills, where Love finished one stroke behind Steve Jones after bogeying the 17th and 18th holes of the final round - the latter when he missed a nervous three-footer for par. I followed him every hole that Sunday, and while I was rooting for the story I was rooting for him, too, because in addition to being one of the most talented golfers of his time, he is one of the most decent, with the core of a gentleman that will serve him well as leader of the American team. It is a team that he might be playing on as well as captaining. At his introductory news conference, Love didn't rule out playing for the U.S. If he qualifies. If that were to happen, Love, who was T-9 last week at the Sony Open, would be the first playing captain since Arnold Palmer in 1963.
He is no stranger to the Ryder Cup, having been a member of six American sides and playing 26 matches. He showed he knows how to close in the very first one, in 1993, when, after battling his putter most of the final day against Costantino Rocca, he made a six-footer on the 18th hole to win and assure victory for the U.S., its last triumph in Europe.
Love is one of those fellows whose facial expression sometimes connotes he is not enjoying himself, when in fact he is. But rest assured one of golf's good guys is going to have a good time -- and do a good job -- as captain. Congratulations, Davis.