The Loop
Fields: Jay Don Blake's resurgent second act
SAN FRANCISCO -- It was an afternoon of fake mustaches and real drama Sunday at the Charles Schwab Cup Championship.
The get-ups were courtesy of Jay Don Blake's family and friends in the gallery, who put some levity into the situation at TPC Harding Park by imitating his longtime look. With the good-luck charms doing their job -- Blake entered the final round with a two-stroke lead and kept a working margin most of the day en route to his second win of 2011 -- it was up to the season-long Schwab points race to inject some suspense into the proceedings.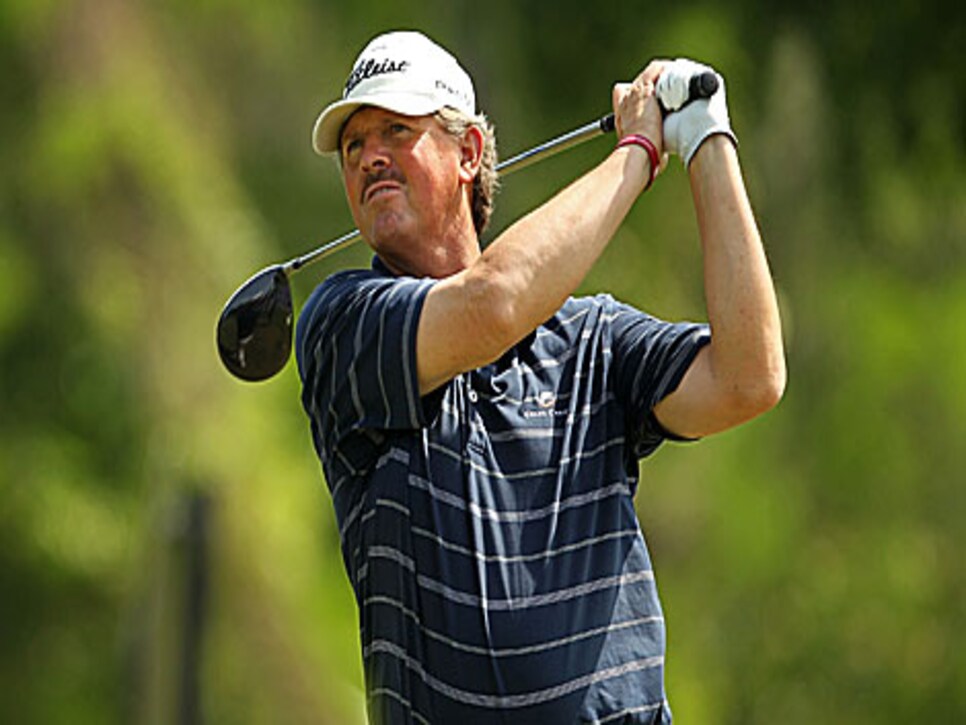 Photo by Mike Ehrmann/Getty Images
The permutations about such competitions can be tedious supplements to the main show at golf tournaments, but as the last day of the Champions Tour season came to a close, most everyone (sort of) knew the possible scenarios.
Since Tom Lehman had a so-so week at Harding Park (T-18), Mark Calcavecchia had a good chance to bridge the 382-point gap and overtake Lehman for the $1 million annuity. While Lehman waited in the clubhouse, Calcavecchia needed to finish in no worse than a two-way tie for second place to beat Lehman, who had topped the points almost all year.
"Yeah, he knew because he said every par putt he had on the last few holes he was shaking," said Brenda Calcavecchia, Mark's wife and caddie. "We thought a birdie for sure on 18 would have done it."
In fact, a birdie on 18 would have done it. But Calcavecchia, between 9-iron and pitching wedge from 134 yards, took the longer club and made a tentative swing. His approach, affected by the wind, finished in the right fringe, 35 feet from the flagstick. "If I had to do it again, I'd hit a hard wedge and take my chances," Calcavecchia said. "I probably would have hit a better shot, let's put it that way."
Calcavecchia's par put him at six-under 278. At that point the outcome wasn't in Lehman's or Calcavecchia's hands. Loren Roberts, in the next pairing, believed he could guarantee Lehman, one of his best friends for three decades, the points title by parring No. 18 and joining Calcavecchia in second place.
"I thought if anybody tied Calc for second that would do it for Tom," said Roberts, whose approach at 18 finished 35 feet behind the hole. "I wanted to lag it down there for a tap-in, and I left it three feet short. I knew it would help Tom. I knocked it right in the middle, but I was worried over it, for Tommy."
It wasn't Roberts, but Michael Allen who sealed the outcome a few minutes later, getting up-and-down for his par on 18 to make it at least a three-way tie for second, the math breaking toward Lehman instead of Calcavecchia. Jay Haas also saved par later on the 18th to share runner-up honors, two behind Blake, but Allen had been the actual kingmaker.
"I didn't know, but I kind of thought it might help [Lehman]," said Allen, who, like Lehman, lives in Scottsdale. "I'm glad I could help. Maybe he'll fly me home."
"On Southwest, if he's at the airport at 9:15 I'll give him a ride," joked Lehman, who praised Calcavecchia's run and closing pars by the other runners-up.
"Looked like Calc had a great chance of doing it here, of taking it all in one fell swoop at the end," Lehman said. "I'm really, really impressed with the way he played and the way he battled. At the end, it worked out in my favor. We were waiting with our fingers crossed -- like a Ryder Cup where halves are good -- looking for guys to make a par on 18."
Blake, too, scrambled for a par at the 18th, but a bogey would have been good enough. At 53, the resident of St. George, Utah, had his second win in five starts -- having broken through with his first victory in 20 years at the Songdo IBD Championship in South Korea two months ago -- and further laurels on a tour on which he wasn't fully exempt when he joined it.
"He got that confidence in Korea," said Roberts. "He played great over there and outlasted everybody in a four-man playoff. I don't care how old you are, how young you are, what tour you're playing, if if can do something that gives you a little shot of confidence that makes you feel like you belong, it's amazing what it does for you."
The journeys of both men who walked away with their respective trophies Sunday hinged on what happened 20 years ago. For Lehman, that was the year he was Player of the Year on the Hogan Tour, where at 31 he found his game and earned his way onto the PGA Tour. For Blake, it was the season in which after winning in San Diego he returned to action much too soon after an appendectomy, injuring his pelvic muscles and triggering chronic back issues that plagued him for years and eventually forced him off the PGA Tour.
"As the years went on, I started having worse and worse pain, then I started altering my golf swing to not have as much pain and my swing changed," Blake said. "Being stubborn, you just keep plugging along. I felt I could play through the pain. I learned that was a mistake -- I shouldn't have done that."
The golfer who closed out the victory at Harding Park was more like the one who won the 1980 NCAA individual championship at Ohio State's Scarlet course. "He birdied the 18th hole at Ohio State four times the final day," recalled Lehman, who was grouped with Blake that week. "We had to finish the third round in the morning, and he birdied 18. Then he had to birdie 18 to get into a playoff. Then, on the first playoff hole, he and Hal Sutton both birdied 18. And Jay Don birdied it again to win. He could really roll his rock. Think about all the great putters you have ever seen, there was a time when he was as good as any of them."
And as Blake as proved in his resurgent second act, he's still not too shabby.
Follow on Twitter: [@BillFields1
](http://twitter.com/BillFields1)