The Loop
The Open's charms never get old
SANDWICH, England -- Around noon on Wednesday, a gray, gusty day at Royal St. George's, a little girl left her father and her brother for a few moments and hiked the many steps up to the top row of the almost empty grandstand left of the 18th green. With an ice cream cone in hand and a smile on her face, she took it all in -- the khaki-colored linksland, people going this way and that, tall camera hoists poking up toward the sky resembling toys for a giant.
Being a kid, she probably savored the ice cream more than the view, but she'll remember the experience of being at the British Open. Go once, and you never forget it. Return often, and you treasure it, except, perhaps, those days of sideways rain with a wind-chill chaser.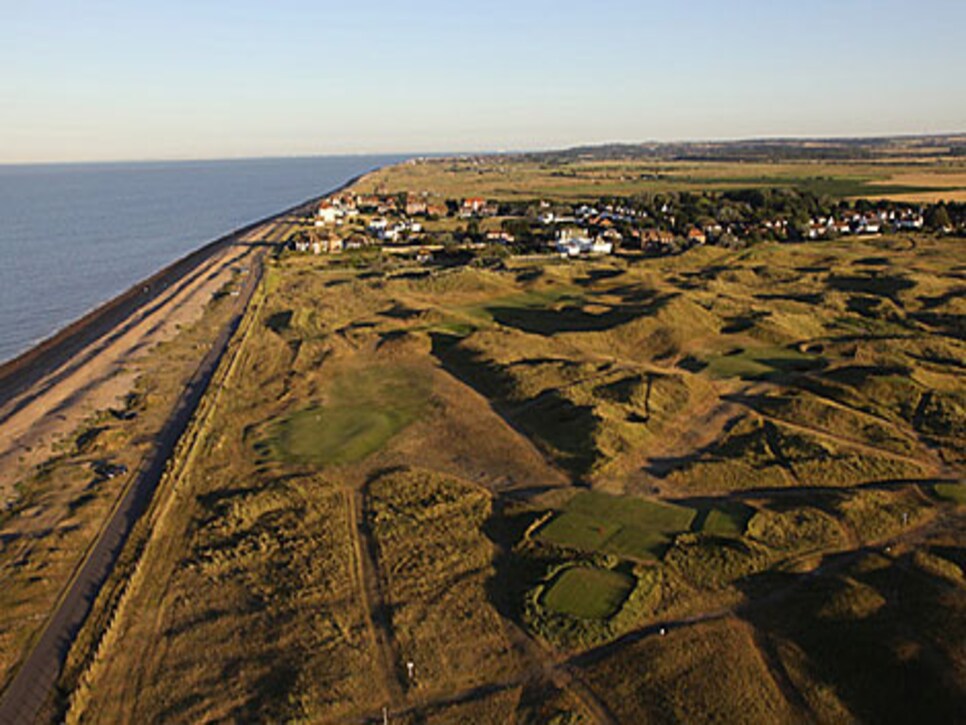 No doubt the scene is more exotic for an American visitor than a local. I remember the first time I came to Great Britain, for the 1988 Open at Royal Lytham & St. Annes. I stayed at an underwhelming B&B in Blackpool, not far from the water. When I walked outside after my first night's sleep, the wind was blowing as hard as I had ever seen. While I paused on the sidewalk, an elderly couple followed me out of the hotel. "Ah, there's a wee breeze today," the gentleman observed.
One man's gale is another man's zephyr, but I can hear that fellow's accent, and his description of that wind all these years later, after having felt wee breezes at St. Andrews in 1995, Royal Troon in 1997 and Royal Birkdale in 2008. If the quirky substantial northwest wind that blew at Royal St. George's the last two days keeps up for the championship, we could see drivers going over the green on the 426-yard 17th and coming up short on the 243-yard 11th.
Despite golf's vast evolution since the origin of the Open in 1860 and that today's sticks and balls aren't anything like what was used then, there is something magical about the fact that someone will win this week on the same turf where J.H. Taylor did in 1894, when the Open was contested outside of Scotland for the first time. Royal St. George's is where Harry Vardon and Walter Hagen each won two Opens. That's golf royalty, British and American style.
For all that has changed since then, think of everything that hasn't.
The current claret jug "the champion golfer of the year" will receive Sunday evening at Royal St. George's is one that was first awarded to Hagen at Sandwich in 1928. The wind will hurt and it will help, bounces will aid and annoy, putters will be used from well off the green because it's the right thing to do.
Unlike Taylor, Vardon and Hagen, competitors won't have to aim at a cloud - not that it's easy on the rumpled, treeless terrain. "When you play the Open, sometimes you don't even see the fairway," said 2010 PGA champion Martin Kaymer. "You just see rough and bunkers and the landscaping in the background. You need to be very precise with targets. You take it to the right of the TV tower or the left of the grandstands. You have to think a lot, have to concentrate more and focus more. And you have to be like this on every single shot, even the lay-ups."
The rap on Royal St. George's is that it can be inordinately fickle, even on the links scale, that well-struck shots can turn sour because so many of the fairways heave randomly, like Vermont roads after a rough winter. Bad things can happen to good shots in a way that doesn't often happen in America or elsewhere on parkland courses.
Links golf can be an acquired taste -- it even took Tom Watson, a five-time Open champion, a while to learn to love it -- but whoever is smiling broadly Sunday night will be someone who isn't complaining Thursday morning. It sounds like Nick Watney, the young American who flights the ball low, has the right attitude.
"I hit some shots in the practice round that I thought were good that ended up in a bunker or in the rough," Watney said Wednesday. "And I hit some shots that I thought would be really bad and the lie was fine and I was able to get the ball up near the green. I think it'll even out this week. The winner obviously will probably get more good breaks than he does bad, but that happens every tournament. I think it's just the way golf is as a game. It may be a little more clear at a golf course like this."
Having a large time in a wee breeze, on a course that can bite hard, isn't easy, but it's not impossible. "The good thing about the British Open," said Kaymer, "is that you don't have to play, let's say, 'beautiful golf.' You have to score well."
At ground level, though, it helps to see some beauty in the antique land and be intent on solving it. The Open is golf's oldest puzzle, still beguiling after all these years.