Women's Golf Style
Our 14 favorite pleated golf skirts that will elevate any golf wardrobe
*All products featured on Golf Digest are independently selected by our editors. However, when you buy something through our retail links, we may earn an affiliate commission.*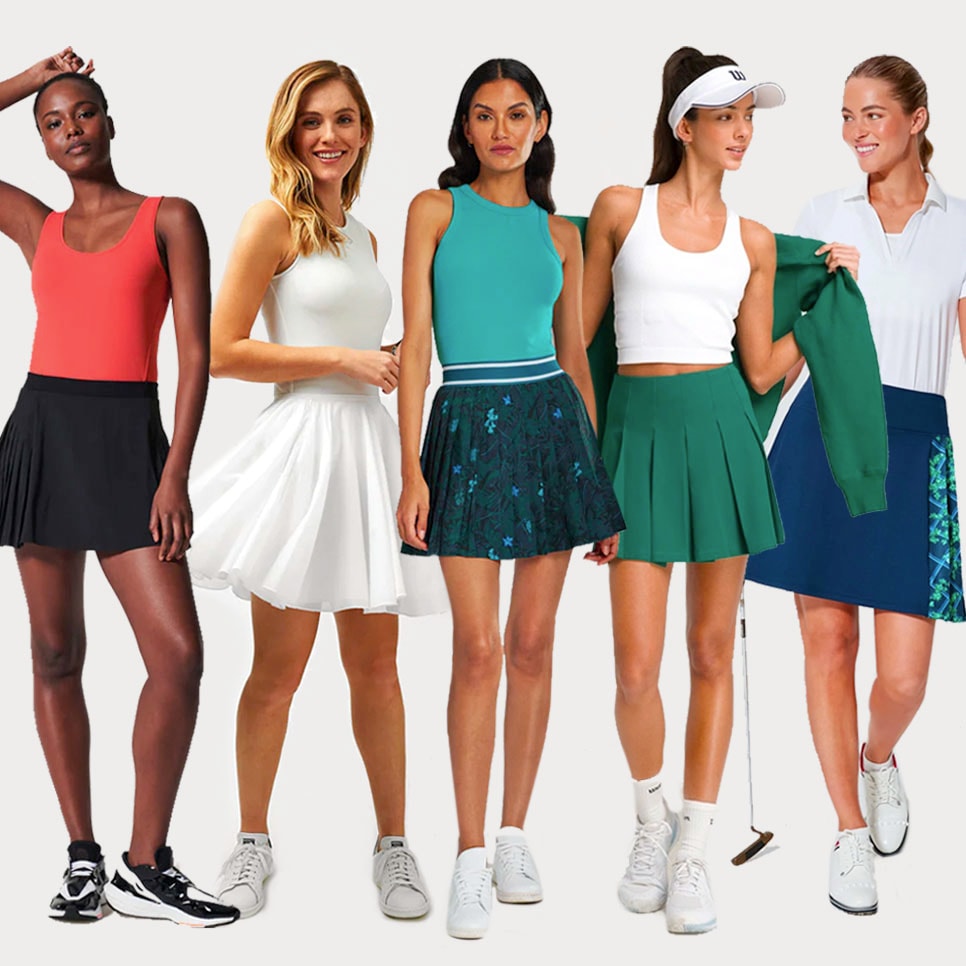 We've got pleat-ridden skirts designed for performance on the course in all lengths and styles, ranging from the collegiate to the airy. While, from a distance, all of these skirts make for stylish, breezy summer staples, if you look closely each has extra detailing specified for golf. Sometimes that means hidden tee holders, no-fuss built-in shorts, or lightweight, moisture-wicking material for more comfortable, flexible play. The beauty of the pleated skirt lies in its structure: the extra fabric gives a textured design that looks fabulous with any athletic tank top, polo, or sweater, and it also swings and moves with your body, making for a freeing, flirty, on-course vibe. And whatsmore, each of these skirts was chosen with the greens and the post-round festivities in mind, which means they'll look fresh and gorgeous no matter how long you've been playing in them.
Editor's Note: Always be sure to check for any dress codes or requirements when headed to a new course and try on new skirts to make sure the length is appropriate and aligns with your comfort level and coverage needs. Some of these skirts blur the lines between golf, tennis and fashion, so hemlines may be shorter than traditional golf skirts.
Spanx Women's Yes, Pleats! Skort, 14"
We love this performance skirt for its versatility; the built-in shorts are moisture-wicking, quick-drying, and structured with a pocket to slide your phone into. The gray-white colorway creates a polished look, while the asymmetrical, wavy pleated skirt design adds extra whimsy and would look great with any monochrome athletic top in your wardrobe.
More from Spanx
More from Wilson
More from Lily Pulitzer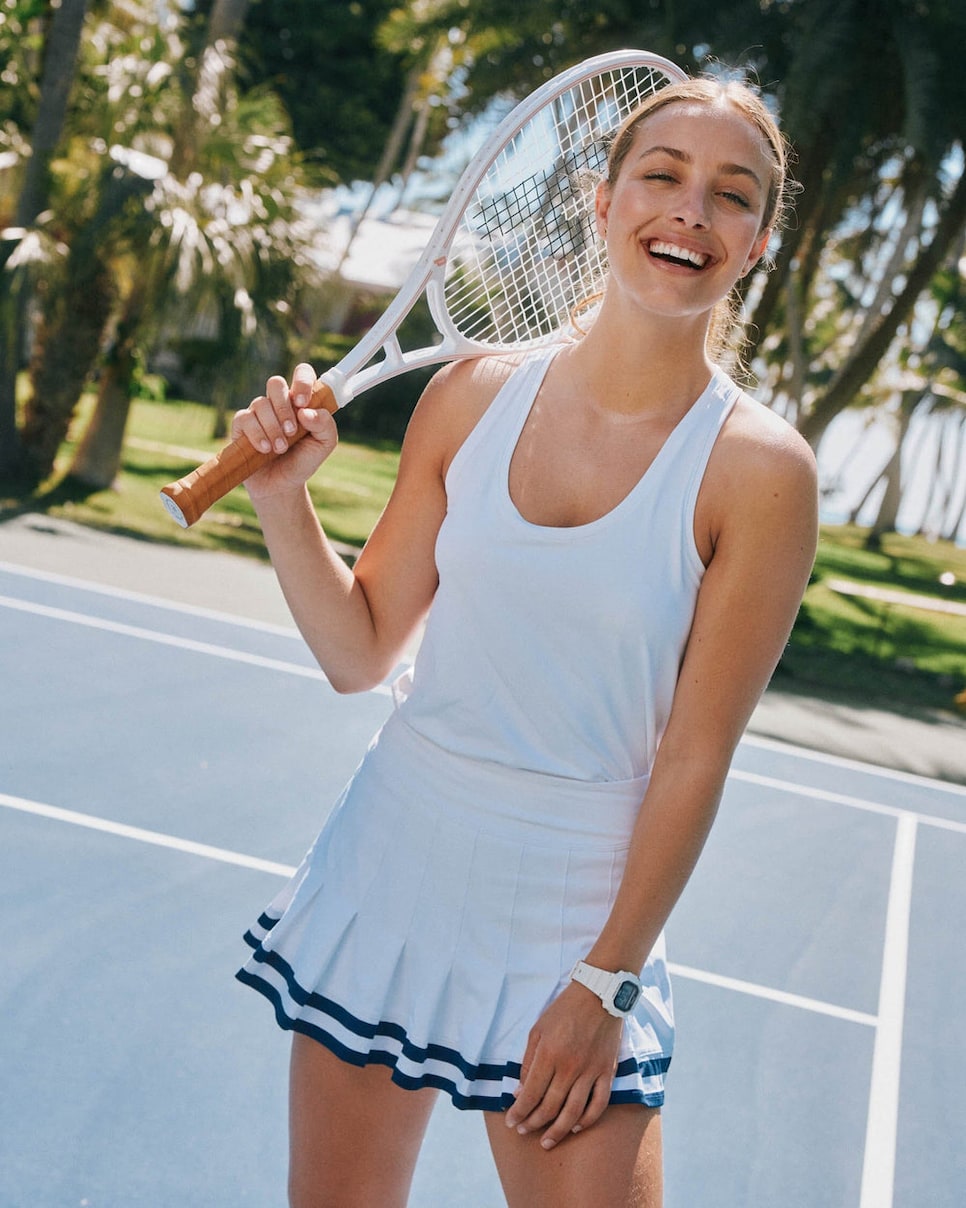 Southern Tide Women's Gwen Pleated Performance Skort
And speaking of sporty stripes, this color-blocked navy skort evokes the timelessness of marine style. Sealing the deal is a reflective skipjack tuna decal Southern Tide is known for. We also love the gripper elastic on the interior shorts, and nylon spandex fabrication for breathable stretch designed to last several seasons.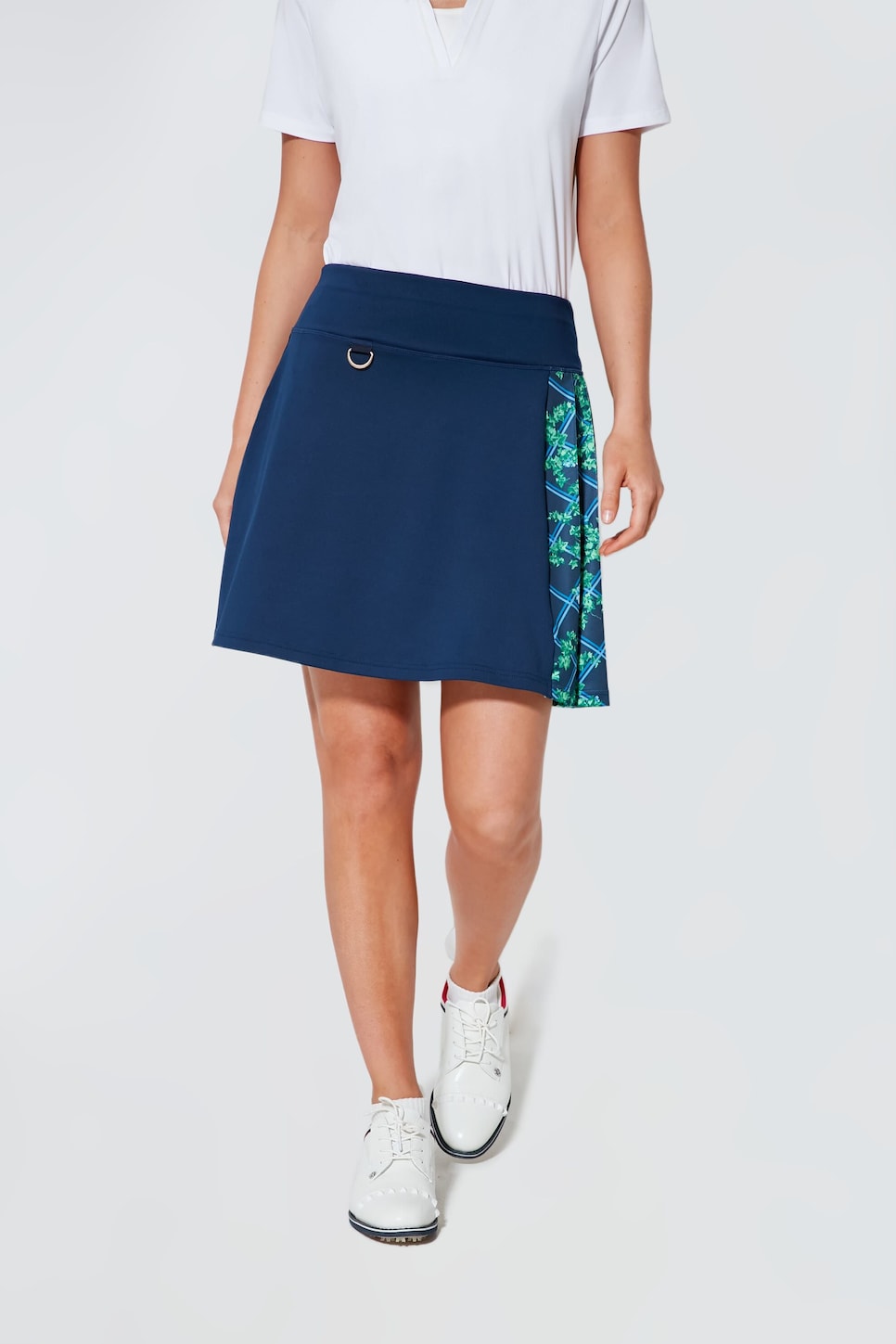 Tuckernuck Women's Navy English Ivy 17 Inch Pleated Golf Skirt
This whimsical skirt is a little secret garden, a little British prep; the elegant navy canvas is animated by a printed ivy vertical design running along the side like a racer stripe. It's flattering, has a longer hem for more coverage and the clever color-blocked side panel design accentuates the on-trend technical pleats.
More from Tuckernuck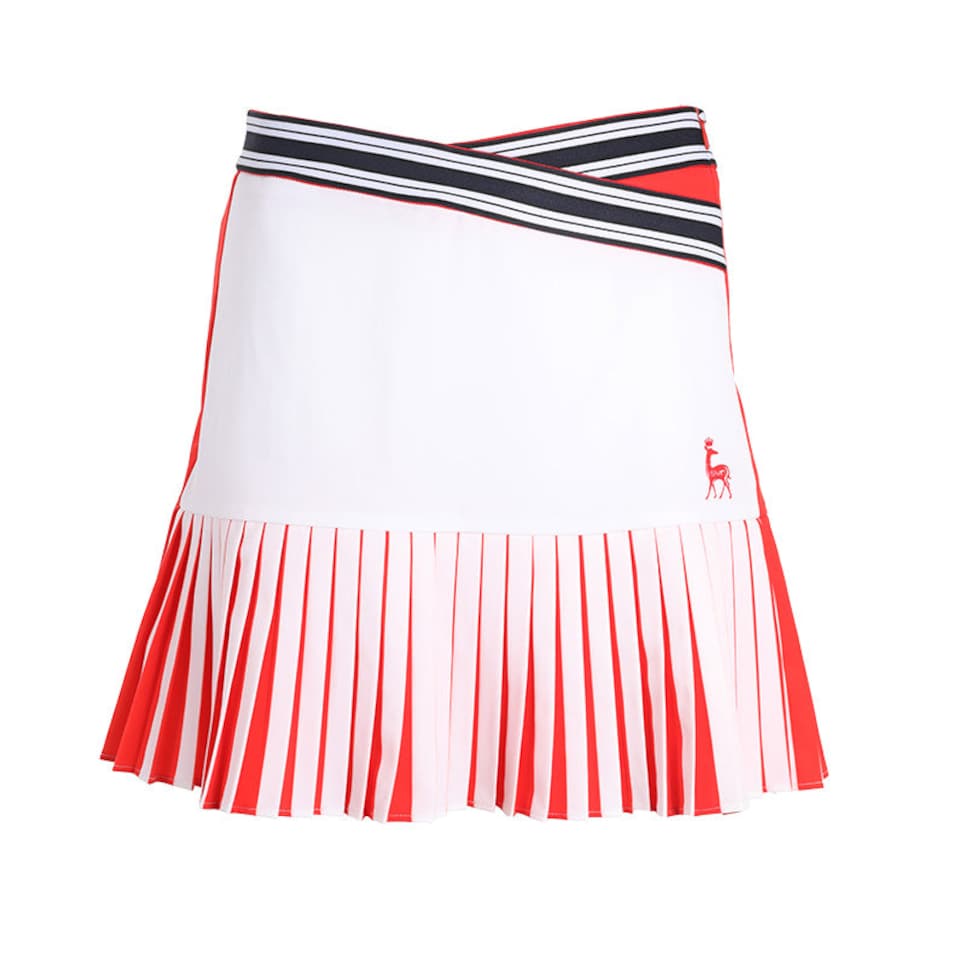 SVG Golf Women's Wrap Pleated Skirt
For a slightly more haute couture upgrade, this snazzy option, though hitting well above the knees, has a lot going on thanks to the two-toned pleating design and asymmetrical, slightly wrap-style accent ribbing along the waistline.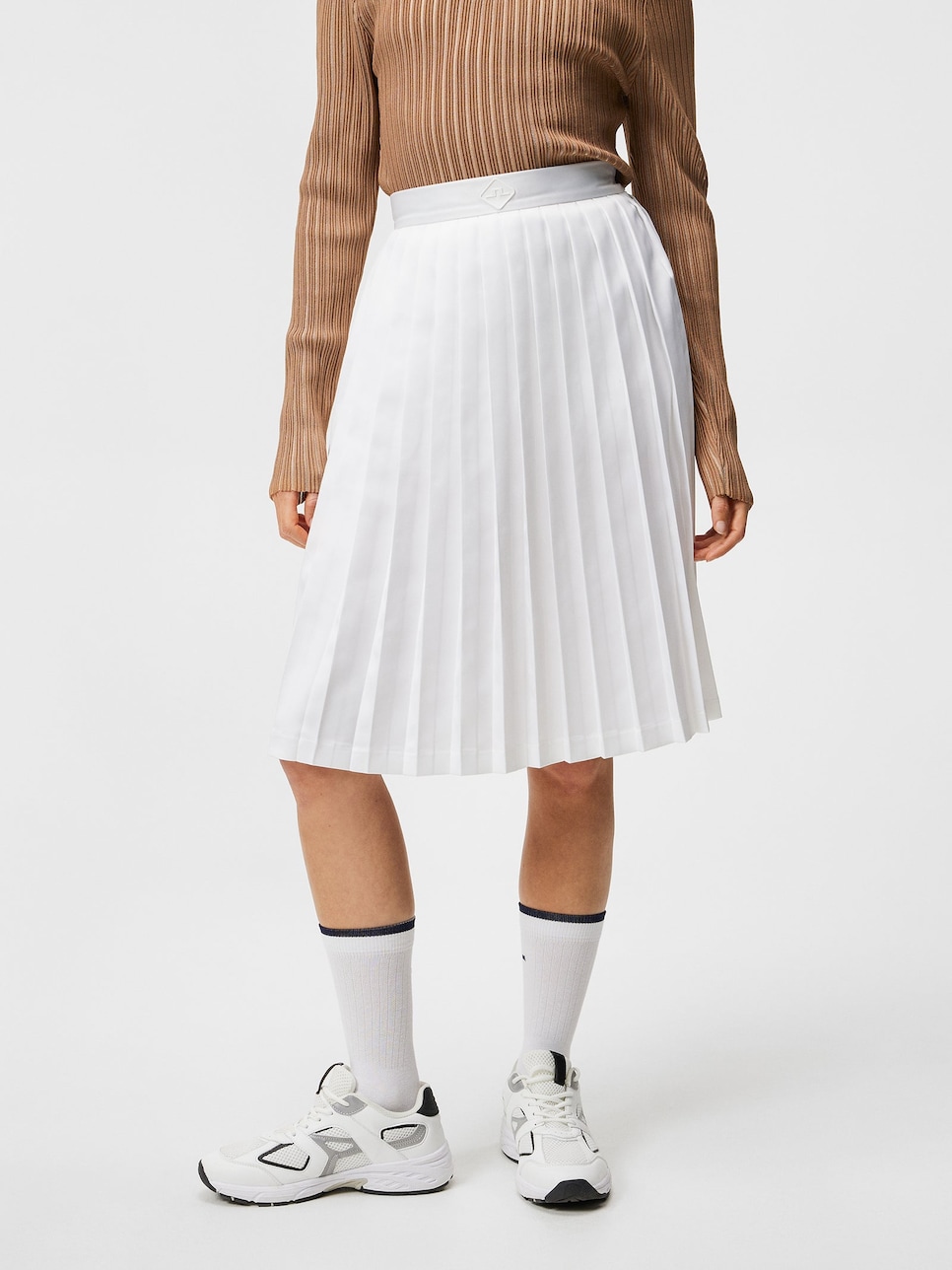 J.Lindberg Women's Dorothea Pleated Skirt
Last but not least, here is an elegant, stylish performance skirt that's cut to a mid-length, making it perfect for those cooler days when you need a bit extra protection, or for the taller ladies out there who want a skirt that looks absolutely made-for-them. A zipped pocket, attached undershorts, and the lily-white hue make this a versatile, activity-proof look. 
More to consider