The Loop
Far from spectacular, Woods salvages start
CHARLOTTE, N.C. -- At one point on a sweltering hot North Carolina day, the electronic scoreboards posted a warning: Due to extraordinarily dry conditions extinguishing cigarettes/cigars in pine straw beds may result in fire.
The only thing Tiger Woods extinguished in a pine straw bed was his second shot on the ninth at Quail Hollow Club. After driving it into the trees on the right, Woods tried to hit a low punch underneath the limbs of two small trees. It slammed into the pine straw, lost all its speed and tumbled forward a few feet, resulting in a bogey and a front nine of one-over par 37. On a day built for scoring, it wasn't until the par-five 15th that Woods finally got his round into red figures, ultimately finishing one-under and in a tie for 56th.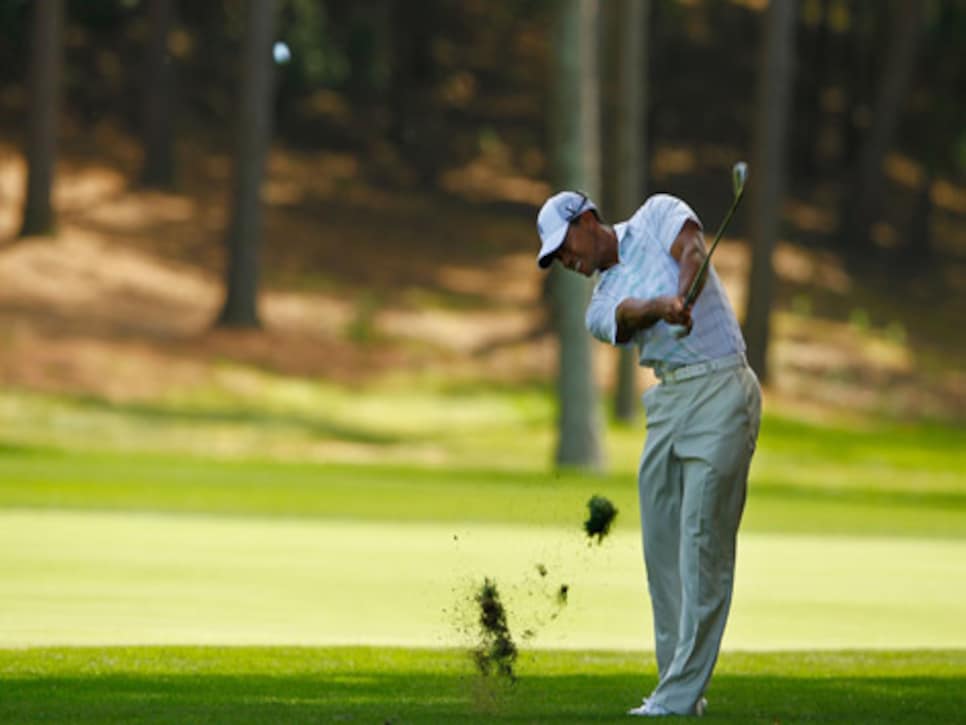 *At one under, Woods can't afford too many mistakes Friday if he hopes to play the weekend. Photo by Getty Images.
"I made too many mistakes on the front nine," said Woods. "I didn't take care of the par fives. I had an easy up and in at eight (a short par four) which I messed up there. Ten, I short-side myself and that's three, four shots right there. Obviously, I can't make those little mistakes like that tomorrow."
While the front nine was a struggle, Woods made the kind of on-course compensations he was unable to manage at Augusta. "I was able to make the in-game adjustment on the back nine and hit the ball much better," he said, though he admitted to finding the greens a bit baffling. "The difficult thing about today -- we were talking about this in the group -- the greens look fast but they putt slow. A very interesting combo."
Coming on the heels of his disappointing play and personal performance at the Masters and his critically panned (at least by the anti-social media) video interview leading up to the Wells Fargo Championship, it was a round of golf that was neither captivatingly awful or admirably tidy. If ever there was 18 holes that really did qualify as, "it is what it is," this was what it was.
Woods' opening 71 on a course where he won in '07 and shot 74-79 and missed the cut in '10 was made to look all the more pedestrian since he played with one of the co-leaders, Webb Simpson, who shot a seven-under par 65, good enough to earn the sobriquet, Webbie, from Woods. Simpson, who made a 62-foot putt on the 12th that featured a good 15 feet of break, said this was just the second time he'd played with the 14-time major champion and he was nervous. Simpson only lives a mile from Quail Hollow and plays the course often. "I know a lot of people here and the crowds were great today," said Simpson. "It's fun to play with him. There's just a lot going on. I've only done it once."
That previous pairing was at Doral when Woods tweaked his ankle and had to withdraw. "We went from 10,000 people every hole to zero," said Simpson, "and that was my only experience."