The Loop
The 2016 Olympics will mark a big moment in the history of golf. The game will feature in sports' biggest event for the first time since 1908, when it was discontinued as an Olympic sport after 74 of 77 golfers in the field were from the U.S. (the other three were from Canada). But with a qualifying system specifically designed to work in players from a wide array of countries, that problem looks to be avoided, and golfers are surely relishing the chance of competing for a gold medal.
Unless you're Rory McIlroy. If you've been following the latest developments in his Olympic debacle, you'll know that not long ago the R&A said McIlroy might not have a choice about which country to play for in Rio, and would be forced to play for Ireland. If you haven't been following, we don't blame you. The whole saga's a little wonky and is turning into a major headache for McIlroy, who isn't playing well on top of it all and is surely not loving the added pressure. Here's a crash course on what's going on.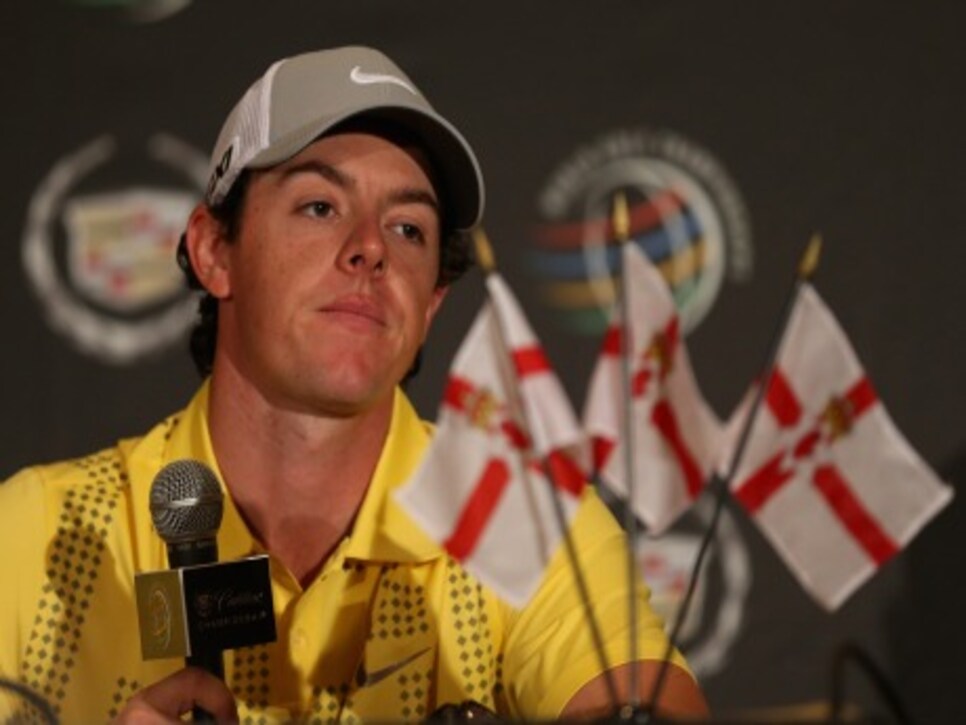 So what's the deal with Rory then?
It's no secret that McIlroy is automatically going to qualify for the Olympics (unless he literally forgets how to play golf), and that he's from Northern Ireland, the predominantly Protestant country in the Island's north. But because Northern Ireland, unlike the Catholic Republic of Ireland to the south, remains a country within the United Kingdom, it doesn't have its own team, and as a result leaves its Olympians to choose either to represent Team Great Britain and Northern Ireland or the Republic of Ireland at the tournament.
For one reason or another, it's never been a huge issue before, probably due to the lack of truly high-profile athletes coming out of the country. But since emerging as golf's newest phenom and some say heir-apparent to Tiger Woods's throne, the popular McIlroy now finds himself squarely in the middle of a historically volatile issue, fueled by a variety of differing religious, social, national, and political beliefs.
Couldn't this have been sorted out already?
McIlroy's in a unique position for a couple of reasons. First, because golf isn't an inherently team sport like, say, soccer, these decisions don't come around very often. When they do, they're often easily avoided; Team Europe at the Ryder Cup, for example, or Team Great Britain and Ireland at the Walker Cup. Also, golf has no formal declaration period like in other sports, so McIlroy has been allowed to represent both Great Britain and Ireland in competition before.
In the 2011 Golf World Cup he played for Team Ireland, but again the reason why he remains eligible to play for either team in the Olympics is because on that occasion, Team Ireland represented both the Republic of Ireland and Northern Ireland, and competed alongside other teams within Great Britain like Scotland, Wales, and England. By contrast, in the Olympics, Northern Ireland is technically a part of Team GB, not Team Ireland.
It depends on who you ask. McIlroy has tried hard to tread softly, even walking back a statement he made in September when he said he's "always felt more British than Irish." He's maintained that he hasn't decided yet, says he won't play for Ireland again in the World Cup this year for fear of losing his ability to choose, and has openly talked about not playing in the Olympics at all.
McIlroy's friend and fellow Northern Irishman Graeme McDowell, who played alongside him for Ireland in the 2011 World Cup, has been publicly advocating for McIlroy to join him once more for Ireland at this year's World Cup, even if that prohibits them from playing for Team GB at the Olympics. More recently, there's a growing number of people within the R&A who say the decision should be taken out of McIlroy's hands altogether and would force him to play for Ireland because of his previous World Cup ties. McIlroy says he has a right to choose, and has threatened to not take part in the games if that's taken away.