The Loop
Fantasy Fix: Introducing the PGA Tour's new fantasy game and our picks to win the Players
The Match Play was nice and all, but it's nice to get back to the events that are part of the fantasy golf schedule. You know, the tournaments that really count. Not only does the PGA Tour return to good old stroke play, but it does so at one of the premier events of the season. The Players always has one of the strongest fields in golf and its venue, TPC Sawgrass, produces as much drama as any other course.
Unfortunately for fantasy golfers, that combination makes this perhaps the most unpredictable tournament of the year. Consider that in the 33 years this event has been played at TPC Sawgrass, no one has won it three times and only five players have won it twice. Adding to this year's excitement is the introduction of PGA Tour Fantasy Golf driven by Avis.
In this format, you choose any four players. Just keep in mind that you can only use a player three times per segment, with the first segment starting this week and ending the week before the British Open. The real exciting part is that like in other fantasy sports, players can gain and lose points based on their stats (driving, approach shots, short game) as well as their scores/position (Players get a bonus based on how many FedEx Cup points they receive for their finish). Read our explainer on how it works, sign up, and join our Golf Digest league if you like. Got all that? Good. Here's who I'm taking. And yes, my team name is Legends: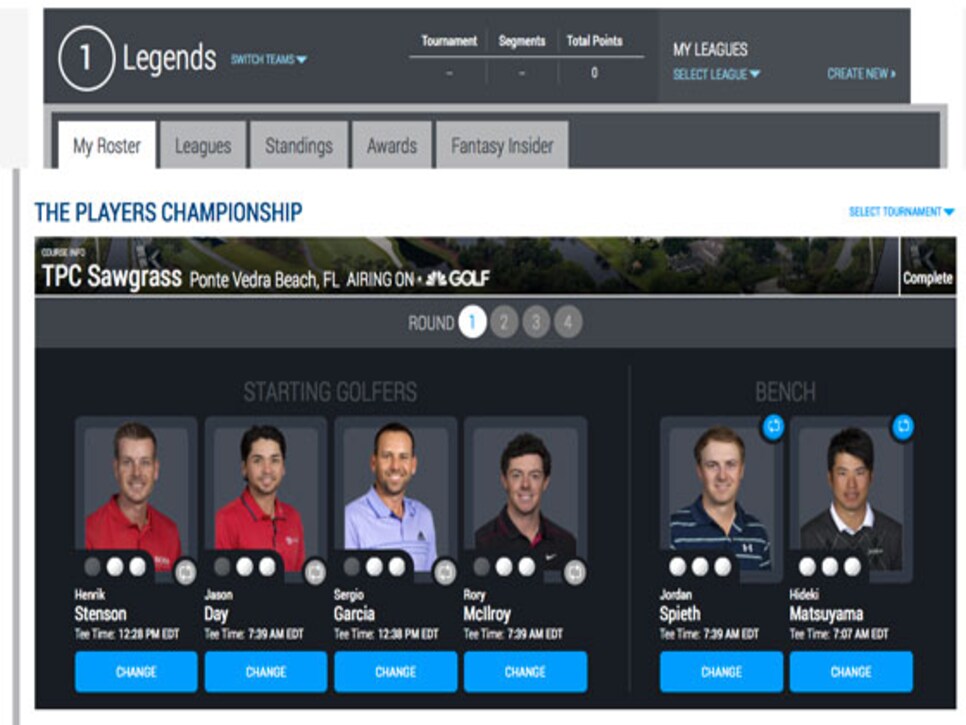 Rory McIlroy: Did you see what he did at TPC Harding Park? McIlroy comes in off a win at the Match Play and a solo fourth at the Masters. He has back-to-back top 10s at TPC Sawgrass, a rarity at this event.
Sergio Garcia: No one has a better track record at the Players the past eight years than Garcia, who won in 2008, was runner-up in 2007 and finished third last year. He also finished T-8 in 2013 despite a disastrous quadruple bogey on a certain island hole. Like Rory, I'm looking for Sergio to earn me a lot of points with his ball-striking, specifically, his driving (300 yards and in the fairway is worth 5 points).
Henrik Stenson: Getting sick ahead of the Masters stopped the Swede's great run of going T-4 (Doral), solo fourth (Valspar) and runner-up (Bay Hill). Now healthy, he returns to an event where he has three top fives in nine years, including a victory in 2009. Stenson's iron play is a real advantage at this tricky Pete Dye layout. For each approach he hits within 40 feet from more than 200 yards out, he'll earn me at least 3 points.
Jason Day: The Aussie doesn't have a great track record at TPC Sawgrass, but he has four top fives in eight stroke-play events in 2015 and he ranks No. 1 in the PGA Tour's all-around stat. If Day keeps that up, he should produce plenty of points this week.
(Side note: I had a hard time dealing with "the Jordan Spieth quandary." On the one hand, I didn't want to take him because almost everyone -- 77 percent of users, more than 30 percent more than anyone else -- is taking him. On the other, I don't want to get burned for not taking him. I compromised and made Spieth one of my two bench players along with Hideki Matsuyama. That means, I can swap him into my lineup if he's having a great week. And if he's not and I keep him on the bench, it won't count as one of my three times using him this segment.)
And below are who some of our other editors are going with at TPC Sawgrass:
Steve Hennessey: Spieth, Furyk, Mahan, Garcia. Bench: Westwood, Lowry.
Sam Weinman: McIlroy, Hoffman, Spieth, Watson. Bench: Furyk, Fowler.
Ashley Mayo: McIlroy, Day, Spieth, Fowler. Bench: Furyk, Mahan.
Ryan Herrington: Spieth, Furyk, Walker, Rose. Bench: McIlroy, Kuchar.
It's interesting to note that no one selected Tiger Woods, who won this event the last time he played in it. . . And for those of you playing other fantasy golf formats:
Yahoo! lineup: McIlroy, Walker, Matsuyama, Oosthuizen.
Bench/backups: Garcia, Rose, Mahan, O'Hair.
Knockout/One-and-done pick: Sergio Garcia.