Branded Content
Riding Into The Future With E-Z-GO® Liberty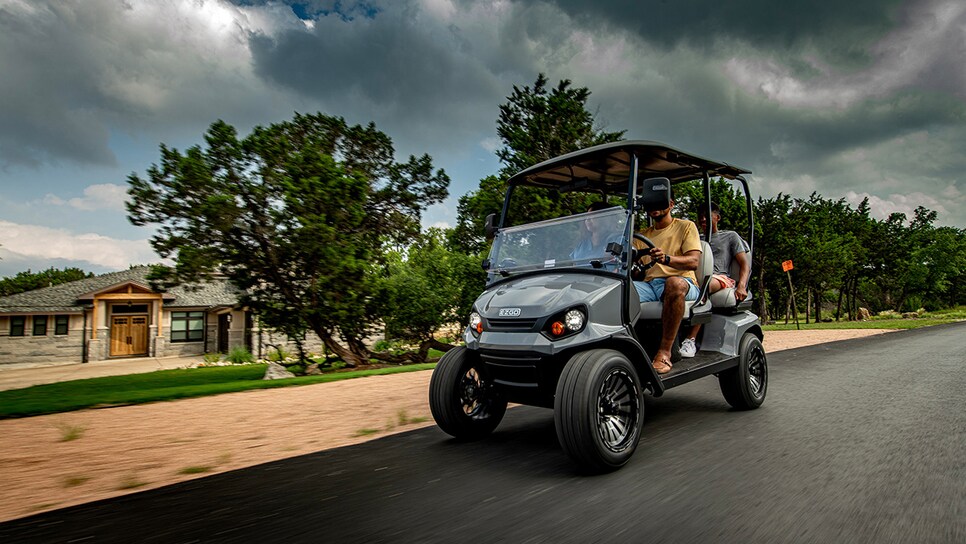 You first set eyes on E-Z-GO's new four-person vehicle, Liberty, and marvel at its sleekness. Yet you can't pinpoint exactly why. And then it hits you: other four-passenger open carts before it were either excessively long or had two of their seats facing backwards. Liberty is neither. First of its kind, it was specially created to have a shorter, more compact body with four forward-facing seats. That results in a roomy second row, giving passengers an entirely new visual and conversational perspective. The shorter wheelbase also means more storage space, better maneuverability, more agility and a tighter turning radius compared to other vehicles.
Its streamlined appearance and breezy handling are just the beginning, though. Liberty is exclusively powered by E-Z-GO's industry-leading ELiTE™ Lithium powertrain. Activated by a zero-maintenance, no-worry Samsung SDI Lithium battery, E-Z-GO's ELiTE Lithium vehicle series is known across the industry for its best-in-class performance with 25 million hours of successful use. The battery receives consistent power, regardless of the charge level and recharges faster and more efficiently than a standard, lead-acid battery. There are no emissions, either, which greatly reduces Liberty's carbon footprint.
And that's key in an eco-minded world that is aggressively trending toward inventive car-alternative, clean electric transportation vehicles. Liberty is ideal for couples or small families who like to take short jaunts around urban and suburban areas, and for people living in golf cart communities who want to roll about town with the option of also using it on the course.
Liberty is offered in two packages with plenty of upgrade options. The Commuter package is built for driving through neighborhoods and comes standard with all the accessories needed while cruising around the community. Meanwhile, the Explorer package is ready for adventure, and comes standard with elevated tires, fender flares and a brush guard. Exemplifying ride luxury, these stock models include everything from ultra-comfortable standard seats to LED headlights, while upgrades can take them a step beyond with premium extra-plush seats, side mirrors with LED lights, a folding windshield, an 80-inch durable blow-molded plastic top and Bluetooth dash speakers. The Liberty also offers various accessories that attach to the two-inch rear universal hitch receiver, including a cargo storage rack or golf bag holder.
It's a customizable, stylish, practical and impactful vehicle for contributing to a clean future — letting you simultaneously be selfish and selfless. Visit ezgo.com and see how Liberty can transform your world.