The Loop
Excitement high in Omaha as U.S. Senior Open comes to town
OMAHA -- When the Champions Tour is at its best, the formula is no different from special events on other tours: Good course plus good galleries equals a tournament that feels as if it matters.
That would describe the U.S. Senior Open at Omaha CC, a surprisingly hilly, interesting track in Nebraska's largest city, which is enthusiastically embracing the championship.
Not since the 1999 U.S. Senior Open in Des Moines has the event been such the talk of the host town. Crowds won't approach the nearly 200,000 spectators that turned out in Iowa, but there will be a throng come Thursday's first round.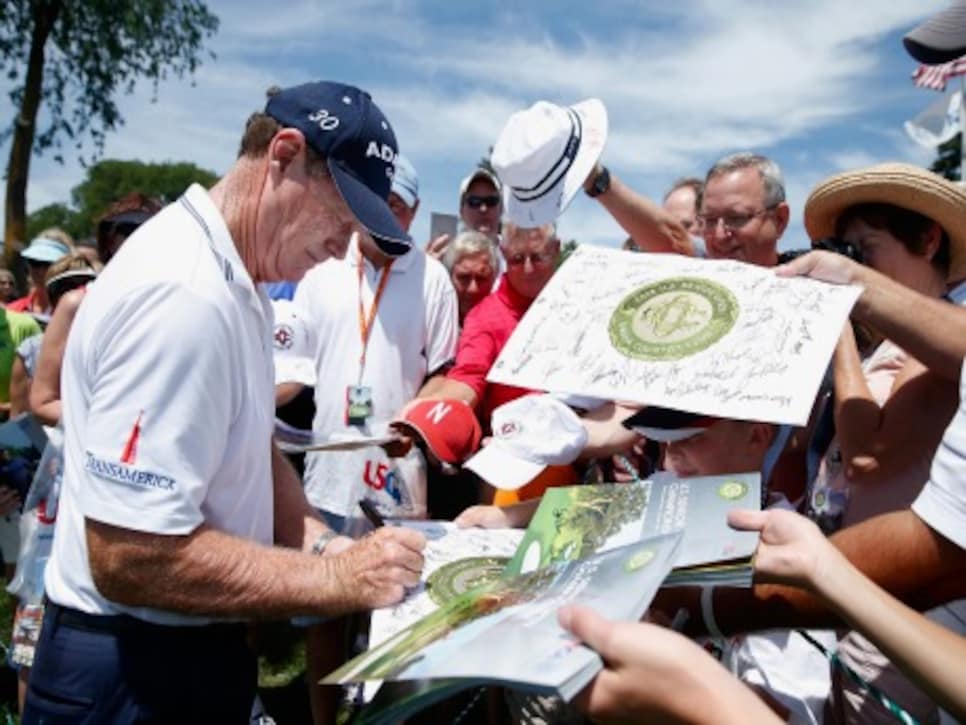 "I don't think we'll get to the size of galleries in Des Moines, but I think this will be second best," said Tim Flaherty, U.S. Senior Open senior championship director. "[We're] expecting over 150,000 here for the week."
And early returns seem to support that prediction, with eight-thousand fans attending Monday's practice round.
"It's phenomenal," said 2010 U.S. Senior Open champion Bernhard Langer on Wednesday. "There's so many people out there. I haven't signed this many autographs since the Masters in April."
To sign a scorecard as the winner come Sunday evening, a player will not only have to had produced the repertoire of shots that an Open (even the elder version) requires. He will have to still be walking sprightly on a rolling piece of Middle America terrain that has surprised many with its elevation changes.
Kenny Perry, coming off a win at the Constellation Senior Players Championship, felt the effects on his problematic left knee walking the course Tuesday. "I had a lot of problems just walking," Perry said Wednesday. "There's a lot of steep descents out there from the tee box down to the fairway. That really aggravated my left knee. I was feeling a lot of pressure, a lot of pain, and that had me concerned. I told somebody yesterday this is probably the hardest walking course I've ever been on. It's the hilliest, just very demanding. Some of the courses we play are pretty hilly, but you get some good shuttle cart rides from the green to the next [tee]. You don't get none of that here."
With most holes featuring uphill approach shots -- half a dozen of them to greens with tricky false fronts -- the par-70 course plays longer than its 6,711 scorecard yardage. Although there are a couple of petite par 4s (Nos. 13 and 17), No. 8 is a 477-yard brute playing gradually uphill. No. 3 is a 230-yard par 3. Golfers with Perry's length will have an advantage -- if they keep it in the fairway.
"The rough is as bad as I've seen it anywhere in the world," Langer said, "worse than anywhere in the world, I mean. We played with a few other players, and sometimes we couldn't see the ball from three feet away. You know it went right in here, and you're looking, and you're walking from here to there, and you can't see the ball. That tells you how much it's sitting down. I've hit a couple of shots out of there, and some of the lies, I couldn't move it more than 25, 30 yards, hitting it as hard as I can. So it's just very demanding off the tee."
"This rough is as tough a rough as I've ever played, it really is," concurred Tom Watson, who at 63 is still looking for his first U.S. Senior Open title.
Players will get a bit of a break when it comes to the greens. Because of the intense summer heat, the small putting surfaces might have to be kept a bit softer and will be more receptive than the USGA might like. "I think you'll see some pretty decent scores because of the greens being softer," Watson said. "But the golf course is a true test. The key here is putting the ball in the fairway off the tee."
Asked to predict a winning score, Fred Couples said if someone would give him eight-under 272, he would go his room and watch television for four days while the rest of the field walked the hills.
He might not be the only one.