News
Holy cow! It's a different kind of Moo-ving Day in the Irish Open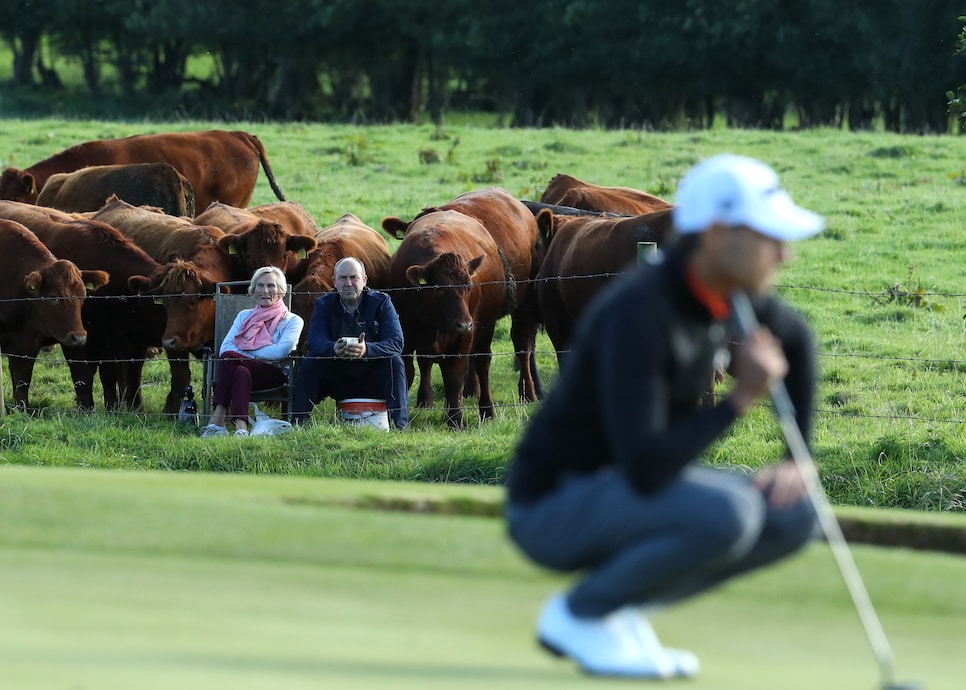 A couple watch from a field beside the 14th green during the third round of the Dubai Duty Free Irish Open at Galgorm Spa & Golf Resort on September 26, 2020 in Ballymena, United Kingdom.
Warren Little
It was Moving Day on Saturday at the Irish Open, and Englishman Aaron Rai produced among the strongest rounds on the tough Galgorm Spa course in shooting three-under 67 to own the solo lead at eight under.
But that was far from the most eye-catching development of the day. Ballymena, an inland Northern Ireland town of 29,000, 27 miles north of Belfast, is green, rural and dotted with plenty of farms. Indeed, the hometown of actor Liam Neeson once hosted Ireland's largest agricultural fair. Otherwise, Galgorm Spa and its course are the biggest visitor attraction.
There happens to a farm near the golf course, and that's where one of the year's greatest video and photo opportunities happened. With the European Tour closing events to spectators due to the coronavirus, a couple set up chairs outside a fence beside the 14th hole, presumably on their own property, packed some snacks and drinks, and then were joined by more than a dozen "friends." A herd of cows, acting almost like a pack of happy dogs and trying to mooch the food, surrounded them. Comically, the couple sat blithely there as if there were butterflies in their midst and not tons of livestock.
"Isn't that a fantastic picture?" one of the television commentators said. "Autograph that somebody quickly; that's brilliant."
Word was that they were going to play this tournament until the cows come home.
Have we milked this enough?