The Loop
ESPN's Mike Greenberg talks about his biggest thrill in golf and how he shaved 16 strokes off his handicap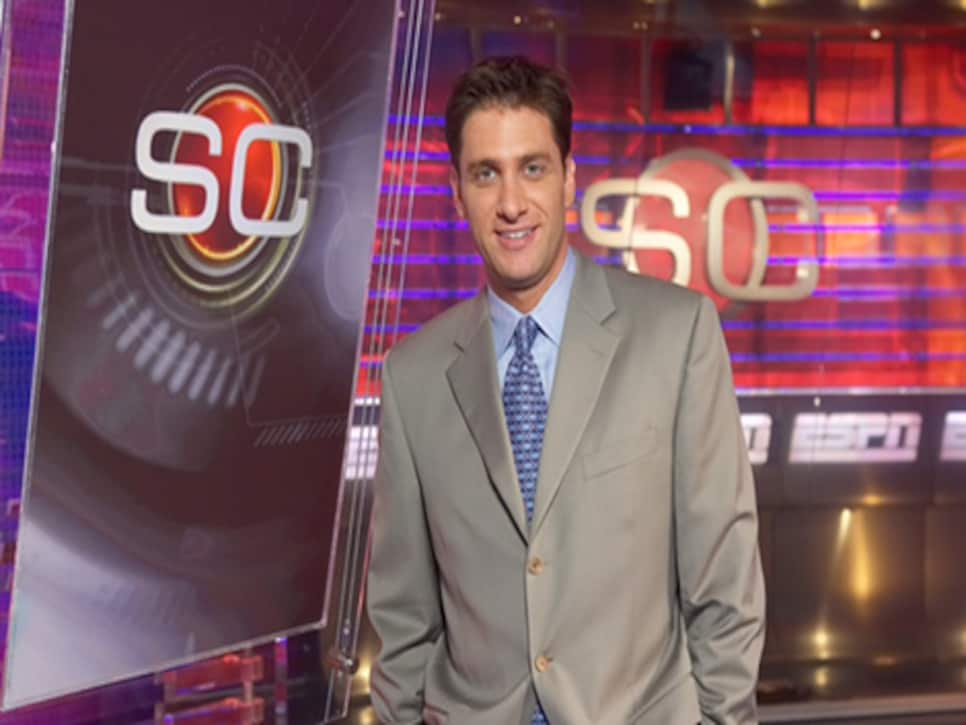 GD: We're thrilled to talk golf again with you -- everyone at Golf Digest follows your tweets that are often themed around golf.
Greenberg: As you know, I'm golf-obsessed. I need to tell you my best golf story. This summer I was six inches from what would've literally been the greatest experience of my life. And even as it was, it was the best experience of my life. At Rolling Hills C.C. in Wilton, Ct., I was on the 15th tee with my son, Stevie, who's just sort of learning the game. He's 11 years old. What better experience for a father and a son playing golf, late in the afternoon with the sun starting to set, during the summer? It's a beautiful day. The 15th is a short par-3. And my son hits a shot up there, and it's tracking toward the hole. It lands on the green, and takes two hops. I literally fell to the ground. I thought he had made a hole-in-one. So he's screaming and I'm screaming. And I swear to you, it stopped six inches short of the cup. I'm actually lying on the ground. I've been playing golf my whole life and I've never made a hole-in-one. My son, Stevie, at 11, almost made one. And I can tell you, that would've been better for me than if I would've made one. And the memory of how close he got is something we still talk about to this day. And something we likely will always talk about. What could possibly be better than that? I'd give anything to be playing with my son one day and him make a hole-in-one. That's a perfect illustration of what I'm talking about with my new Dove Men+Care commercial.
GD: Wow, is he a good player? That's really impressive.
Greenberg: No, that's the point. He's a true beginner. He just started playing last year. We got him a real set of clubs. And he goes out and he plays. This would've been the third time in his life that he played a complete nine holes. And he almost makes a hole-in-one.
GD: I hear you're down to a single-digit handicap? Just five years ago, you told us your life dream was to break 80. Is that true?
Greenberg: It speaks to the importance of a PGA professor. I work with Dan Tzivanis, the director of instruction at Rolling Hills. And we've worked really hard. I had it down to an 8.6. But on my last adjustment it went to a 9.2, which I was really disappointed about. So yes, my goal this summer is to get down to a single-digit handicap. I set a goal every single year. I've really improved over the last couple of years. And you know, I don't do anything but think about golf. I love golf. I play as often as I can. I do nothing but love golf books and read Golf Digest. I've went through your 100 Greatest courses and now the Second 100 Greatest in that issue. I was fascinated by them as always. And I was thrilled that I have played the top four of the public courses on the list. I was very excited about that. As I've told everyone, I'm a huge fan of Golf Digest.
GD: Did you count how many of the 100 Greatest you've played?
Greenberg: That's the first thing everyone does, right? Actually ironically, I've played more courses in the top 100 in the world than the U.S. ranking. Because I've traveled to Scotland and Ireland on a number of occasions. I've been to Royal County Down, St. Andrews, Muirfield, Royal Dornoch, Carnoustie, Royal Portrush, and many more.
That's one thing I'd like to say. I think they have it right over there. The most elite, beautiful courses in Ireland and Scotland are available for play for guests. They set aside some time for the public to come play it. And you know what, these courses aren't just kept a secret. The entire world gets to experience the most beautiful courses in the world. And I strongly believe they should do that in the U.S., at Augusta and Pine Valley and Cypress and all the top courses. I would be a huge advocate of that.
GD: That could certainly be a way to make the game healthier for the masses here in the U.S., and help it in the long run.
Greenberg: Listen, I've played Pine Valley. It's like a religious experience. Pine Valley is my No. 1 in the world. I'm fortunate enough to have played seven of the top 10 in Golf Digest's World 100. And I would put Pine Valley No. 1, then Muirfield (Scotland's) No. 2, then a very, very close race between Pebble and Royal Dornoch. Then from there, I went to Bandon Dunes last year and it was an unbelievable time. Pacific Dunes is unbelievable. Just the experience at Bandon is off the charts.
GD: What was your favorite golf trip?
Greenberg: Scotland two years ago was unbelievable. We went there and it was the trip of a lifetime. But of my U.S. trips, I'd put Bandon at the top. I thought that was unbelievable. I'd go Bandon No. 1, followed by Kohler. And it's close. The variety of good golf and the convenience of it, the accommodations. Those two are my favorite twos.
GD: Do you have a group of guys who you always go with?
Greenberg: Yes, we have a group of eight guys. And we go every year. So we alternate one year going to a domestic site, one year to an international spot. The key is the group. The key is the friendship. Because there's no better buddy bonding time in the world than a golf trip. At least nothing I've had in my life. My brother-in-law is in the group, and we've talked about this: Our dream is for my son and my nephews to join our group someday, keeping in the same theme as our new Dove Men+Care commercial. My dream is that our boys are interested enough when they get older in the game to be a part of this group. There would be nothing I'd enjoy more. That would be almost as good as your son making a hole-in-one, having your son or daughter join you on a golf buddies trip.
GD: Is that what you enjoy the most about golf, the bonding time?
Greenberg: No question. That's what it is. It's the great escape. I know a lot of people do business on the golf course. And I'm not critical of them. But I'm not one of them. It's the last thing on earth I want. I like to play with people who, the only interest while we're on the course, is the golf itself. I'm not talking about other things. When we're playing golf, I'm focused on the course. I'm focused on the sun and the sky. On the breeze in the air. On the leafs on the tree. And how we're playing that day. I like golfers who like golf. And that's what I like. So that's my first and foremost like.
GD: You have a new commercial with Dove that is quite emotional -- speaking to the bond between a father and a son. How cool was it to be a part of it?
__Greenberg:__When the folks at Dove showed me the commercial, it brought my wife to tears. I literally couldn't believe it. It is so perfectly in line with what I believe in about being a dad and real strength and caring about your kids and other responsibilities. It's the message I try to perpetuate on my show and wherever else I have the opportunity. It was an honor to do the voice-over for it. I couldn't be more thrilled.
Mike Greenberg (right) with his wife, Stacy, and children Nicole and Stephen in 2009 at a golf fundraiser. Photo courtesy of WestportNow.com.
GD: You play at Rolling Hills, but where do you play otherwise?
Greenberg: I try to play golf as often as I can and at all different venues. I signed with an agent in Los Angeles to handle my publishing and producing. But I signed him because he's a member of Riviera. And part of my agreement is every time I come out to L.A., he has to take me out to play one round. I'd put Riviera unquestionably in my top-10 golf courses. The whole experience. The locker room. The pictures of the movie stars. It's unreal. It was an unwritten entry in the contract.
GD: Love it. Alright, we gotta discuss your golf game more. How did you improve so fast?
Greenberg: In 2010, my Index was a 20.4. And I was a 24-handicap. In all honesty, it came from working with a pro. He changed my grip, then he changed my swing path. And that was painful. It was like a new language. But he told me: Mike, I see what's wrong. Let's make it work right. It's all about practice. And the reality is, once you get to a certain level it's all about your short game. I spend time in the bunker, here at Rolling Hills we have a beautiful new sand facility, so I'll spend so much time in there working on my bunker play. And I'll take a bucket of balls out to a hole and I'll hit a bunch of balls anywhere from 50-80 yards from the green. Because that's where the game is. You gotta turn the bogeys to pars if you want to improve. And that's where your scoring will improve the most.
GD: Amazing. Are you a big equipment guy, too? Have you been fit for clubs?
Greenberg: I was invited to come down to the TaylorMade facility at Trump Doral. And I'm really looking forward to that because I've never been fit before and I know the benefits that come with it. I'm going down the week after the Super Bowl and I couldn't be more excited.
GD: You used to play in some pro-ams, right? Any good stories from there?
Greenberg: Mike [Golic] and I used to play in the Shell Houston Open pro-am every year. And the first year I was playing with Ben Curtis. And we're going to the first tee. Not playing from the same tees obviously. But I'm really nervous, because there are legitimate galleries who came out to support me and Golic and obviously more so the pros. And I was really nervous. I hit a pretty good drive up the left center of the fairway. Ben hits a good drive, too. We both hit our approach shots just off the green. He chips up to about 10 feet. I hit my chip inside his to about eight feet. He goes up and misses his putt, and I make mine. So now there's a walking scorer with our group, actually some dude carrying a sign, and there it says: Curtis +1. Greenberg Even. So for one entire hole, I was beating a British Open champ. It was so awesome. Obviously, you want to talk about a short game. From 180 yards and in, he's hitting the ball to five feet routine. But that was my favorite story on the tour.
GD: Any other legendary golf moments in the life of Greeny?
Greenberg: Well, the other thing was shooting a 77 at Muirfield. And I was playing as a 15 handicap at the time. So I think it qualifies as one of the greatest rounds of golf ever played (joking). But when the British Open was back at Muirfield two years ago, I was watching, and a lot of people shot 78 and above. So in my mind, I beat them. So I was extraordinarily proud of that.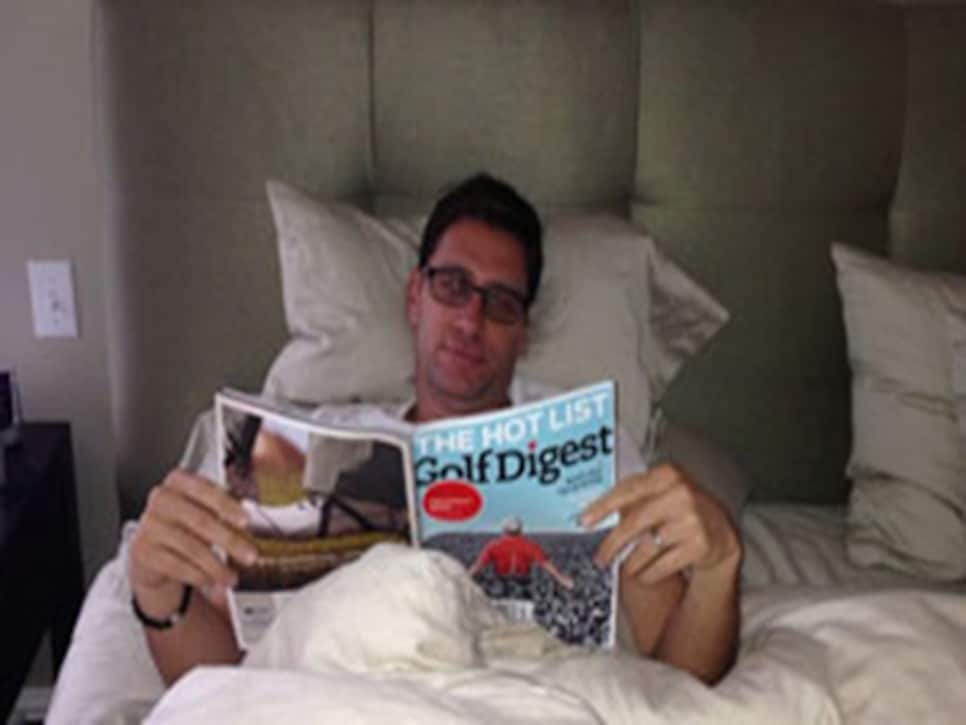 Greenberg's wife caught Mike reading our 2014 Hot List issue when he was sick in bed last year.
GD: Being a huge fan of golf, do you have a routine for the majors? Masters Sunday?
Greenberg: I've said it before, but to me, Masters Sunday is my Super Bowl Sunday. There's no sporting event I love more. And there's so many memorable moments. I'd say Adam Scott versus Angel Cabrera in the playoff at the 2013 Masters was special. Bubba versus Louis Oosthuizen was unbelievable, too. Bubba's shot to win was…forget it. But almost every year, the Masters provides more thrills as a sports fan for me than pretty much any other event that I watch.
GD: You guys do the Myrtle Beach Monday after the Masters thing. Do you watch the Masters down there?
Greenberg: Yep, we do the charity event with the guys from Hootie and the Blowfish. So I'm down there every year. They put us in these beautiful hotel rooms. And usually, it's still cold where we are in the Northeast since it's just the start of spring. So I open all the windows in the room, sit down in a comfortable chair and there's a huge TV, I order in food, shut off my phone and I don't talk to anybody. I just want to be left alone and watch the golf.