Swing Sequences
Swing sequence: Ernie Els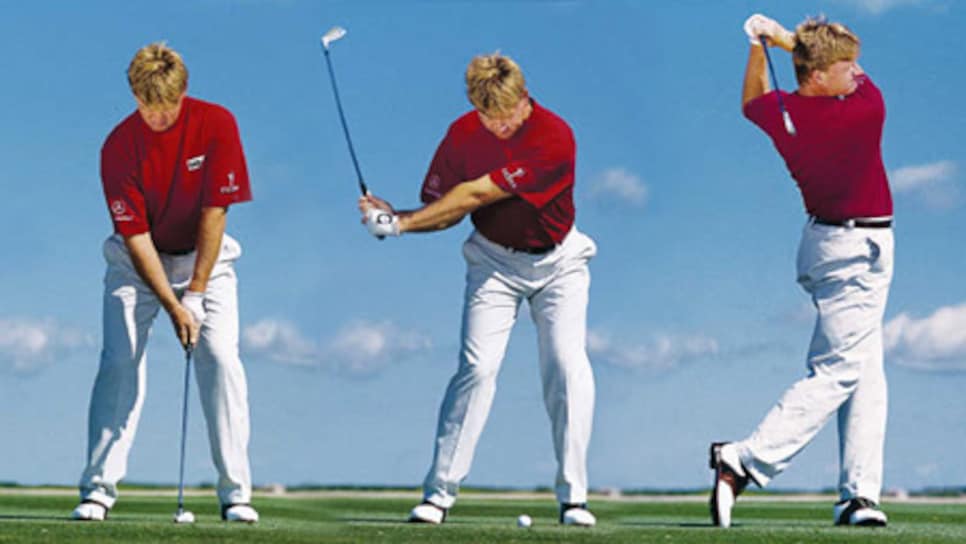 David Leadbetter has a tricky job with me. He's helped me quite a bit, but he has had to do it without putting a lot of mechanical thoughts in my head.
When I'm swinging the club at my best, it's because I'm not thinking about mechanics at all. I feel like my body is loose. My arms are soft in front of me when I'm setting up, and my chest and shoulders feel as if they can move and turn easily. Then, the swing is a matter of tempo and rhythm. I don't feel like I'm trying to do anything or force anything. It's just happening--a chain-reaction sequence.
Those weeks when I'm feeling good--like the back-to-back wins at the Mercedes and Sony tournaments in Hawaii in 2003 when 67 was my worst score--the ball just comes off the club with no effort, and even I'm surprised how far it can go. That's a great lesson to learn--more effort almost never translates into better results.
Swing easy and hit it hard
Analysis by David Leadbetter
Whenever I conduct golf clinics, one question I often ask is, "If you were given the gift of a great golf swing, whose swing would you like to receive?" Ninety percent of the golfers reply, "Ernie Els'."
Telling as they are, these stop-action photos of Ernie's 5-iron swing do not do justice to his metronomic tempo. His swing is deceptive: As smoothly as his body and arms are moving, his club is traveling at tremendous speed. The synchronization of club, hands, arms and body is the best I have ever seen. A key is how much leverage he creates by setting his wrists and creating an angle between his left arm and the shaft on the backswing, and in turn retaining that angle well into the downswing. The energy generated by body torque is then transmitted efficiently through the club into the ball at maximum speed. He epitomizes the classic saying of Julius Boros: "Swing easy and hit hard." For most golfers, that statement, coupled with a mental picture of Ernie swinging as smoothly as he does, is the ideal swing mantra.
Because of Ernie's great natural rhythm, which he developed long before we got together in the early '90s, it has been an easy task to help him with his technique. His swing has gotten shorter, more on plane and therefore more reliable through the years. With this type of swing--as in the mold of a Sam Snead--Ernie has many years left to perform at the highest level.
*Based at ChampionsGate near Orlando, David Leadbetter operates 25 academies worldwide. *