The Loop
Erin Hills and Chambers Bay
Taking a day off from The Cup, we got an appreciative letter from Brian Doherty of Mill Creek, Washington about our September issue comparison of those two new, much talked-about courses, Erin Hills and Chambers Bay. Erin Hills, a collaboration of Dana Fry, Mike Hurdzan and Golf Digest Architecture Editor Ron Whitten, and Chambers Bay, designed by Robert Trent Jones II, are both talked up as future sites for majors. Doherty thinks they're up to it:
I have not been to the Erin Hills course, but I have played Chambers Bay... This is a U.S. Open site waiting to happen !! True, it'll need a few years to mature in, ala the Bandon courses, but it has the course, setting, nearby accommodations, difficulty, etc. etc to make it a top site and perhaps even a repeat US Open site !! Even comes complete with an active train track running along the course need to Puget Sound that reminds you of the great Irish and Scottish courses !! Plus there is a large public park going in right next door with a huge amphitheater ( Hootie & the Blowfish concert ?). I have been fortunate to have played many top public venues ( Pebble Beach, Pinehurst #2, Bandon/Pacific Dunes , etc. ) and this will fit right in quality wise, plus all the "modern requirements" needed to host an Open. IF the county... adds a second course ( and they have enough land to do it !) then this very well may become a top destination stop for golfers, ala the Bandon courses. The Northwest really needs another "major" and the PGA gave and then took away the PGA for 2010 ( due to a conflict with the Olympics in Vancouver, citing a concern over corporate sponsorships for two huge events so close together). Maybe the USGA will step in with the Open and be the benefactor...
By the way, you may find Erin Hills hosting a major, but you won't find it on Golf Digest's America's 100 Greatest Courses. Because of editor Whitten's involvement, it would not be eligible.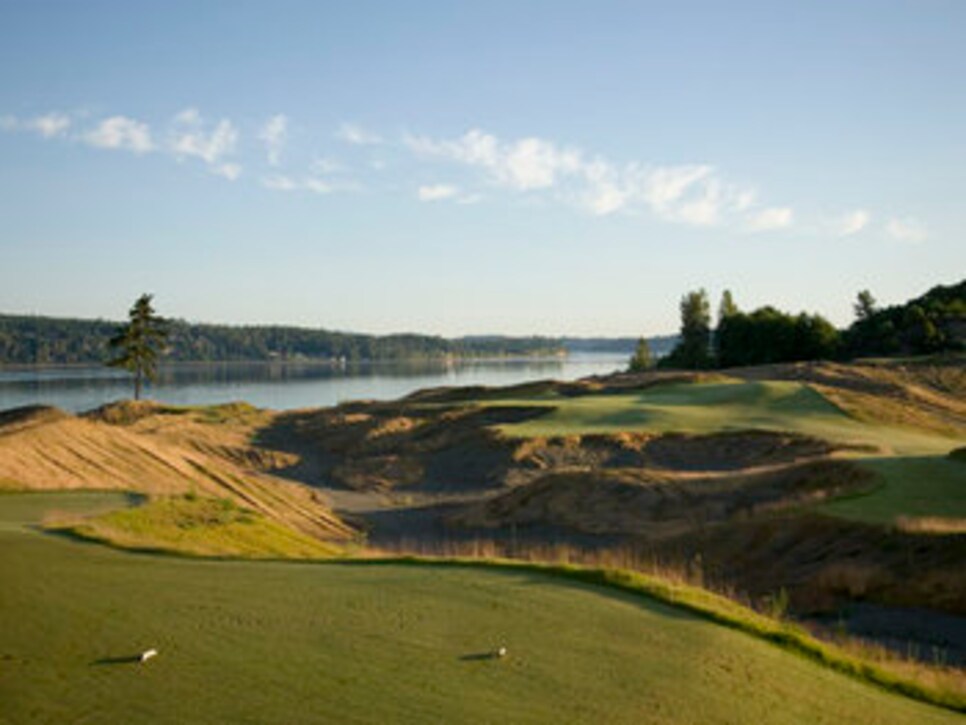 (Photo by Stephen Szurlej)