The Loop
Equipment, Rules and Timberlake's Sweater
__Ladies & Gentlemen at Golf World:
Here's a thought on your regular feature with descriptions of equipment used by last week's winners.  How about including a few more specs on the stuff they use, especially the bounce angle on wedges and the shafts in their drivers, irons, etc.?  Since there's a lot more to wedge specs than just loft, it would be interesting to compare their choices with ours.  Could you give it a try?  Thanks.__
__ p.s. I look forward to you magazine every week.  Keep up the good work.__
Great idea, Brent, and one Golf World Equipment Editor Mike Johnson would like to do:
It's an excellent idea and one we consider every year but we always come back to the same problems, namely that in the print vehicle we are jammed for space as it is. More important, though, is that I feel we have to be able to execute it every week without fail or not do it at all. And I have not been able to find a reliable source that would get me this information on a weekly basis without fail. As always, I will continue to try, but for now it's simply not feasible to obtain the info in a timely manner. Mike
Golf Digest reader Tom Kinhan of Concord, NH, where golf is transitioning to a memory these days, was aghast at one of the answers in Ron Kaspriske's January "Nice gesture or big mistake?" quiz. Question No. 6 read,
Both you and a fellow-competitor miss the green and must get up and down for par. You go first and knock your ball two feet past the pin. You tell the other player that you'd be glad to wait to mark your ball because it would serve as a backstop for his chip. Are you allowed to do this?
Upon reading the answer to No. 6, in disbelief, I consulted Rule 22-1 (Ball Assisting or Interfering With Play) to determine if such could be true.  Alas, it is.  But, all is not lost.  You have given me a new weapon to use against some hated foe.  Upon holding the green from a par-3 tee box or massive approach shot, I will ask my unwary opponent if I should mark my ball.  When he agrees to let sleeping putts lie, I will have his tournament fate in my evil little grip. Obviously, a committee would be required to settle this issue since a committee must have formulated the rule in the first place.__
Oh, Tom, Tom Tom. Do you remember when we used to describe golf as the "gentleman's game"? The point of the rule is that two players may not conspire to do something that's not fair to the rest of the field, namely to agree to use the ball of one competitor as a backstop for the ball of the other.  On the other hand, using the rule as way to fell a fellow competitor is also nefarious and very ungentlemanly. I know you were kidding. Right, Tom, you were kidding?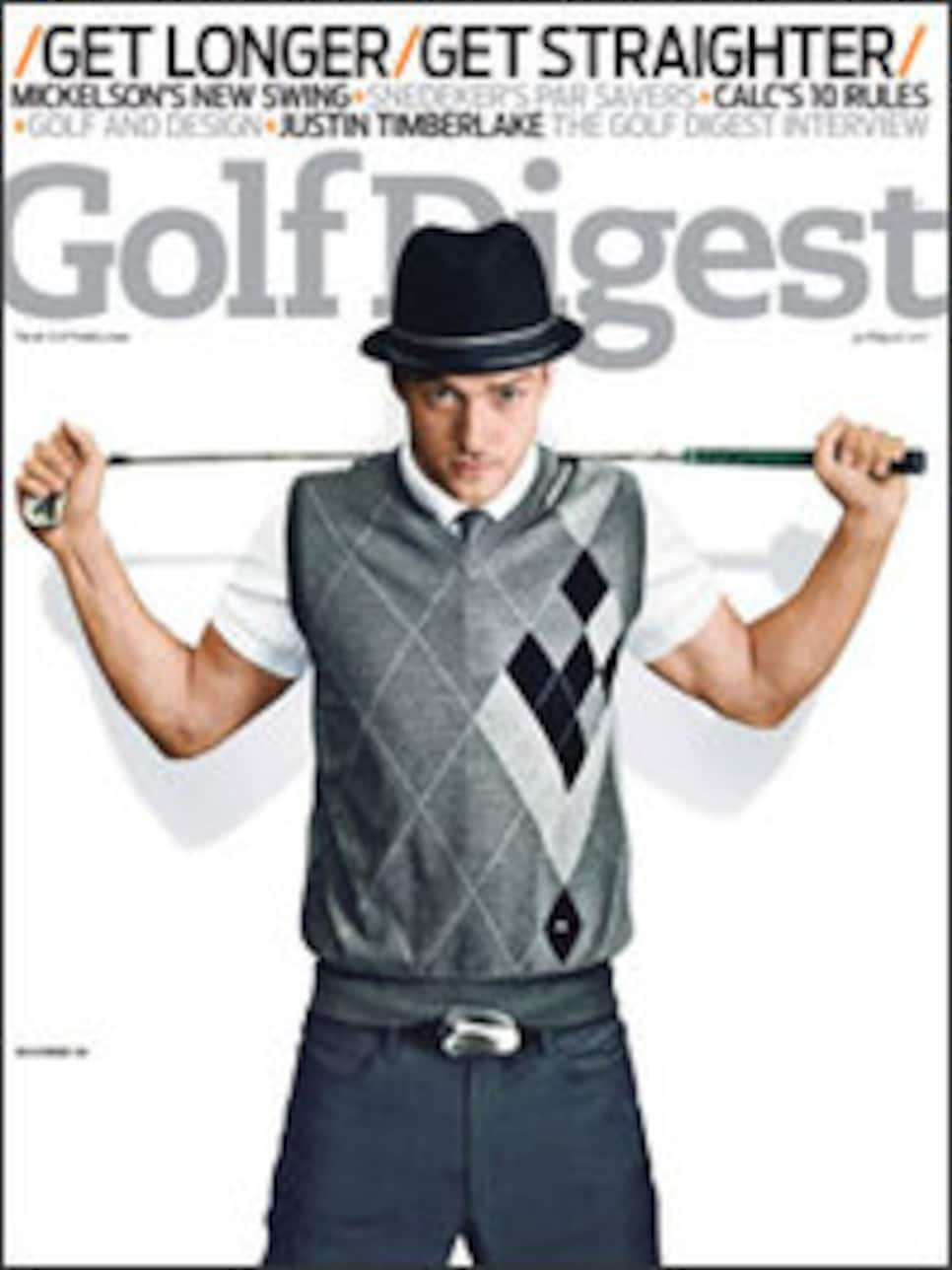 On the cover of your November issue you have a picture of Justin Timberlake wearing a gray argyle sweater vest.  It's very cool and I was wondering if I could get the name of the manufacturer of the sweater. It seems to have a logo in the lower right corner of the sweater, but it isn't one that I recognize.__
Dear Tom: Mr. Style, Marty Hackel, works his yellow striped socks off putting together the Credits page--page 171 in November. That's a J.Lindeberg Wes argyle vest, price: $149.