Courses
Gary Ingram Is Overall Winner Of Environmental Leaders In Golf Awards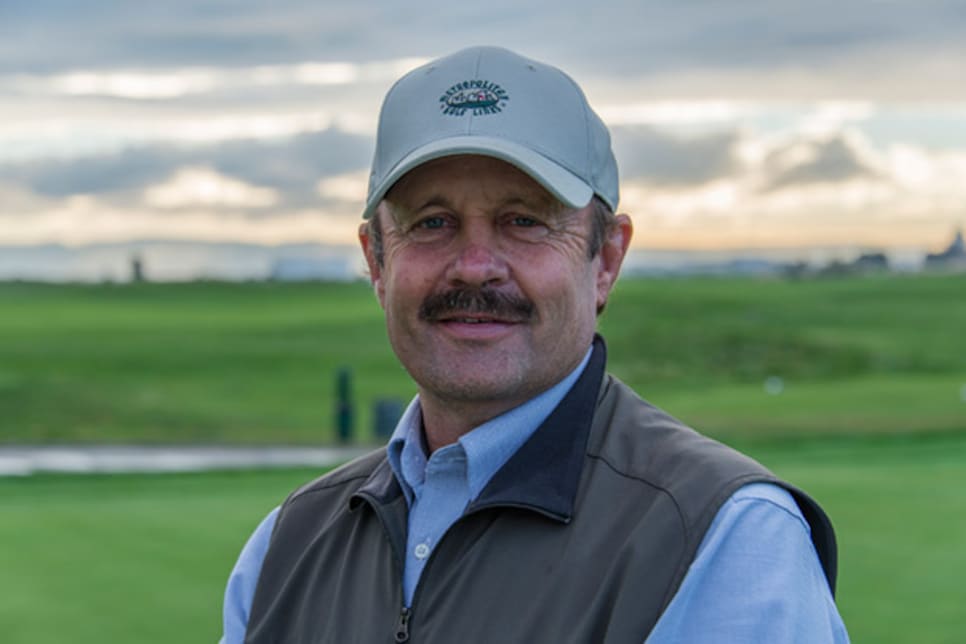 It's only a slight exaggeration to say that Gary Ingram, the certified golf course superintendent at Metropolitan Golf Links
in Oakland, Calif. and Overall Winner of the 2014 Environmental Leaders in Golf Award, is a miracle worker. Not only does he makes turfgrass grow in a place where it doesn't want to grow, he's grown the game among people who previously had no interest in it. Ingram's work with high school students, teachers and others in the Oakland area has raised awareness of the sustainable aspects of golf and inspired some students to consider a career in the game. His community efforts were a considerable reason why the judges of the EGLA, co-sponsored by Golf Digest and the Golf Course Superintendents Association of America, picked him as both the Public Course and Overall champion for 2014.
There are as many levels to the story of Ingram and Metropolitan as there are levels to the golf course, which is something of a miracle itself. Metropolitan began as a municipal operation called Lew Galbraith Golf Course (named for the politician who pushed the project) back in 1966, built on a garbage landfill beside San Francisco Bay and Oakland International Airport, the trash covered with piles of discarded lumber before soil was trucked in and spread unevenly about. It became a blue-collar haven, averaging somewhere between 60,000 and 90,000 rounds a year, but was still treated as a city dump by some. (One veteran remembers playing around an abandoned refrigerator on one hole.) In 1995, the Port of Oakland received federal funds to dredge its harbor to accommodate deeper tankers. Problem was, the sludge pulled from the bay was too toxic to be dumped into the Pacific Ocean without damaging the ecology. So instead, Lew Galbraith was closed and 1.2 million cubic yards of sludge was deposited on the 125-acre golf course site.
It took six years for the deposits to fully dry. City fathers then decided to return a municipal course to its citizens. In exchange for agreeing to build the course, CourseCo. Inc., a California golf development and management firm, was granted a 40-year lease to run the operation. Johnny Miller and design partner Fred Bliss were hired to lay out a new course, called Metropolitan, atop the now dead-and-buried Lew Galbraith. It opened in 2003.
Ingram, at the time superintendent at Tilden Park, another municipal course, was hired to grow-in Metropolitan. That proved to be a challenge, in part because of construction miscalculations. The dry muck was rough-shaped into the contours of golf holes, but, because it contained so much salt, oil and other chemicals, a two-foot cap of hard clay was spread over the entire site, to seal the toxins beneath. As clay is as impervious as linoleum, it's nearly impossible to grow grass on it. So the Port Authority agreed to provide another two-foot layer of sandy loam atop the clay, a "plate" layer in which irrigation and drainage could be installed and grass roots could establish and thrive.
Engineers calculated 300,000 cubic yards of sand were needed, but only 170,000 cubic yards were ultimately delivered. The plate was reduced to 18 inches instead of 24, and is even thinner in many places. They ran entirely out of sand before the last five fairways were constructed, so builders scrambled to cobble together whatever fill dirt they could find, from basement footings, road construction, and such. Most had no sand content and were only slightly better than clay.
In that less-than-ideal medium, Ingram had to propagate and maintain golf course quality turf. To make matters worse, he was growing it with reclaimed water, which had a high salt content. He chose a rare strain of bentgrass for greens. (Putting surfaces were not shorted any sand content and today they are healthy, beautiful and virtually Poa-free.) He tried the same bent for fairways, but it only grew in patches. So he switched to a ryegrass mix, which in some areas simply wouldn't grow. In other spots, the salt content would build up in the soil and kill established turf. So Ingram experimented with salt-tolerant grasses, ultimately settling on an alkali grass native to the Bay area. It grows in the harshest soils and tolerates brackish water.
It's still a constant battle to keep grass alive. While Ingram practices infrequent watering to keep things lean and hungry, he must periodically saturate holes to leach salt from the root zone. He also applies gypsum several times a year to neutralized the sodium content.
Fifty acres of rough, consisting of non-irrigated fescue and other native varieties, are considered naturalized areas, mowed only occasionally for playability. There are three wetlands on the site, including a waterway that flows into San Francisco Bay, and three irrigation ponds fed by rainwater and subsurface water collected by 20 miles of subsurface drain pipe.
The result is a nearly treeless landscape with a crazy quilt of grasses throughout, which sounds horrible but actually fits nicely into the windswept links-style golf course they created at Metropolitan. That's much of its charm. It's not a pristine country-club-for-a-day behind a high fence. Surrounded by an industrial park, an airport and a water treatment plant, Metropolitan is, in Ingram's words, "an open space in a asphalt jungle." And if its fairways sometimes seem as hard as asphalt, that's by design, to enhance the links characteristics. "The browner rough and firmer fairways have been well-accepted," Ingram says.
Besides performing admirably in maintaining a course in less-than-ideal conditions, Ingram deserves the EGLA spotlight for the impressive outreach program that he has conducted since the beginning. When CourseCo. originally received its long-term lease, the city of Oakland asked it to also develop a job-training program for inner-city unemployed. CourseCo. executive Ray Davies, Ingram and others created the nonprofit Oakland Turfgrass Educational Initiative, which sponsors periodic inner-city student field trips to the course, where Ingram explains everything from water conservation on the course to wildlife habitat to down-and-dirty course maintenance. (The wildlife aspect is especially intriguing. Although the FAA regulations disapprove of promoting bird populations so close to an airport, darned if birds didn't start moving in voluntarily once the golf course was built. So many birds in fact, that with Ingram's urging, Metropolitan was designated a Certified Audubon Cooperative Sanctuary in 2006. Herons, egrets, mallard, curlews, cormorants and other varieties can frequently be seen while playing Metropolitan. The only bird Ingram actively discourages from the site are migratory coots, which are a pest to golfers and turfgrass alike.)
Ingram's shop is a virtual classroom laboratory of turfgrass education, but he teaches mostly outdoors. Every student is allowed to operate a sand pro and several also get to drive mowers. Everyone also gets a golf lesson -- for most, it's the first time holding a golf club -- and are shown other aspects of the golf course, including pro shop and food and beverage operations. Afterwards, interested students are selected for semester-long and summer internships, working on both the course maintenance crew and in the clubhouse on a rotating basis, to gain full exposure to the opportunities in golf. Several interns have since hired on as full or part-time employees at the course, and one who started on Ingram's crew recently "graduated" to a spot as an assistant pro.
The OTEI works not just with local junior highs, high schools and charter schools but with other youth organizations, including the Police Athletic League and Spanish Unity Council. Ingram developed a class on agricultural chemistry and botany that's taught in Oakland's schools. He also created the curriculum for a certified professional turf management degree at nearby Perelta Community College and teaches a class, Introduction to Sports Turf Management, at the college. He established vegetable gardens at Castlemont High School and instructed teachers and how to monitor their weather station. He also coaches that school's golf team.
All that while continuing to grow grass on a public golf course in thin soil atop a floor of clay that covers scrapings from the bottom of the bay dumped atop an abandoned golf course that was built over a garbage dump.