The Loop
Encouraging as it was, Tiger Woods' start was evidence of a golfer not all the way back
HOYLAKE, England -- In all, the three shots took only maybe 90 seconds, but they told us a lot. When the 9:04 a.m. threesome teed off on the 458-yard first hole of this 143rd Open Championship at Hoylake, Tiger Woods chose an iron off the tee (because he had to), Angel Cabrera smashed a driver (because he could) and Henrik Stenson hit iron (because he didn't have to use the longest club in his bag). It was a fascinating insight into the relative levels of confidence in a) a man not long returned to the game after back surgery, b) a two-time major winner fresh from victory on the PGA Tour and c) a long-hitting world number two.
Just about four and a half hours later, we had more information to go on and, yet again, an appreciation for the relentless ability of Tiger Woods to golf his ball around a difficult course. Admittedly aided by ideal conditions that allowed him to only once lift his long-troublesome driver from the bag -- "The weather allowed people who played badly to stay in it," said five-time champion Tom Watson -- the 38-year old Californian "ground" his way around in a three-under par 69, three shots better than Stenson and seven ahead of Cabrera.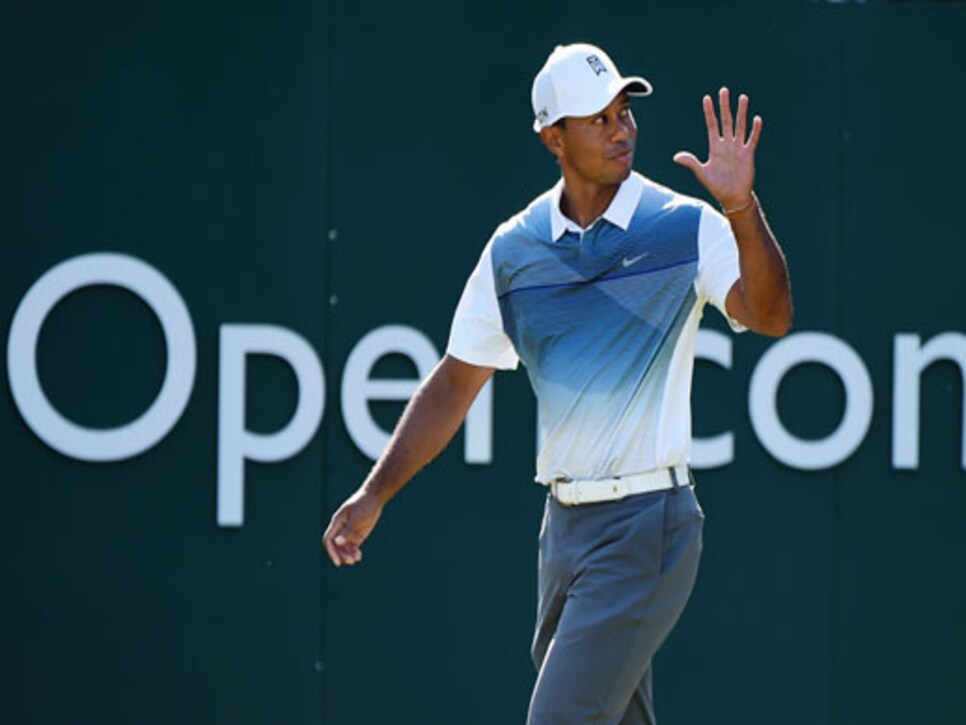 More numbers. En route to compiling only his fifth sub-par round of 2014, Woods hit 10 of the 14 fairways he aimed at off the tee and found 14 of Hoylake's 18 greens in regulation. Not bad for a man who began with a brace of bogeys.
"It wasn't exactly the greatest of starts but I turned it around," said Woods. "Even though I was two over through two, I still had four par-5s to go and I still had a couple of short holes. So if I played those holes well and the tough holes even par, I'd be somewhere under par.
"I felt like today someone was going to shoot seven or eight under par the way it was (flat calm) early. But it picked up. By the end, the wind was dancing all over out there. It was hard to get a bead on where it was coming from. It kept changing. But I was able to get it round today."
That he was, with a mixture of shots that ranged from almost complete mis-hits (off the 3rd and 5th tees) to sublime mid-irons (to the 12th, 13th and 15th greens). One over par after ten holes -- and lucky to be so -- Woods made five birdies in six holes.
Other numbers provoke a less than positive reaction, however, as does the overall impression left behind by a round that only underlined the fact that golf at the top level has moved on since Woods was in his peerless pomp. In beating his Nike stablemate by three shots, Rory McIlroy hit one fewer fairway and the same number of greens. But here's the thing. Off the tee, the 25-year old Ulsterman averaged 340.5 yards, a yawning 62.5 yards ahead of Woods.
Employing an unnatural action that appears over-coached and far from instinctive, the sound Woods' shots produced were "clunks" compared with the "whooshes" created by both Stenson and Cabrera (admittedly two of the best ball-strikers in the game). Through impact, Woods' right shoulder was high -- even on the good shots -- a product of over-tilting on the way back. All in all, it didn't look like an action able to produce the type of penetrating flight that could combat anything more than a Hoylake breeze. But if the low, thin shot to the right is required, then Tiger is currently your man. The "sclaff" he struck off that 5th tee bore a strong resemblance to a wounded bird.
Still, given a wee bit of luck with the weather you never know what might happen. With 14 major titles already to his name -- three of them Open Championships -- Tiger knows how to win these things. And, as ever, he was making positive post-round noises, albeit laced here and there with what might, in polite society, be termed realism.
"I'm only going to get better," he claimed. "But I also need to get everything a little bit better. The second hole, for example, was a sloppy three-putt. But I'm getting stronger. I'm getting faster. I'm getting more explosive. The ball is starting to travel again. And those are all positive things.
"At Congressional (three weeks ago) I made some terrible decisions and I wasn't decisive enough. Today was totally different. Consequently, I shot a better score. I feel good about a lot of things I did out there."
With that, he was off to the range. Where Tiger is concerned, actions have always spoken louder and been more revealing than words.