Editor's Letter
Is being too emotionally attached to a golf club hurting you?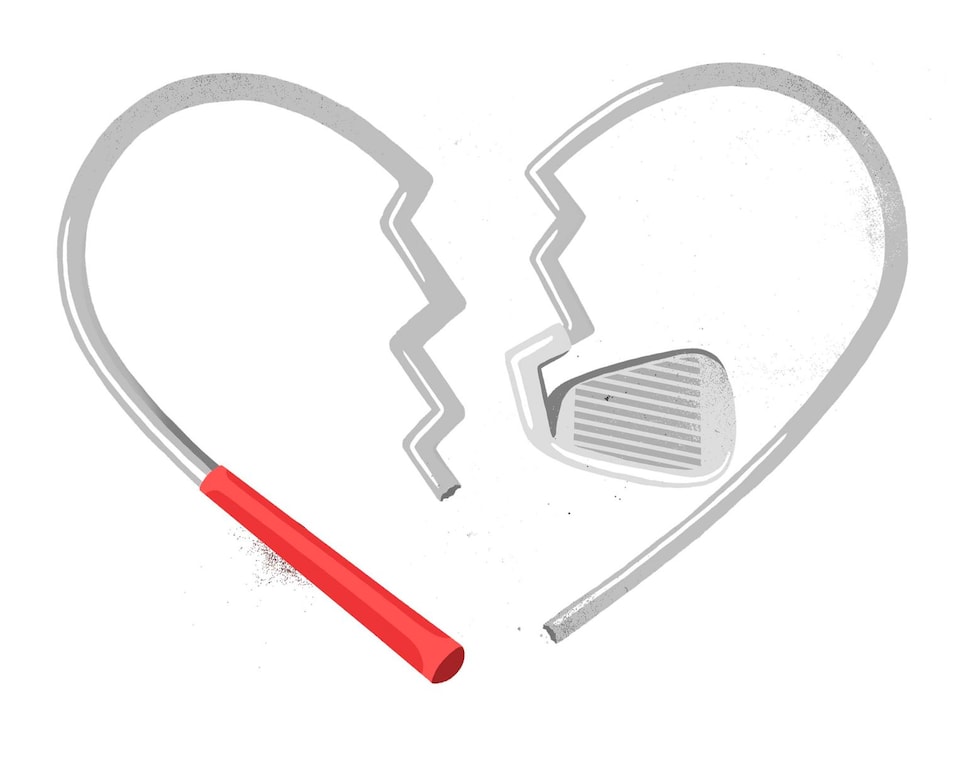 It's getting embarrassing. How can a guy of my position at Golf Digest play an 11-year-old club from a brand whose current proof of life is an infomercial? The rest of my bag I keep pretty fresh—it's easy with steady sneak peeks at new products from our expert equipment editors, Mike Stachura and E. Michael Johnson—but my hybrid is beat. My 17-degree Adams Idea a7 has half the paint chipped from the crown and some small dents, but I do love her so. She carries the exact distance with the same trajectory as our first season together, I swear.
Sweet, sweet constancy, when 3-wood is too much and 4-iron not enough, upon thee I do rely.
Before you make fun of me for getting gushy, I bet there's a club in your bag you can't part with either. It's not uncommon for golfers to have two or three or even four such relationships during their golf lives. Sometimes it's so obvious, playing partners will ask about when you first met.
For us it was the summer of 2009. I was the assistant equipment editor at this magazine, which meant I was handy with box cutters processing the thousand or so new clubs that arrived in multiple lofts and flexes for our Hot List summit. Golf was abuzz from Y. E. Yang conquering Tiger Woods at the PGA Championship, the unlikely deathblow delivered on the final hole with a hybrid from the rough 210 yards out. Underdogs across the world were stirred. Alone in a windowless storage closet teeming with shiny unhit equipment, I unwrapped her. I've always been partial to a square toe, but to be honest, there were other hybrids that looked better.
I played the field the rest of that summer. I was the ultimate golf-club bachelor, hardly being seen with the same set on my shoulder twice. But by October when the leaf rule was in full effect, I knew that with "the Adams" there would be no more searching. To make it official, I paid for the club at a media rate and consummated the union with a new headcover.
If I had the same command of every club in my bag as I do over this hybrid, I think I could have had a shot at the tour. At least a tour. Luckily, I have Stachura to remind me that it's exactly this sort of delusional thinking that forms the paradox of club shopping. We each search for that forever-club, something so good and perfectly matched that it transforms us. But it doesn't exist.
"Why we ascribe emotional affinity or even loyalty to golf clubs, or worse, believe they are something sentient to be relied upon is disturbing, frustrating and at the same time the sole reason for the golf-equipment industry," Stachura says. "Marketers know we are looking for that miraculous Wonderboy, our Excalibur, that somehow imbues us by its mere existence in our bags with a strength, wisdom, courage and confidence that goes beyond earthly physics and mechanical engineering, high-strength alloys, heavy-rare tungsten and the practical wisdom of men and women who have devoted their professional lives to improving the tools of our game."
Stachura calls my Adams Idea a7 a "Motorola flip phone in terms of golf equipment" and has indicated to me four new hybrids that possess the same relationship between the hosel-axis and the center of gravity that my body and soul are used to swinging. And their faces flex the way driver faces did just a few years ago. Stachura knows that if I can just make it to a launch monitor, the numbers will be unequivocal.
Find the right club for your game with our new Hot List interactive: