The Loop
Eight one-of-a-kind golf personalities
A glance at Golf Digest's Facebook page shows fans are none too pleased with CBS Sports' apparent decision to part ways with on-course reporter David Feherty. While some looked at the Northern Irishman's commentary as sacrilegious, there's no denying that Feherty's outlook was unique, and frankly, an imaginative take on a sport that's notoriously conservative.
In honor of Feherty, here are eight of the more unique personalities that have graced golf broadcasts:
A golf correspondent for The Sunday Times, Longhurst penned a dozen books throughout his life, and once served as a member of parliament during World War II. However, Longhurst is best known as one of the first voices involved in golf broadcasting, and as such, played an indelible role in the shaping of the sport's coverage. Longhurst worked on golf broadcasts for 20 years, from the late 1950s until his death in 1978. He famously called Jack Nicklaus' 40-foot putt on the 16th hole at the 1975 Masters:"My, my...in all my life I have never seen a putt quite like that."
Miller was a fine player in his own right, racking up 25 wins, two majors and one of the best final rounds in championship history, but is best known to contemporary golf audiences as NBC's color commentator. Miller has become known -- some would even say infamous -- for his candor, which has drawn ire from tour players throughout the years. Nevertheless, his ability to convey both a golf course's subtleties and the mechanics and fundamentals of the sport to the common man are unparalleled.
One of the fewer announcers who doesn't hyperbolize the present. Can spout out historical facts as if he's reading from a book. He's facetious without the snark. And if he does offend -- which he occasionally does -- he doesn't give a damn.
Or, we could just say his nickname is "the Voice of Golf." Enough said.
To a certain generation, Summerall was known for many years as the monotone narrator of the "Madden" NFL video game franchise (as well as Golden Tee!). Yet, despite his career as a NFL player, he seamlessly transitioned to golf, and was an integral part of the sport for 30 years. Summerall worked his first Masters in 1968, and was at Augusta every year until 1994. The brevity and booming inflection was apropos for golf.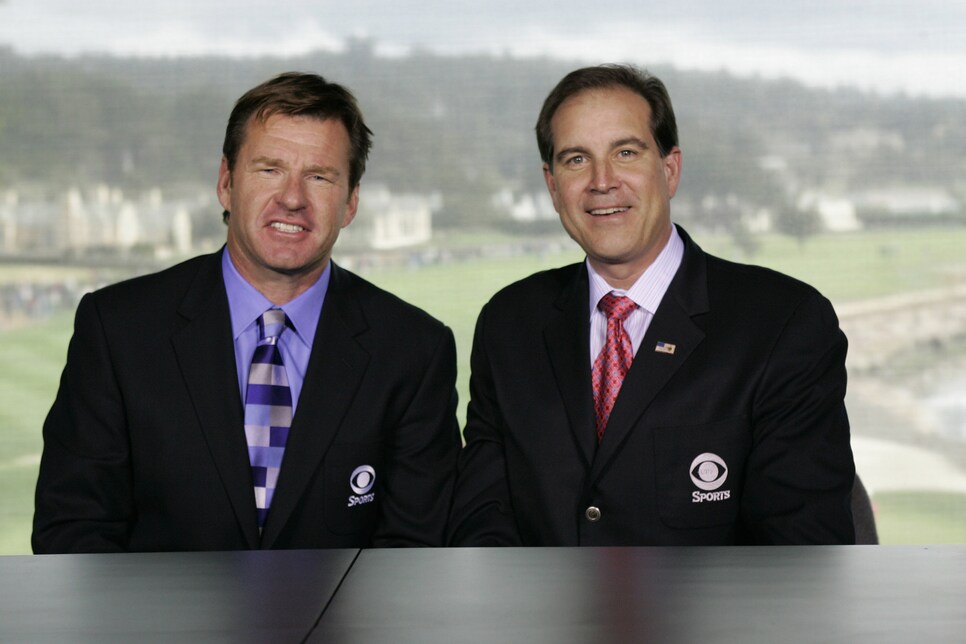 Perhaps the most polarizing on our list, a contingent of golf viewers consider McCord's discourse as lowbrow schtick rather than shrewd narration. Augusta National certainly falls into the former audience, as McCord was banned from the Masters telecast after cracking that the greens had been "bikini-waxed" and that "body bags" were behind the 17th green. But there's a batch who view McCord's goofiness as a welcome respite for the often somber tones of golf coverage, and his distinctive Rollie Fingers-esque mustache lends the aura of approachability.
Rossie popularized the practice of on-course reporting. It's hard to play a round with buddies without hearing Rosburg's famous, "He's got no chance, Jim" line, which was often said to ABC play-by-play man Jim McKay in describing a player's ominous location on the course. Winner of the 1959 PGA Championship, Rosburg was on the mic for over 30 years when he died in 2009.
Nantz is a student, patron and guardian of the game. There's never a moment that's too big to handle; he's a maestro of directing traffic between the myriad on-course reporters and commentators.
Yes, he can be over-sentimental at times, and his 18th-hole calls occasionally seem like mad-libs constructions. Nevertheless, Nantz is the best of his profession, and his voice is synonymous with the sport.
Feherty is not just one of the more entertaining, enlightened voices in golf. He's one of the more entertaining, enlightened voices you will hear, period. My only complaint, if you can even call it that: every one of his comments has the cadence of a question.