Editor's Letter: You to Him, Him to You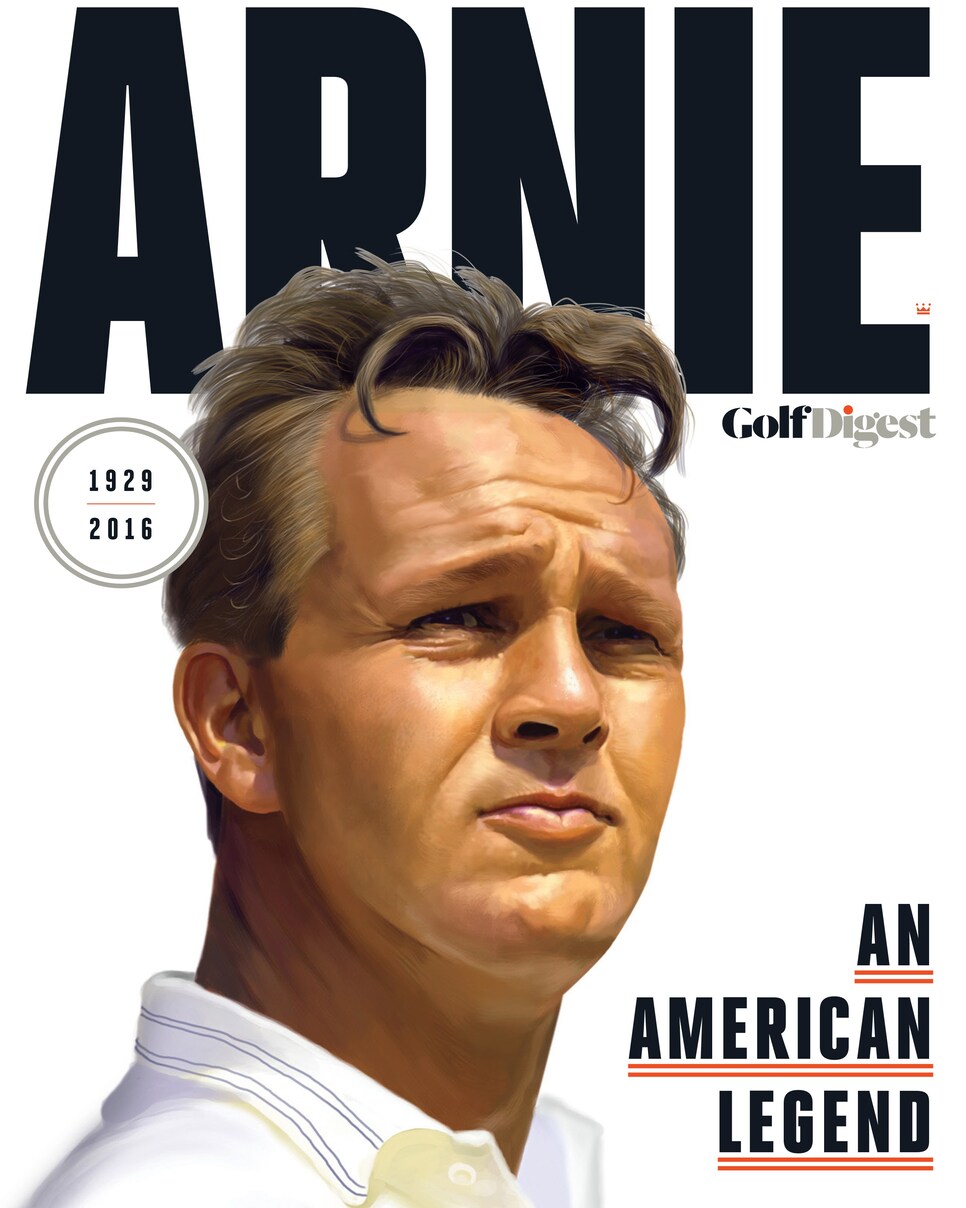 Think young, play hard, have fun! Our theme this month was lived every day by the man who left us just as we were closing the issue. Who personified those words more? In all the world, I cannot imagine anyone who lived a fuller life than Arnold Palmer.
"Except for the sheer ferocity of his athleticism, the quality of his character and a certain animal magnetism, there was really nothing to recommend the man," the writer Pat Ward-Thomas once said.
His passing was like a death in the family. Every golfer had a story or, it seemed, a personal interaction. Over 87 years, he touched everyone. I remember playing with Arnie once on a rainy day in Scotland. When we reached the first green, he walked over to me and put a ball marker in my hand. It had his multicolored umbrella insignia on it. "Here, you'll need this," he said. I keep it in my jewelry box.
Every day for decades, he would sit at his desk at Latrobe or Bay Hill and sign autographs. Send him something, anything, and he'd sign it and send it back at his expense. Hundreds of them a day, an estimated 3 million in his lifetime—he signed more autographs than anyone probably ever. He wanted them to be worth nothing, because he gave so many away. But each signature with perfect penmanship was a statement of respect for every fan in Arnie's Army. "They're the same as you; you're no better," his father, Deacon, told him.
He was at lunch one day at Pine Valley when someone came by to inquire if he'd like to meet Prince Andrew, who had played the course and was sitting across the dining room. "Sure," Arnie said, "bring him over." King to prince, he rarely pulled rank.
I stopped by his office on his 80th birthday with a couple of friends. He was on the phone in the other room accepting calls from birthday wishers, and we could hear him saying, "Yeah, yeah, thanks for calling, gotta go, yeah, yeah, goodbye." He came in to greet us and shrugged at the phone: "The King of Spain," he said. Only Arnie would give the King of Spain the bum's rush to greet a few fans.
That torrential day in Scotland, Palmer and PGA Tour commissioner Tim Finchem played Arnie's business manager, Alastair Johnston, and me, but he wouldn't give us any handicap strokes and needled us all the way around. When a ball bouncing off a rock onto the green turned the match in our favor, no one laughed louder in losing than Arnie. And then he refused to pay the bet. He reveled in golf's locker-room banter, the wink that connected you to him, him to you.
One of the more amazing anecdotes we ever published occurred in 1967, when some college kids in Canada decided to cold-call Arnie on Christmas Eve. They phoned the operator in Latrobe, Pa., and asked for "Arnold Palmer." Arnie picked up. "No, you're not bothering me," he said. "I'm putting presents under the tree for Winnie, Amy and Peggy." The conversation lasted 12 minutes, according to the bill the caller received from Bell Canada. It also showed the time: 1:06 a.m. Christmas Day. Can you imagine the same happening to (fill in the blank)?
I remember Buddy Marucci telling me about the time he played in the Masters, invited as a runner-up in the previous year's U.S. Amateur, and was paired with Palmer. Standing on the first tee, Arnie threw his meaty arm around Marucci and said quietly, "Today's going to be one of the most memorable days in your life. If there's anything I can do to make it better, just let me know." It was a metaphor for the way he treated all of us.
I was there when he posed (standing on a milk crate) with Kate Upton for a Golf Digest cover. He brought the shoot to a halt bragging about his granddaughter Anna Wears, then 16, who could drive it 240, break 80 and was "the most athletic" of all his grandchildren (see our Palmer tribute).
He especially loved kids. His Arnie's Army Charitable Foundation focuses on the well-being and development of children and youth. His greatest legacy is the Arnold Palmer Hospital for Children and the Winnie Palmer Hospital for Women & Babies in Orlando. The highest honor given by Golf Digest is our annual Golfers Who Give Back award; it's called The Arnie.
Bobby Jones is remembered by the public for his sportsmanship; Ben Hogan for his dedication to excellence. Palmer's legacy stands even taller because he'll be remembered not only for the swashbuckling spirit he brought to the game, but more important, for the way he treated people. He always made the time. The hopeful question remaining is not how, but will the pros remember him? Will the tournament bearing his name continue to attract the top players not next year, but the years after that, in homage to this legacy? Almost 50 years ago, Frank Beard wrote that every tour pro owed 25 cents out of every dollar earned to Arnie. The debt is even greater today.