Editor's Letter: He Was Jack In Print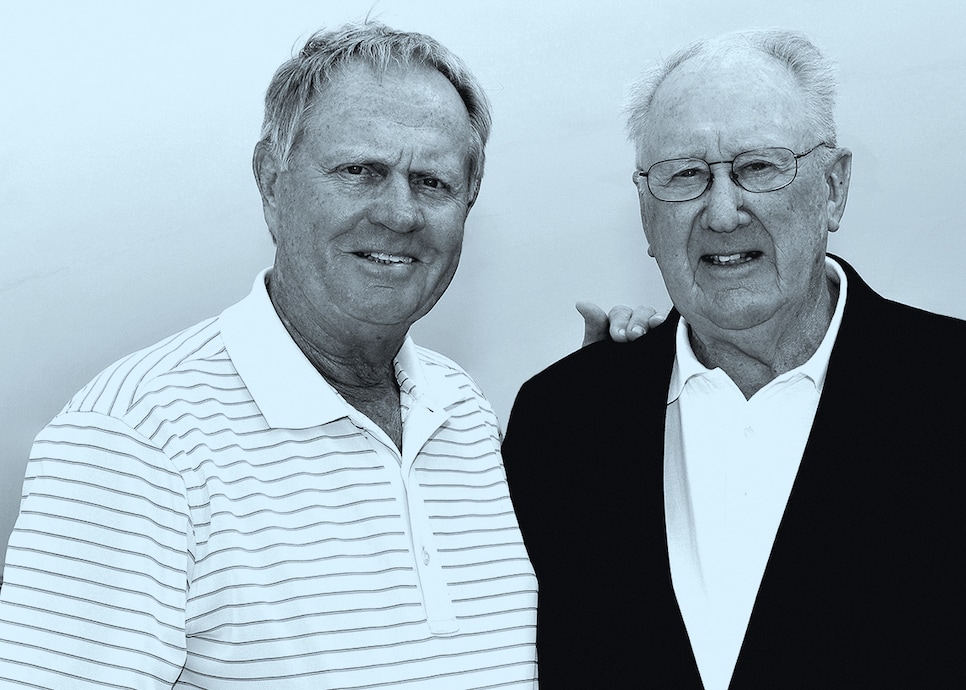 Courtesy of Jim Mandeville/Nicklaus Companies
Cock your head to the right before starting the backswing. ... Hover the clubhead above the ground at address. ... Pick out an intermediate spot like a leaf between your ball and the target. ... Aim at the middle of the green and work your shot toward the hole. ... When you want to hit it farther, take it back slower.
The first instruction tips I ever recall reading were in a cartoon series in Golf Digest in the 1970s called "Jack Nicklaus' Lesson Tee." Another series about tactics, "Playing Lessons," followed. I then read Jack's seminal book, Golf My Way. For generations, these words became the foundation for how we tried to play the game. Jack was the author, but his ghostwriter was a bombastic American, born in Brooklyn, who grew up in Australia and England and had a jaunty British accent—the one and only Ken Bowden.
Bowden died earlier this year at age 86 fairly anonymously like most ghostwriters, but worth remembering. He was the founding editor of the monthly Golf World U.K. when our founder, Bill Davis, plucked him from London to become the editor of Golf Digest in the United States. Later, Ken would give me grief about editing the magazine. "You know, it's not very hard work," he said. "In my time, we'd put out the magazine in the morning and play golf in the afternoon. What do you do all day?"
Ken had an elegant style with a dash of cynicism. He exuded self-confidence, knowledgeable about a lot of things and never overly impressed with anything—the perfect sidekick to Jack, with whom he wrote a dozen books. "Ken was a very talented guy and friend," Nicklaus says. "He became me in the printed word."
Both had strong personalities and needled each other incessantly. Ken would say, "Most 4-year-olds think everything in the world revolves around them, but Jack's had nothing in his life over the last 60 years to disabuse himself of that notion."
Ken was a good player and many-time club champion, prone to throwing fits on the course. "He was one of those self-loathing golfers who could shoot 68 and hate himself more afterward than before," says Senior Writer Guy Yocom.
Bowden changed instruction writing by making it more conversational, adding what was going through Jack's mind during critical shots in tournaments. Ken had a natural curiosity about the swing and in turn made Jack more curious about it. Besides all the books and magazine articles, Nicklaus and Bowden produced thousands of newspaper cartoon strips that gave millions their first taste of golf.
Ken's mentors were Henry Longhurst and Leonard Crawley, two giants of British golf writing. Longhurst and Crawley often traveled together, but Crawley was the slower writer, so invariably Longhurst had to wait around after finishing his column, and one drink led to another. Once their courtesy-car driver was a college student in a huge Pontiac convertible with the top down. Bowden had a natural talent for storytelling evident in his 2008 memoir, Teeing Off:
Crawley took the front seat next to [the college kid], and Longhurst somehow managed to stagger into the back, where I joined him.
At that point both men were engaged in one of their fairly regular phases of, if not bitter enmity, at least "not speaking" to each other—a form of hauteur and disdain hanging over from their British upper-class backgrounds. [Eventually] Henry's conscience clicked in [precipitating] a litany of mumbled, garbled self-abuse about his habitual overindulgence . . . and assorted other sins, which suddenly crescendoed with him deciding to end it all there and then.
Turning, Henry began struggling to ascend the car's rear seat with, clearly, the objective of getting onto the trunk, from where, I assumed, it was his intention, as soon as a sufficiently large truck was conveniently positioned, to eject himself into its thundering path.
Realizing, as he managed to clamber out of the car to spread-eagle much of his torso on the trunk, that he might just be far enough gone to commit such an act, I dived for his legs, grabbed them tightly, and began hauling him—moaning and protesting—back into the seat. As this episode had begun, Crawley half-turned to watch, his expression of disgust steadily escalating. ...
"Dammit!" he roared. "After all these years, I swear, enough is enough. Just let the bugger go, do you hear me? Let the bugger go!"
But Bowden hung on to Longhurst, and he hung on to Nicklaus, and for 86 years hung on himself, and we're quite grateful for all of it.
MY TOP 5: GOLF INSTRUCTION BOOKS OF ALL TIME
1. Golf My Way
By Jack Nicklaus with Ken Bowden
2. Practical Golf
By John Jacobs with Ken Bowden
3. Harvey Penick's Little Red Book
with Bud Shrake
4. Five Lessons
By Ben Hogan with Herbert Warren Wind
5. The Methods Of Golf's Masters
By Dick Aultman and Ken Bowden