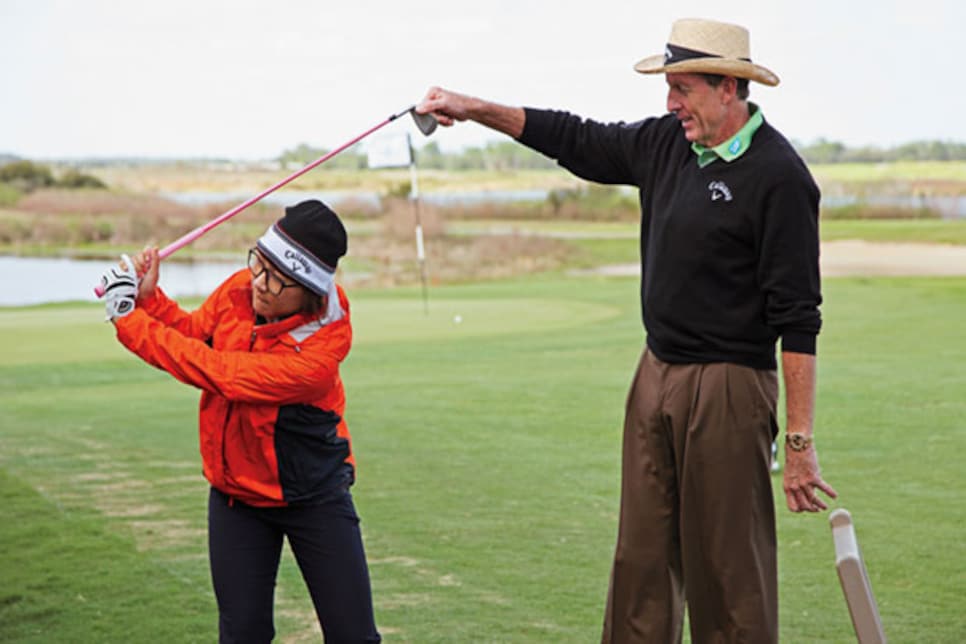 Lydia Ko and David Leadbetter worked on simplifying her backswing.
In the "Father & Son" article about Davis III and Dru Love in this issue, senior writer Guy Yocom tells a story I first heard from their late father/grandfather. Davis Love Jr. was forced by Harvey Penick to take up the clarinet (I remember it as dance lessons) because it would endow him with the most important quality in a teacher: empathy with his students.
My first golf school was headed by Davis Jr., who later offered me the greatest break ever given a young golf writer. He set it up for me to spend a day with Mr. Penick at Austin Country Club in the late 1980s so I could talk to him about the notes he had accumulated in a lifetime of teaching for the purpose of writing a magazine article or maybe even a book. I went down there and had a good conversation with what appeared to be the Oldest Person in the World—a cross between Mel Brooks' 2000-Year-Old Man and Mother Teresa came to mind when I saw him. From his briefcase Mr. Penick showed me a red-covered, lined notebook with a rubber band around it and a few pages of writing scribbled inside.
When I got back home, Davis Jr. called and asked,"So what do you think?"
I said, "I think I just met the nicest guy in the world, but I'm sorry, Davis. I don't think there's anything in that little red book."
A couple of years later I heard from Dan Jenkins that his best friend, Bud Shrake, of Austin, was writing a book with Mr. Penick, and I thought that was a perfect match—Bud had never written a golf book before, and Harvey didn't have one to write.
"What are they going to call it?" I asked.
"The Little Red Book," Dan said.
In 1992 Simon & Schuster published Harvey Penick's Little Red Book, and it quickly became, and remains, the best-selling golf book of all time. Harvey was a juggernaut, the sports equivalent of Grandma Moses.
Mr. Penick died 20 years ago at age 90, and Shrake wrote four more best-selling books based on the extensive notes of his lifetime in golf instruction. Boy, was I wrong.
The thing is, we editors get a lot of mulligans hanging out with golf's greatest teachers.
There's none better than David Leadbetter, whose credits include the swings of Nick Faldo, Nick Price, Ernie Els and Michelle Wie. Our main instruction story this month is excerpted from
Leadbetter's revolutionary new book, The A Swing—"A" for the Alternative Swing (written with senior editor Ron Kaspriske). After 40 years of teaching the best, Lead has found an easier-to-repeat motion that gives everyday players better ball-striking with less effort.
Although the method has recognizable parts of Jack Nicklaus and Calvin Peete, the best example of the A Swing today is Leadbetter's protégé Lydia Ko, who earlier this year tied the LPGA record of 29 straight rounds under par.
"When we first started working together [at the Leadbetter Academy]," he says, "her club would travel quite a long way to get to the top of the backswing. We've probably cut out about 20 percent off that distance the clubhead travels. When you're flying from New York to Miami, you don't have to go through Chicago."
Editor's note: That sounds a little like Mr. Penick.
"We simplified the backswing," Leadbetter says. "She's got a pretty steep plane going back with her hands staying inside the clubhead, and at the top the clubshaft crosses the line a bit. As she makes the change of direction, the club shallows out coming down. The most important part is the downswing plane. She was a very steady fader of the ball, but she needed to maximize her distance with a draw. She's gone from hitting it 240 yards to the 255-range now, and she can move it both ways."
The average guy swings it back shallow and then comes down steep—the opposite of the A Swing. Leadbetter's point is that anything you do to reverse those planes will make you a better golfer. "I liken it to ordering curry,"he says. "The waitress asks you how hot you want it. Do you want it mild, hot or extremely hot? Extremely hot is the perfect model. In most forms of instruction, people tend to overdo what they're working on. With the A Swing, you can't overdo it."
I told David I liked the name of his book, but if it were up to me, I'd call it The Vindaloo Swing. You can't make it too hot.
I'm not going to be wrong about this one.