The Loop
Looks like Ed Orgeron already locked up the award for Football Guy quote of the year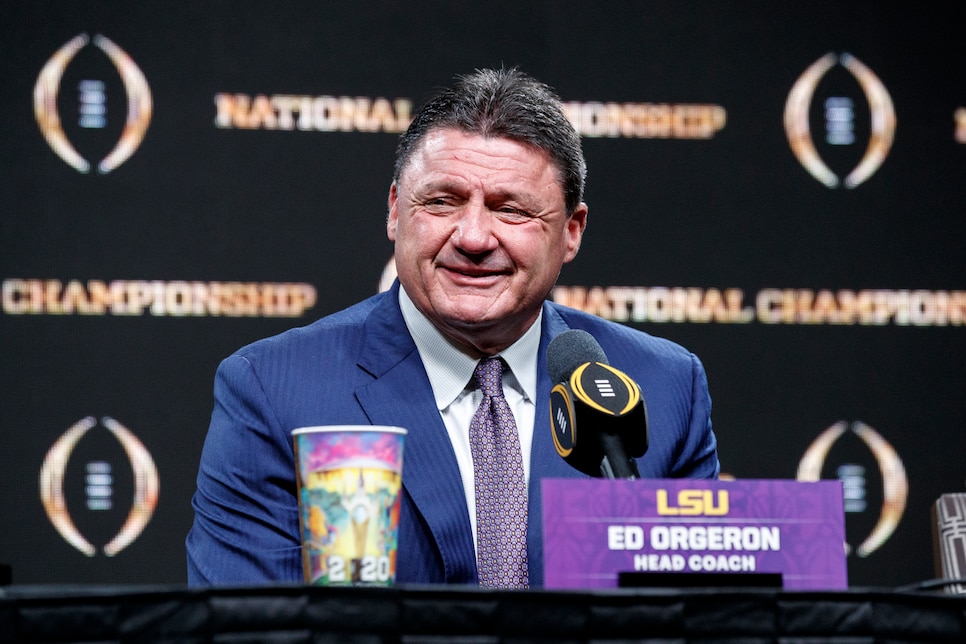 Up until Wednesday afternoon, no football coach was able to wrangle the Football Guy Quote of the Year trophy from Will Muschamp's cold, dead hands. After a 1-3 start last season for Muschamp's South Carolina Gamecocks, the 48-year-old ball of fire stated that his team needed to play every game like it was a "must-win," including their bye week, which did not feature an opponent, as is tradition:
And you know what? Kick open's ass they did. Following a win over Kentucky, they kicked the crap out of the bye week and then beat the No. 3 ranked Georgia Bulldogs on the road in Sanford Stadium, adding to the quote's legend. This was not the first time Muschamp had delivered an all-timer, either. Three years earlier, when asked about his team praciticing on Thanksgiving Day, Muschamp said "we'll be in here early. It's awesome. Thanksgiving is a meal, it's not a day." Legendary.
Of course, if there was anybody could unseat Muschamp, it's fellow SEC head coach Ed Orgeron, who is a Football Guy quote factory. Well, if you can understand what he's saying, that is. Fortunately, we don't have to decipher this one, LSU beat reporter Brody Miller of The Athletic did it for us:
The "run through a brick wall" thing gets way overused on the internet, which is a shame, because it was literally invented for everything Coach O says. His players, his fans, random people on the internet, and your damn grandmother who has never watched college football before would run through a brick wall for this man. No ifs, ands or buts.
What makes the quote particularly great is that Coach O would show up to a pasture at midnight to play a game this fall, with or without a full team of players. He'll play the other team by himself, preferably shirtless, if he has to. I speak for many when I say this country needs football this fall, and, more importantly, it needs Coach O.