The Loop
Easy golf has broken our brains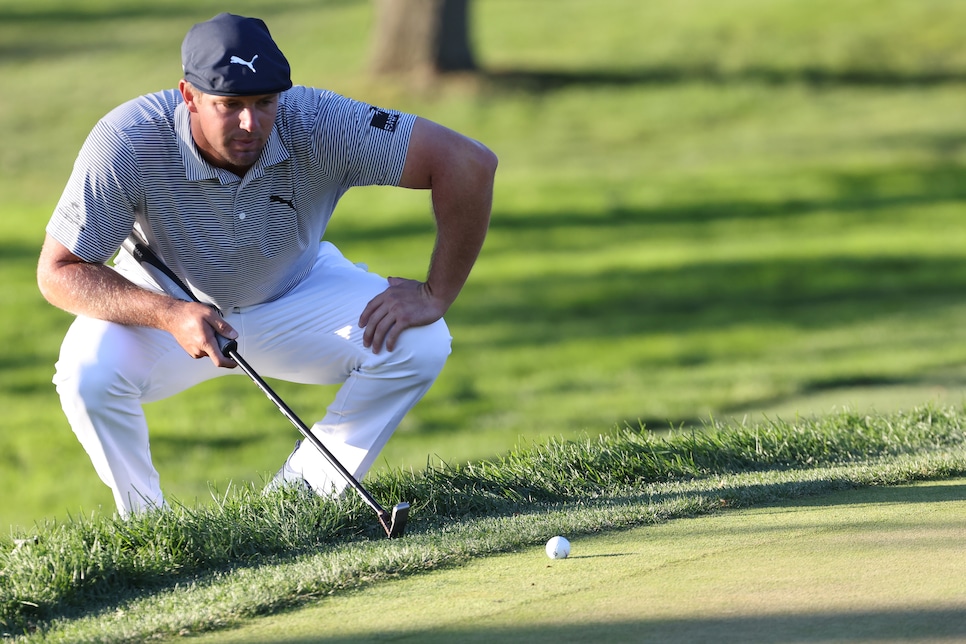 I am on the record, repeatedly, as a cheerleader for the USGA, and of difficult courses in general. But there came a point during Sunday's round at Winged Foot when I caught myself saying (and sometimes tweeting) things like, "why doesn't anybody other than DeChambeau want to win this thing?"
Well, the answer is, they did! They very much wanted to win, but the course was insanely hard. Look at these stats:
Nobody was choking or being passive. Or, if they were, the choking and passivity were indistinguishable from the rough play resulting from a monster course. In the past, I would have known this and recognized this before going into full hot take Bayless Mode and accusing the players of being cowards. The problem is, I have seen nothing for the past few months except golfers making birdie at will and tournaments being won by the most aggressive players who spend their Sundays hitting approaches to six feet and never missing a putt. That's the norm on the PGA Tour and even in most majors; it's a shooting gallery.
The U.S. Open is different, and always has been. Normally, I appreciate that, but I have to confess on Sunday that I found it a little plodding, a little boring, a little frustrating, at least until the back nine when it became about Bryon's coronation. This is not the USGA's fault. This is my fault. Courses like Winged Foot are, to use a cliche, a "true test," and they reward consistency and inventiveness and variety and focus. The fact that I've been corrupted into thinking that the struggling players are wilting under the pressure? That's on me. I'm an idiot. But this is what happens when the normal weekly experience is a nonstop birdie-fest. When a golf course flexes its muscles, I am not prepared. The brain has been broken.
COVID Accessories of the Year: Andy Reid
Not only did Andy Reid continue to wear the face shield that he broke out for week one, but in week two, he added an honest-to-goodness defogger. Apparently it's the same product hockey players use to keep their masks from steaming up, and the dude really, really needs it:
All in all, good for Reid. The Internet is going to have its fun, but he deserves kudos for taking it all so seriously and leading by example. And now, even better, he'll actually get to see the game.
Supportive Coach of the Week: Jose Mourinho
Son Heung-Min scored four—count 'em FOUR—goals in a 5-2 Tottenham win over Southampton this weekend, but when he was basking in the accolades in a post-match interview, his coach Jose Mourinho interrupted him on TV. The message? Apparently, four goals isn't enough to earn Man of the Match:
Love to have the coach on your side! To be fair, Harry Kane was great, with a goal and four assists. But four goals?! That doesn't happen every day, Jose. Check out Son's brilliant day here:
Hilarious Sore Winner of the Week: Colby Covington, UFC
Covington beat up on Tyron Woodley Saturday night, winning every round before a rib injury ended Woodley's fight, but the funniest part came afterward, when, in a mostly empty arena where he could be heard with crystal clarity, Covington um, asked some questions about the championship belt.
I'm going to link this tweet rather than embedding it, since the language is not safe for work.* View at your own risk, and let's hope for the good of everyone in that building that somebody found Covington's belt.
(*Does "NSFW" even apply anymore, when most of us work from home? Better safe than sorry, and etc. etc., but come on, it's 2020, nobody's in an office and we've got bigger problems than an f-bomb or two. Carry on.)
The Greatest Athletic Feat You Won't Hear About: Tadej Pogacar, Tour de France
After a grueling month of cycling long distances through an entire country, including the Alps and Pyrenees, the Tour de France came down to Saturday's individual time trial, where for the first time the riders were racing without a team. Primoz Roglic held a 55-second lead over the 21-year-old Pogacar, and considering how good Roglic is at time trialing—one of the skills which made him the pre-race favorite to win the Tour—it seemed more or less insurmountable. The riders went off in reverse order of their standing, meaning that Pogacar would be the second-to-last rider, and Roglic the last.
Of the 146 riders still in the race, only a handful finished the mountainous course under an hour. But Pogacar, needing the ride of his lifetime, crushed the course in 55 minutes, 55 seconds. It was the best of any rider, and it was good enough to overtake Roglic by about a minute. That doesn't quite tell the story, though; Roglic himself finished fifth in the race, and the second-place finisher was only 30 seconds ahead of him. That means winning wasn't good enough for Pogacar. He had to win by a lot, and he did. Watching him suffer as he raced up the closing climb, sacrificing his body for the chance to win a yellow jersey as the green clock showing Roglic's lead got closer and closer to zero, was spectacular. It will sound nuts, but it's one of the five best athletic feats I've seen in my life, and it was one of the closest Tours ever.
The video the Tour put together is fine; kinda cheesy, but whatever. It will give you an idea of the drama that went down in La Planche des Belles Filles: