The Loop
Dustin Johnson's redemption tour continues with opening round 65
UNIVERSITY PLACE, Wash. -- When you watch Dustin Johnson speak, with a tranquil cadence that barely permits any inflection, much less emotion, it's difficult to remember that this is the same person who has lived a remarkably turbulent life. Legal troubles dogged him in his teens after he helped steal a gun that was later used by an acquaintance to commit a murder, and a Golf.com report from last summer alleged that he has now failed three drug tests on the PGA Tour, the last two resulting in suspension. But when you're face to face with the man, he has the placid look of someone who has never experienced a moment of anxiety -- as though there's a thick filter between himself and the rest of the world, keeping out the worry.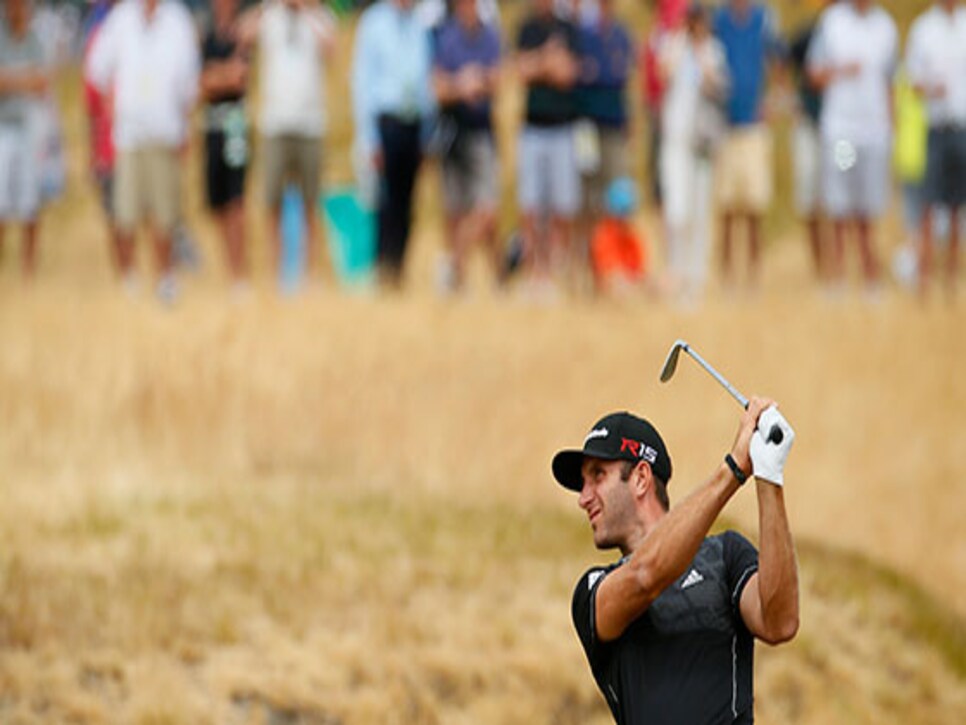 He was unchanged Thursday after shooting a first-round 65 at Chambers Bay to share an early U.S. Open lead with Henrik Stenson. In interviews afterward, he absorbed our questions blankly, registered them on some primal level, and gave his flat-line responses -- the course was tough at times, but not at others, some pins were hard, others were not, I felt good, I hit some good shots and a handful of bad ones, etc., etc., etc. It all came out in his trademark meditative mumble, while his eyes focused on some indistinct horizon, never lighting up with even a flicker of impulse or invention.
At one point, we may have even achieved a rare moment of press-conference transcendence when a phenomenally boring question was met with a phenomenally boring answer:
Q.> I think the locals would like to hear from you on just the atmosphere, the galleries, the experience so far, how you've been treated and what do you make of holding this event in this part of the country? DUSTIN JOHNSON: I think it's great. Obviously this is a beautiful golf course, great views and looking out on the water and stuff, it's a beautiful place. All the people around here have been very nice and good fans. It was a lot of fun out there today.
And then there were gems like these:
Q.> Where would you rank this round among the good rounds you've had this season? DUSTIN JOHNSON: Well, I've had a lot of good ones. I don't know. I thought it was just a good, solid round of golf. I don't know how to rank it. It was just good.
On the course, things were quite different. Chambers Bay does not cater to the unimaginative mind, and Johnson was at his creative best after withdrawing from Memphis last week due to illness. With six birdies and only one bogey, he tamed the course that had looked so fearsome just a day ago.
He wasn't alone on a day when Chambers Bay yielded several low morning rounds. You could almost see it coming -- in Mike Davis' press conference Wednesday, there was an undercurrent of anxiety about a dry track playing too hard, to the point that good approach shots bounded over greens in a nightmare scenario reminiscent of Shinnecock Hills in 2004. So they watered it all down, and suddenly Thursday didn't look so foreboding.
Johnson led the charge early, and unlike Phil Mickelson, he didn't suffer a back-nine fade. His driving distance remained in the top five all morning, setting him up for birdie opportunities, but he credited his approach shots as the catalyst for his great score -- "I just controlled my distances very well. I was landing the ball where I wanted to."
Johnson only returned to golf in February after a six-month "hiatus," and 2015 has taken on the feel of a redemption tour. He contended early at Riviera, won the WGC-Cadillac at Doral, and has finished in the top 10 three times since. If he stays in contention through Sunday, it won't be the first time he has had a major championship in his sights, or the first time the U.S. Open trophy seemed within his grasp. In the past, he hasn't managed the pressure well enough to win, and considering his raw talent and his record on the PGA Tour, he stands as one of the best golfers in the world never to break through on the biggest stage.
It's difficult to define the word "redemption," and especially with Johnson, it's hard to know which comebacks are permanent and which are only temporary bounce-backs bridging the gap until the next fall from grace. His personal life is too messy, too private for anyone to decipher. But on the golf course, the requirements are clear -- he has to win a major.
Chambers Bay, with its wide fairways that beckon like a friendly shore to bombers of his ilk, represents another terrific chance. Johnson has never been known as someone who takes advantage of these opportunities, and if he really wants to shift public perception, the change starts here.