News
Dustin Johnson vs. Jason Day: Whose historic stretch of golf is better?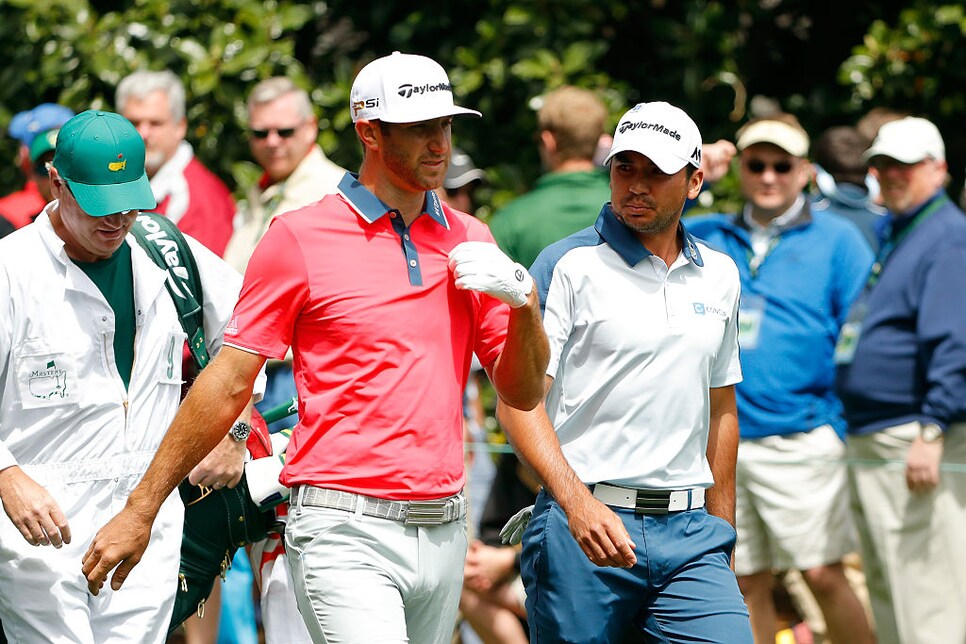 Dustin Johnson's recent domination has left little doubt who the best golfer in the world is. But less than a year ago, we were all saying the same thing about Jason Day. In fact, Johnson and Day have now authored two of the great bursts in modern golf history, with one just happening to start his a month after the other finished. So which player's spurt was the best? Let's take a deeper look.
Winning percentage: Dating back to last year's U.S. Open, Dustin Johnson has won six of past 16 official PGA Tour events for a batting average of .375. Beginning with the 2015 RBC Canadian Open, Jason Day won seven of his next 17 events, which comes out to .412. We'll give Day the edge for now, but Johnson could match Day with a win at next week's Masters.
Major performances: Each player took advantage of their hot streak to capture their first major title -- Day at the 2015 PGA Championship and Johnson at the 2016 U.S. Open. In fact, you could say both spurts started at a major. Day rammed in the winning putt at the RBC Canadian Open the week after leaving a putt short at St. Andrews to miss getting into a playoff. And Johnson overcame Oakmont, the field and another final-round rules controversy to get rolling. Day's only other major start during this stretch was a T-10 at the 2016 Masters. Johnson also made one other major start in his streak, a missed cut at the 2016 PGA Championship. Day established a new major scoring mark at Whistling Straits with his 20-under-par total so he wins another close one.
Quality wins: What makes both of these spurts so impressive is the level of competition they faced. In addition to his win at the PGA, Day won the Players, the WGC-Dell Match Play, two FedEx Cup Playoff events, the Arnold Palmer Invitational and the Canadian Open. Johnson added three World Golf Championships, a FedEx Cup Playoff event (the BMW) and the Genesis Open. Outside of the Canadian Open, those are all top-tier events, so let's call it a draw.
Other finishes: In addition to his seven wins, Day had one top five, three top-10s, three to- 15s, two top-25s and a missed cut. Johnson had two other top fives, four top-10s, one additional top-25, plus a T-35 and two missed cuts. Another draw.
World Ranking: Both players used their torrid spurts to ascend to the top spot in the Official World Golf Ranking for the first time. In those 17 events, Day averaged earning 32.97 world ranking points. In Johnson's 16 events, he earned an average of 35.71 points. Edge: DJ. Although, as you can see by this chart from Business Insider, Johnson still hasn't quite reached the height of Day at his peak.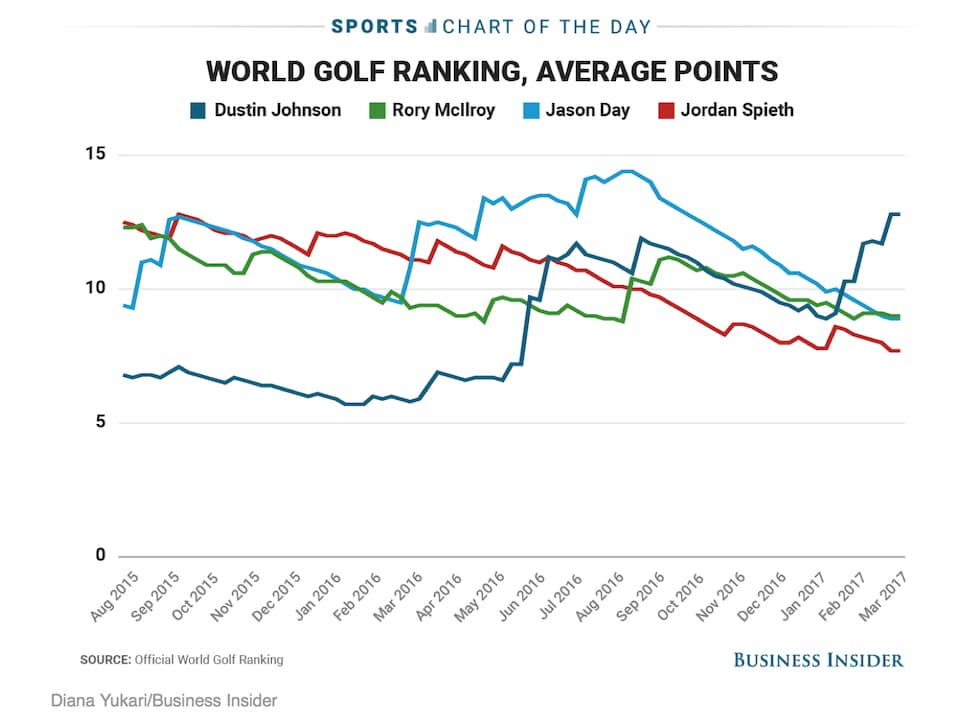 Of course, the other two names on that chart, Rory McIlroy and Jordan Spieth, have each had their own incredible stretches of golf. Starting with the 2015 Valspar Championship and ending with the 2016 Hyundai Tournament of Champions, Spieth won six out of 21 events. McIlroy won five out of 14 from the end of 2014 to the beginning of 2015, but didn't win for his next 20 events. Both McIlroy and Spieth won two majors in their best spurts, but neither quite reached the overall winning clip of Day and Johnson over a 16-17 event span. Yes, that's a somewhat arbitrary time period, but that's the way it goes sometimes. And if you're wondering how Tiger Woods stacks up, the 14-time major champ once won seven events in a row and nine out of 12 during one point from 2006 to 2007. He also won nine of his first 17 starts in 2000. You get the point. It's tough to ever measure any feat to a Tiger accomplishment.
Back to comparing Day and Johnson, the biggest difference between their best stretches is that Johnson, 32, is still in the midst of his. Meanwhile, Day hasn't won since the 2016 Players, but he's also battled a bad back and been distracted by his mom's cancer diagnosis, which has his status for the Masters up in the air. Because Johnson can still add to his hot streak, it's tough to definitively answer the question of whose spurt is better. Regardless, with all the (deserving) hype surrounding DJ's current run, it's funny how quickly we seem to forget what some of his younger contemporaries have already done.