The Loop
Dustin Johnson takes over No. 1, Paulina Gretzky makes a big announcement, and PGA Tour pros celebrate Valentine's Day
Welcome to another edition of The Grind, where we're feeling conflicted about, well, feeling conflicted. In the span of an hour on Friday, I got word that co-worker Joel Beall had made a hole-in-one and then saw another friend wave to me on the live camera at Bandon Dunes.

I was happy for both of them, of course, but I'd be lying if I said I wasn't jealous. After all, I've never made a hole-in-one and I've never been to Bandon Dunes. And it didn't help that these messages came as I sat indoors waiting for snow to melt. But after stewing all weekend, for the sake of karma (Are you paying attention, golf gods?), I've decided to be a nice guy. Congrats, you two! I'm so happy for you!
OK, now that we've gotten that out of the way, let's get to what else is happening in golf.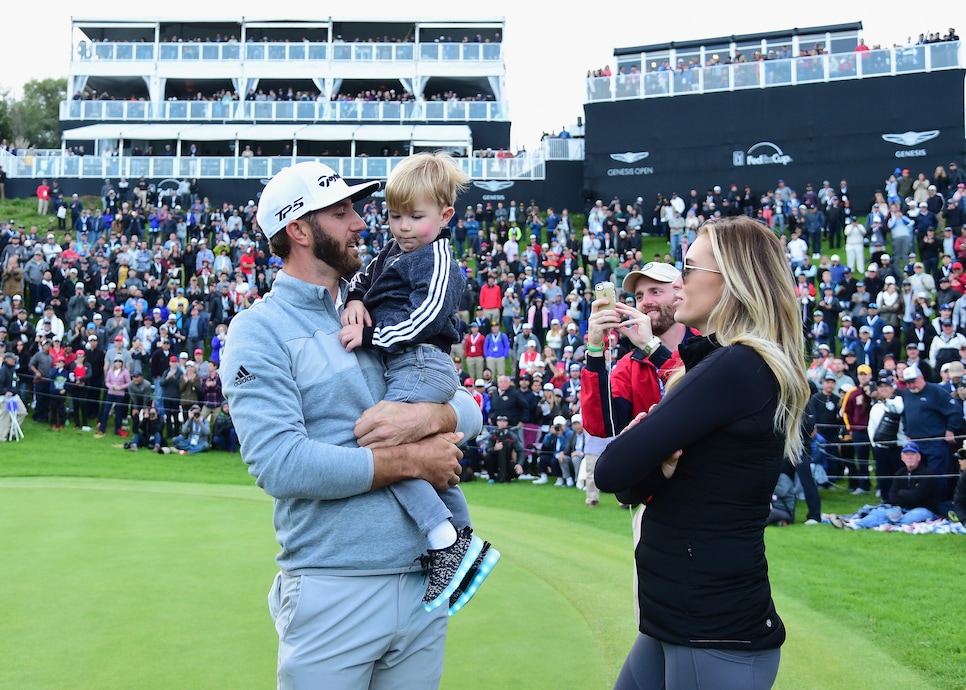 Johnson has played 23 official tour events in the past 12 months, winning four times (including a major), and racking up 12 top fives and 16 top 10s. He's also now just the third PGA Tour player in history to win at least one event in each of his first 10 seasons. The other two? Jack Nicklaus and Tiger Woods. Decent company.
Phil Mickelson's short game: Mickelson is still searching for his first victory since the 2013 Open, but his short game is as sharp as ever. He holed a flop shot on Thursday, pulled off a perfect pitch off Rivera's sixth green on Saturday, and then holed three shots from off the green in his opening nine holes on Sunday. Seriously, this is ridiculous:
You see, the only downside to this whole DJ dominance is that I overruled fantasy golf partner and colleague Joel – yes, Mr. Hole-In-One – Beall and took an injured McIlroy instead. But after playing 18 holes with the President, it sounds like the four-time major champ is close to coming back. (Please be close to coming back, Rory. The hole-in-one mocking from Joel is bad enough.)
Fred Couples' back: Freddie cruised to a win at the Chubb Classic, earning his first PGA Tour Champions title since 2014. It's great to see Couples playing well again, and this performance should be great inspiration for his buddy Tiger Woods. That being said. . .
Tiger Woods' back: With a withdrawal from his pre-tournament press conference (and from handing out the trophy at an event he was hosting), Woods now has more WDs than rounds played in his latest comeback to the PGA Tour. Woods' agent said he's been advised to "stay horizontal" while he recovers from back spasms and apparently, sitting through a 30-minute Q&A was too much. Needless to say, this doesn't bode well for the comeback – and he'll probably be watching the Academy Awards from bed.
Hideki Matsuyama's reactions: We're big fans of Hideki and we appreciate his commitment to high-level ball- striking, but his negative reactions are getting out of hand. They're confusing announcers and fans, and they look silly – none more so than this shot where Matsuyama acted like he'd hit a shank, but wound up hitting the FLAGSTICK.
Bryson DeChambeau's year: Entering last week, DeChambeau had missed three cuts, had a putter deemed non-conforming by the USGA. He made another early exit from Riviera, this time withdrawing before play was suspended in the second round. And at least one of his fellow tour pros wasn't happy about it:
Just a guess, but these two probably won't be teaming up at the Zurich Classic.
The PGA Tour heads to the Honda Classic, AKA that tournament with the "Bear Trap." This is the start of the Florida Swing, which will be interrupted this year by a detour to Mexico (instead of Miami's Doral) next week. So it should be all sun and no rain delays for the next month! Oh, right. Florida.
Random tournament fact: NBC/Golf Channel is obligated to say the phrase "Bear Trap" 317 times per hour during its weekend coverage.
RANDOM PROP BETS OF THE WEEK
-- A "Bear Trap" documentary will win an Oscar someday: 1 MILLION-to-1 odds
-- Dustin Johnson will win the 2017 Masters: 8-to-1 odds (Actual odds, down from 12/1)
-- Dustin Johnson will feel less pressure as No. 1 than Jason Day did: LOCK
PHOTO/INSTAGRAM OF THE WEEK
European bookmaker Paddy Power pulled quite the prank on the "dinosaurs" running Muirfield Golf Club.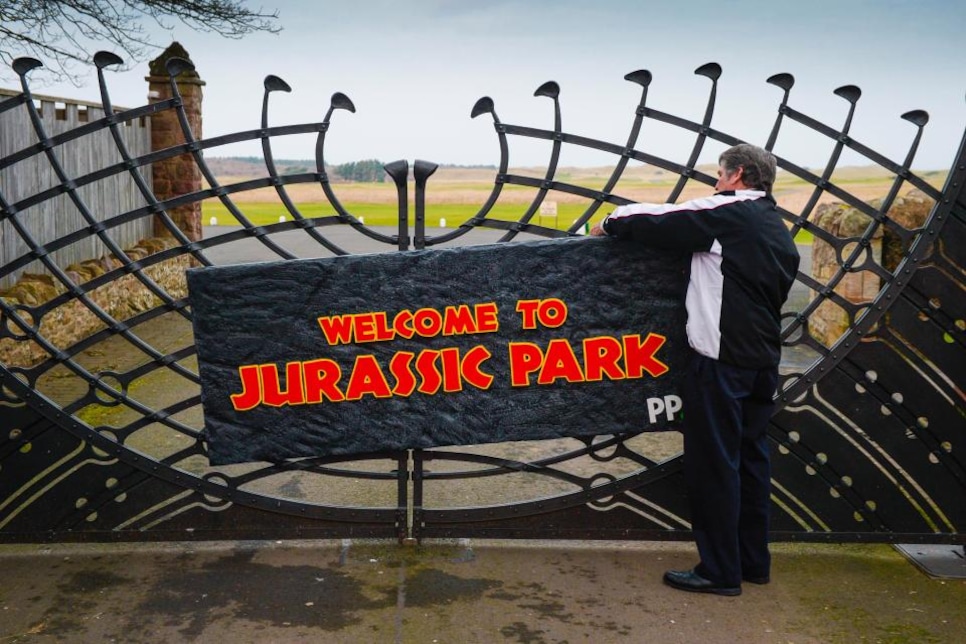 OK, this video about the new plans for Papago Golf Course, which will be Arizona State's new home course, isn't the most exciting clip you'll see. But it has Phil Mickelson promising to design "the single greatest short-game facility in the country" for his alma mater:
Plus, there's Phil waving around blueprints, which is always fun.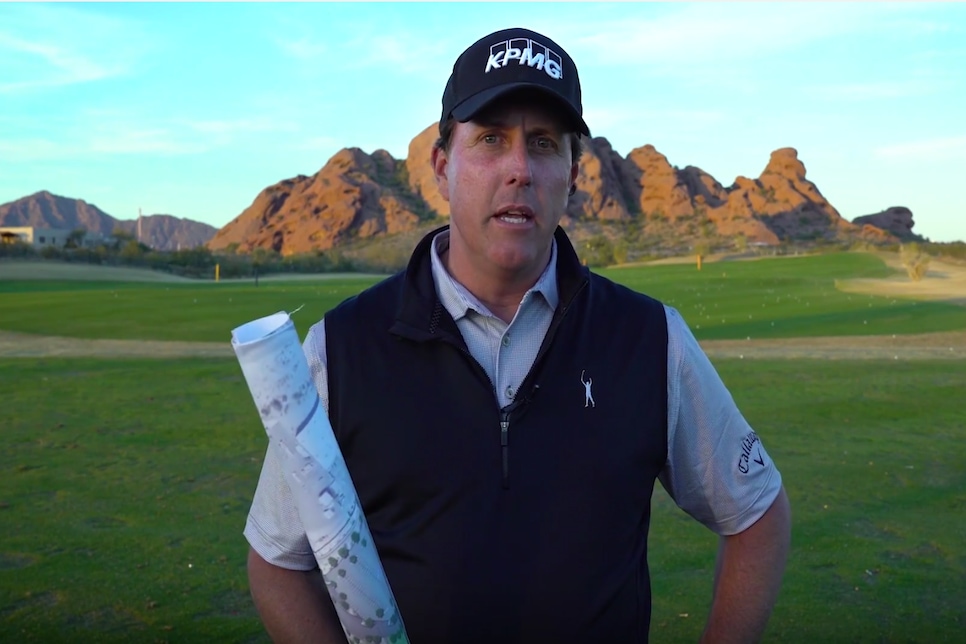 "I don't really understand it, but I can read 1-2-3. I guess that's all that matters." – Dustin Johnson on the Official World Golf Ranking. Good call, DJ.
THIS WEEK IN TENUOUS GOLF CONNECTIONS
Did you hear about tennis star/SI swimsuit model Genie Bouchard going out with a stranger who won a Super Bowl Twitter bet against her?
Well, it turns out that dude is a HUGE Tiger Woods fan: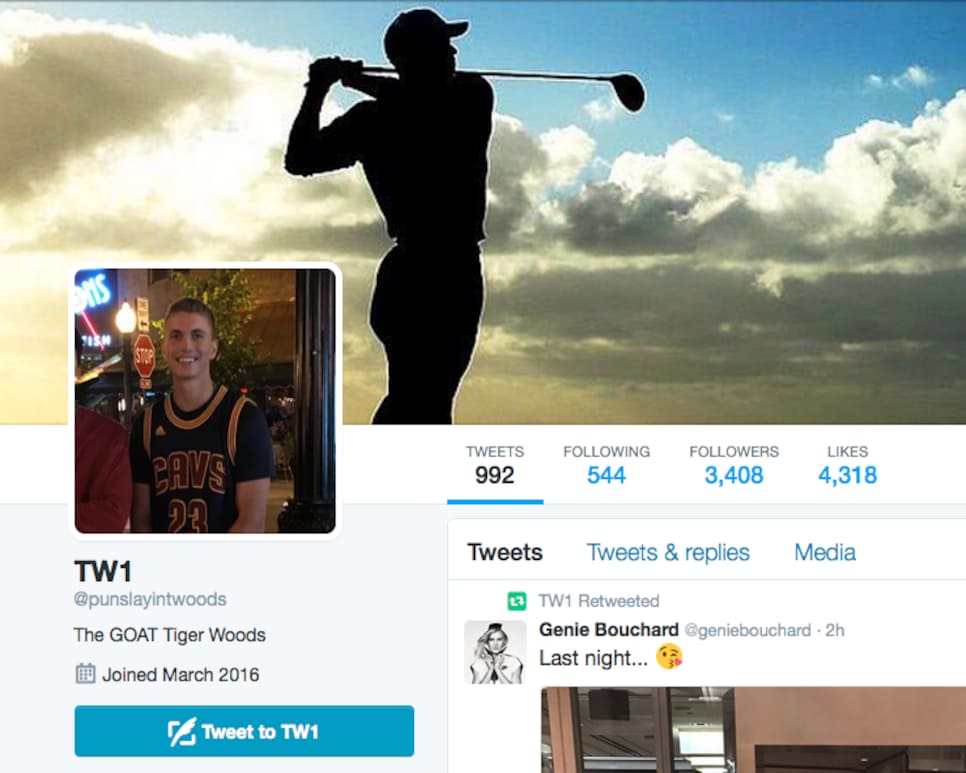 In light of Woods' bad back, we're glad to see something going this guy's way.
THIS WEEK IN DUSTIN JOHNSON-PAULINA GRETZKY PUBLIC DISPLAYS OF AFFECTION
Valentine's Day came and went with no messages from these lovebirds, just an announcement they had added a puppy to the family.
But on Saturday, Paulina made a bigger announcement:
DJ is No. 1 and Paulina is expecting baby No. 2. Not a bad week in Hollywood for golf's most glamorous couple.
THIS WEEK IN OTHER PGA TOUR COUPLES PUBLIC DISPLAYS OF AFFECTION
From young to old (Well done, Mr. Nicklaus), Valentine's Day sure brought out the sweet and sappy in PGA Tour stars. There were so many messages, we compiled a bunch in a separate post, but here are some of the highlights, including Luke Donald showing off his – and his wife's – abs.
Jimmy Walker showing off his emoji game:
And even PGA Tour "bad boy" Pat Perez showing off a softer side:
Ha Na Jang finished eagle-birdie to win the Women's Australian Open for her fourth LPGA title. Even more impressive was her victory celebration in which she dabbed and did a kangaroo hop. . . . The 2017 Zurich Classic will have a team format, but offer no world ranking points. It's disappointing news to the event, but it kind of makes sense. . . . John Daly said his latest club tossed into a lake was by accident. OK, JD. . . . And finally, if you have hard water stains in your toilets, this thing is pure magic: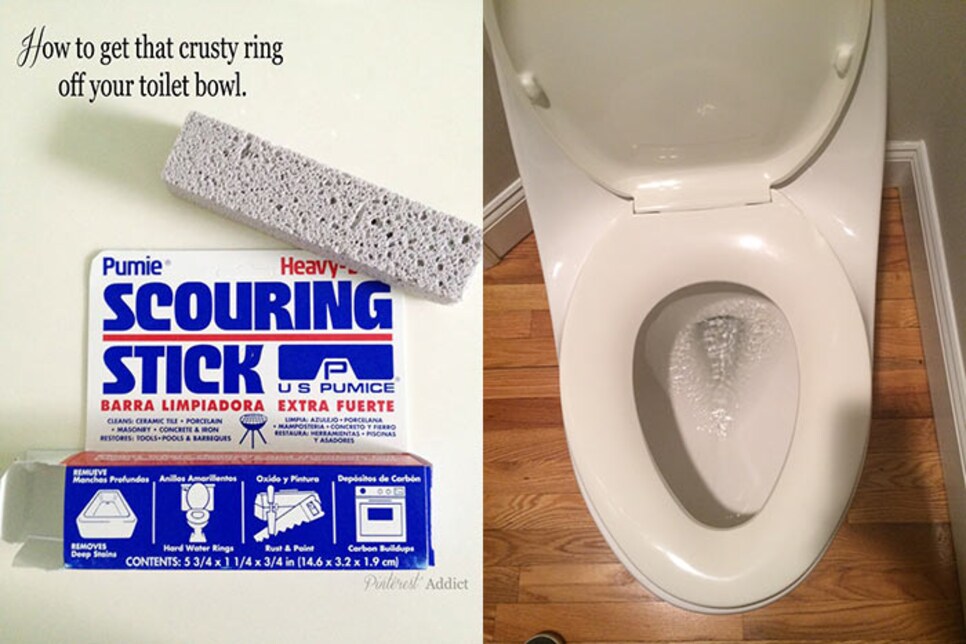 I never imagined I could get so excited cleaning a toilet.
RANDOM QUESTIONS TO PONDER
How long will Dustin Johnson be No. 1?
When will the Tiger Woods "30 for 30" come out?