The Loop
Dustin Johnson starting over at Kapalua, says 'who gives a [bleep] what I did last year?'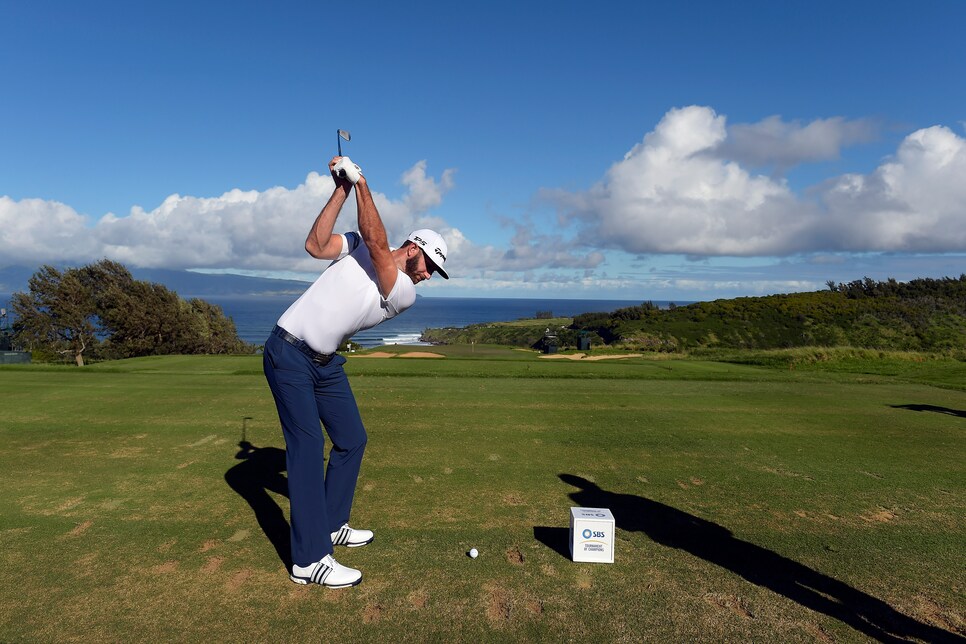 KAPALUA, Hawaii – It's hard to assess which asset better serves Dustin Johnson, the reigning PGA Tour Player of the Year, but chances are that his long drives and short memory are of equal value to golf's most consistent player in 2016.
He'll employ both starting Thursday when the season resumes at the SBS Tournament of Champions at Kapalua Resort.
Johnson, 32, is coming off a career year with three victories, including the U.S. Open, and a tour-best 15 top-10 finishes. He won his first Vardon Trophy for lowest season stroke average, 69.172, by leading the tour in birdie average and ranking second in driving distance. Only Rory McIlroy's late hot streak in the FedEx Cup Playoffs prevented him from also winning the season-long title.
While Jordan Spieth arrived at Kapalua last year with the attitude of simply extending his run from his 2015 Player of the Year performance, Johnson is in the wipe-the-slate-clean camp once the ball drops at midnight Jan. 1. It might be important for Johnson to be reminded that Spieth shot 30 under par and won by eight strokes. But then again, he doesn't want to be reminded about his own exploits, so why would he care?
"I'm pretty good at not really thinking about what I did in the past, because it doesn't really matter," said Johnson, who broke through at Oakmont CC for his first major title after several near misses in majors. "It's all about what I'm doing right now and what's coming up, because it doesn't matter how good a year I had last year. That doesn't matter anymore; it's this year. We've got all new goals and new things that I want to do."
Granted, there are justifiable reasons, already enumerated, to reflect on the previous season. And Johnson, World No. 3, buys that to some degree. "Obviously, the good stuff gives you a lot of confidence," he allowed. "But none of that matters right now or at this tournament. Who gives a [bleep] what I did last year? I need to go out and win this golf tournament. I know what recipe works to have success. Just continue doing that."
With the Plantation Course saturated by weeks of rain, stunting the roll of tee shots that in most years could trundle 100 yards in some spots, Johnson's length off the tee naturally makes him one of the favorites this week on the par-73 course measuring 7,452 yards. Since 2003 no one has struck more 400-yard measured drives than Johnson with 13. Bubba Watson has 12. They along with World No. 1 Jason Day, Justin Thomas and Jimmy Walker figure to have an advantage on the wide, sloping layout in the West Maui Mountains. The hottest player coming in might be Japan's Hideki Matsuyama. And Patrick Reed could figure in the mix, having finished first and second in the event the past two years.
Johnson also is a past winner here, in 2013, part of a four-year run of top-10 finishes—just to throw out an additional historical nugget for which he doesn't care. And here's more: the South Carolina native has 12 tour titles and has captured at least one each year since 2008.
But then again, he cares. The consistency he exhibited last year is worth reprising. With three wins, one a major, it was his best season. And, yet, a change in the script has to come. More "Ws" are on the menu, which could elevate him to No. 1 in the world. Of course he knows what happened last year. That's how he knows he has adjustments to make. But that's all the past is good for, and not to revel in success.
"There were quite a few tournaments where, you know, it could have been better. It could have been a really, really good year; not that it wasn't. But you know, there was quite a few tournaments where I had chances to win; that I felt like I should have won but I didn't," he said. "That's kind of more the focus this year is to put myself in those positions and then finish them off."
Dustin Johnson is moving on, just like he always has. Try to keep up.