News
Dustin Johnson says he's "definitely capable" of accomplishing something Tiger Woods only did once in his career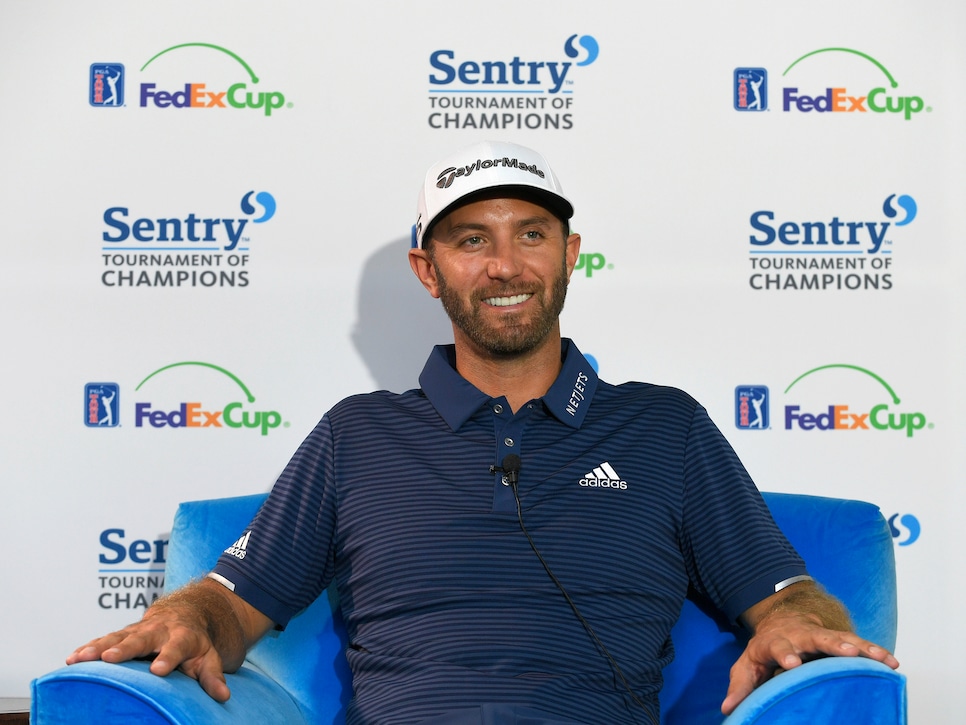 Dustin Johnson has won seven PGA Tour events over the past two years, a career-defining stretch that has taken him to the top spot in the Official World Golf Rankings and kept him there for 46 weeks and counting. But Johnson believes he has the ability to have even more success on the golf course. Much, much more success.
During his pre-tournament press conference at the Sentry Tournament of Champions, Johnson was asked if he felt it was possible for any golfer to win nine or more times in a single season, something last accomplished by Vijay Singh in 2004. Johnson didn't hesitate to say yes, and he focused on one golfer in particular. Himself.
"I believe so. I definitely think I can," Johnson said. "Obviously I'm going to have to play very good golf, the guys out here, as you all know, there's a lot of really good players out here on tour and for me to do that I'm going to have to play some really good golf, but definitely capable of it."
On one hand, Johnson, 33, seems a bit overconfident. After all, winning nine times in a PGA Tour season is something even Tiger Woods only did once during his historic 2000 campaign (Woods also won eight titles in 1999 and 2006). And Singh's monstrous nine-win effort in 2004 is the only other time a golfer has won nine-plus since 1950. In total, it's only been done seven times by six players (Ben Hogan won 13 in 1946 and 10 in 1948), and Johnson only hit the four-win mark for the first time last season.
On the other hand, heading into last year's Masters DJ was definitely on that type of pace. He arrived at Augusta National with three consecutive wins -- and six victories in his previous 16 starts -- but he slipped on some stairs in his rental home, withdrew from the year's first major and didn't win again until the FedEx Cup Playoffs.
Still, we've seen similar hot stretches in recent years from Jason Day, Jordan Spieth, Rory McIlroy and reigning PGA Tour Player of the Year Justin Thomas. And none of those guys cracked the five-win barrier. So even for a player of Johnson's caliber, a nine-win campaign seems like an improbable accomplishment, especially in an era where top players typically don't tee it up more than 20 times a year.
Johnson certainly didn't make the challenge any easier in his first start of the season when he blew a six-shot lead at the WGC-HSBC Champions. He'll try to get back in the winner's circle again this week at Kapalua, where he was victorious in 2013 and where Woods won the first of his nine titles in 2000.