The Loop
Dustin Johnson is so close to greatness, but still so far away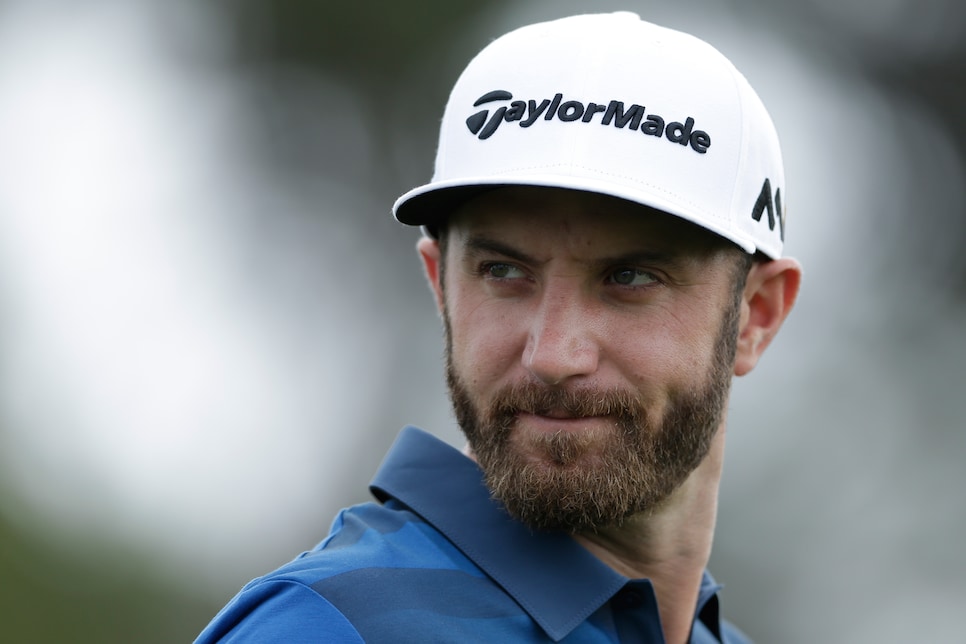 Funny how Dustin Johnson seems to have been forgotten. Or maybe it's that his recent past is uncomfortable to recall.
We're talking the three major-championship nightmares of 2015. First on the 72nd green at Chambers Bay, where two epic shots left him a 15-footer for eagle to win the U.S. Open, he ended up three-putting to lose. Then at St. Andrews, he took the lead at the Open Championship with a 65-69 start, but finished 75-75 to end up T-49. He even had an outside chance at redemption in the PGA Championship at Whistling Straits, but made quadruple-bogey on the first hole Sunday, ham-handedly employing a wedge five times.
Currently, DJ's is not the feel-good story that blends with the heroics of Jordan Spieth and Jason Day and, now, Rickie Fowler. At least Rory McIlroy's 2015 shortcomings could be mostly blamed on injury.
Roughly 11 months ago it was Johnson—who at 30 resolved to take more responsibility for his life after returning from a six-month sabbatical to resolve personal problems—being projected as the year's burgeoning star. When he won the WGC-Cadillac Championship at Doral in March, it was his ninth career PGA Tour victory, and he became only the fourth golfer (joining Arnold Palmer, Jack Nicklaus, Tiger Woods) to win in each of his first eight seasons. Yet now the suspicion is that the still majorless Johnson could be damaged goods.
If so, you could never tell by DJ. With his full beard, cool saunter and always positive rap, Johnson makes sure every outward indicator says "I'm fine." His game is in good shape under Butch and Claude Harmon; his dedication to honing his 6-foot-4, 190-pound frame under trainer Joey Diovisalvi continues; raising their now 1-year-old son, Tatum, with Paulina Gretzky has made Johnson a better man; and his younger brother and best friend, Austin, remains his caddie.
Last week at Torrey Pines, after second-round 66 at the Farmers Insurance Open, Johnson's answer to a gingerly asked question about last year's disappointments reflected a calm determination. "I don't really get too angry about them, but yeah, definitely motivation for sure," he said. "It's frustrating sometimes, but I try not to let it bother me. I love the game, and at the end of the day, it is just a game. So I try to learn from all the things that have happened and move forward."
Particularly in contrast to Spieth, it's clear Johnson could be getting more out of his rounds. Unlike the World No. 1, Johnson has yet to master the dark art Bobby Jones described as "turning three shots into two."
Says Johnson's agent, David Winkle: "Dustin is just wound differently from other people. He gets over disappointment very quickly. He naturally goes positive. Of course Chambers Bay hurt. St. Andrews did, too, but not as much because even when he was going low the first two days, his game didn't quite feel right. But he's taken it all as reinforcement that he is closer to winning majors."
Adds Diovisalvi: "Dustin always wants to go harder than the program. But this year, I want him to pace himself, be recovered and really ready physically and mentally for the biggest moments."
It should be noted that Johnson did come back an improved player last year. Despite not starting his season until February, he posted a career-best 11 top-10s in only 21 tournaments. He also led the tour in driving distance at 317.7 yards.
Still, to get to a point with his game where he can not only close out a major championship, but win by multiple strokes—the way Spieth, McIlroy and Day have done—Johnson has to get much better with the short clubs. Last season he ranked 119th in scrambling. Sand play is a particular weakness; his 38.60 percent sand-save rate ranked 178th on tour. His best streak of four sand saves in a row ranked 206th.
Johnson can look similarly wooden with the putter. Last season he ranked 121st in putting inside of 10 feet. Last month at Kapalua, where he finished T-10 despite leading the event in greens in regulation, he lost at least a stroke to field in putting every round.
Particularly in contrast to Spieth, it's clear Johnson could be getting more out of his rounds. Unlike the World No. 1, Johnson (currently ranked No. 8) has yet to master the dark art Bobby Jones described as "turning three shots into two," which makes so much difference at the end of 72 holes.
At Torrey Pines, it was the short shots that cost him most. After Friday's round on the North Course in which he hit 17 of 18 greens, Johnson was only a stroke out of the lead. But he opened Saturday with a double bogey, using his wedge four times on his first hole, and had to battle back for 74. And when Sunday's monsoon put extra value on the short game, Johnson unraveled, bogeying nine of the first 12 holes. Through 68 holes, he was 3 for 11 in sand saves and, not surprisingly, out of contention.
"His bunker technique isn't quite there," says Butch Harmon, "but we're working on it. It's still early, DJ's still easing in from his off-season. Sometimes I have to kick him in the butt."
Only one month has passed in 2016, and there's plenty of time for Johnson to show he's ready to take the next step in the evolution of his game. He's more likely this year to win multiple times than to end his personal streak by not winning at all. But what remains in question, and what will determine how he is remembered in history, is whether the owner of one of the most explosive long games can make the short shots when they count most—in the majors.
Editor's Note: This story originally appeared in the Feb. 1 issue of Golf World.