The Loop
7 things we learned about Dustin Johnson in his first interview since taking a leave of absence from the PGA Tour
1. He still denies being suspended
Golf.com reported in August that Johnson was being suspended by the PGA Tour for six months after a positive drug test for cocaine. Johnson has maintained this isn't true, and Thamel writes, "Johnson and his p.r. team say he wasn't suspended and are indignant that reports continue to circulate despite a denial from the Tour."
2. He also denies having a problem with cocaine
When asked about cocaine by Thamel, Johnson said, "I did not have a problem. It's just something I'm not going to get into. I have issues. But that's not the issue." This seems to be the quote from the story that's gaining the most traction. Whether or not he's telling the whole story, acknowledging having any problems seems like a step in the right direction.
3. He admits to having a problem with drinking
Johnson said he used to turn to alcohol to deal with stress, but he's cut down on the booze. That includes completely cutting it out in January as part of a bet with some of future father-in-law Wayne Gretzky's friends over who can stay sober for the entire month. "I don't miss waking up with a hangover, and I didn't drink very often," Johnson said. "It was just when I did it was a little too much."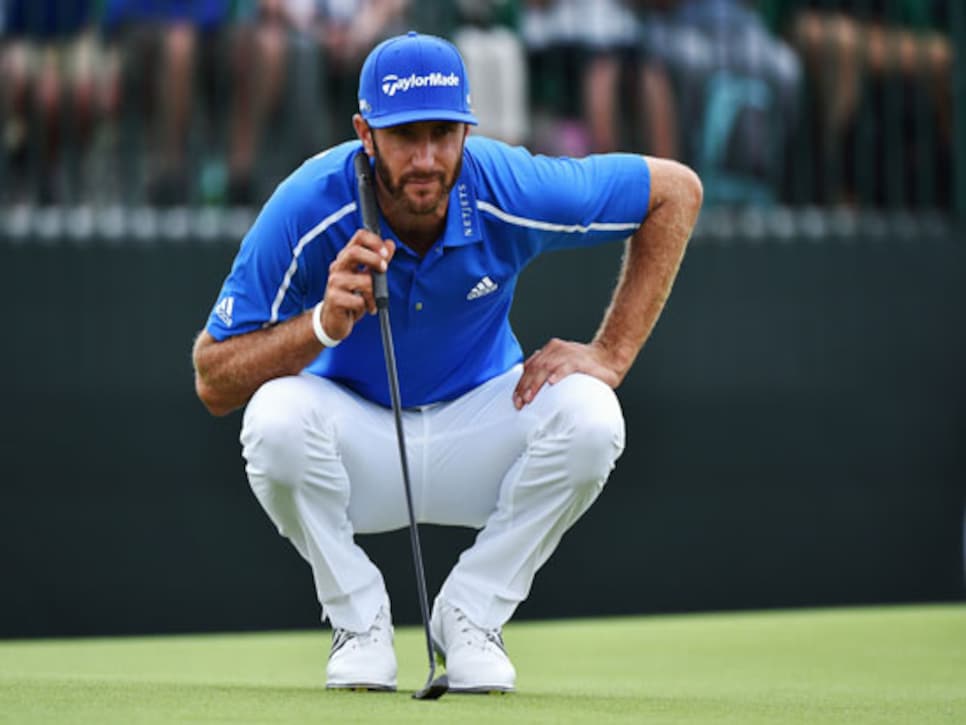 4. He's being mentored by the Great One
Gretzky has taken him under his wing during his time off. The two play a lot of golf together and Johnson says he's learned a lot from the famed hockey player, from about how to handle himself around fans to how to make a marriage last. "Over these past four or five months I've really grown up," Johnson said, "and I am starting to become the person I want my kids to look up to."
5. He and fiancee Paulina Gretzky are living a quiet life
Of course, Paulina being pregnant dictates this, but it was still interesting to read how normal -- even boring -- a day in the life of golf's party couple has become. The two usually get up at 6:30 a.m. and walk their dogs over to Paulina's parents' house for breakfast. After Johnson spends the day training and playing golf, the couple returns to the Gretzky house for dinner. The two spend a lot of time catching up on TV (big fans of "Homeland," "Sons of Anarchy," and "State of Affairs," in case you're wondering), and Johnson said he makes plenty of trips to the store to satisfy Paulina's pregnancy cravings -- particularly celery. "That's what I've been working on, really simplifying everything. And her being pregnant makes it that much more easy to simplify things," Johnson said.
6. He misses pro golf and is very motivated
Depending on when Paulina gives birth to the couple's first son, Johnson plans on returning to the PGA Tour either at Pebble Beach or Torrey Pines next month. And when he does, he'll have a renewed passion for the sport. "It's the first time I can see him say, 'Gosh, I really miss it, and when I get back I want it to be something special,'" Wayne Gretzky said.
7. He's been playing some GREAT golf
During one stretch in October, Johnson set the Sherwood Country Club course record with a 61 and then shot 63-61 over the next two days. "I don't think I've even scratched the surface," Johnson said of a pro career that's already netted him eight PGA Tour titles and $25 million in on-course earnings. That's a scary thought for his colleagues when he returns to work.