The Loop
Dustin Johnson's (15) million-dollar smile, Bryson DeChambeau's next crazy experiment(?), and how Brooks met Jena
Welcome to another edition of The Grind, where we can only shake our head at the cruel tricks the golf gods play sometimes. With a second baby due any day, all of a sudden, after a season of sucking, I'm finally playing well. Sick timing, golf gods. And unlike Rory McIlroy, I don't expect to get the green light to hit the links anytime soon. Anyway, while I've still got time to talk some golf, let's get to it.
Dustin Johnson: The oddest PGA Tour season in history came to a rather obvious conclusion with the World No. 1 cruising to victory (with strokes) at the Tour Championship. And how about that animated celebration?!
Just kidding. That was the most DJ thing ever. But golf fans can't complain—especially one day after the World No. 1 in tennis got DQ'd from the U.S. Open for swatting a ball off a lines judge. And while many fans will complain about the staggered-start format, no one can argue that the FedEx Cup crowned a fitting champion. But seriously, show some life, DJ! You just won $15 million!
Aww, that was cute. And it got DJ to smile. Sort of.
Xander Schauffele at East Lake: If you should feel bad for any golfer other than me this week, it's this guy who has never shot over par in 16 competitive rounds at the Atlanta track. All Schauffele did was shoot the lowest 72-hole score by three shots and beat Johnson by four. And yet, because of the kooky format, he walks away without an official PGA Tour title and with less than one third of DJ's winnings. Rough. But on the bright side, he gets Official World Golf Ranking points for the win! Yippy! OK, so he might rather have a $15 iTunes gift card instead.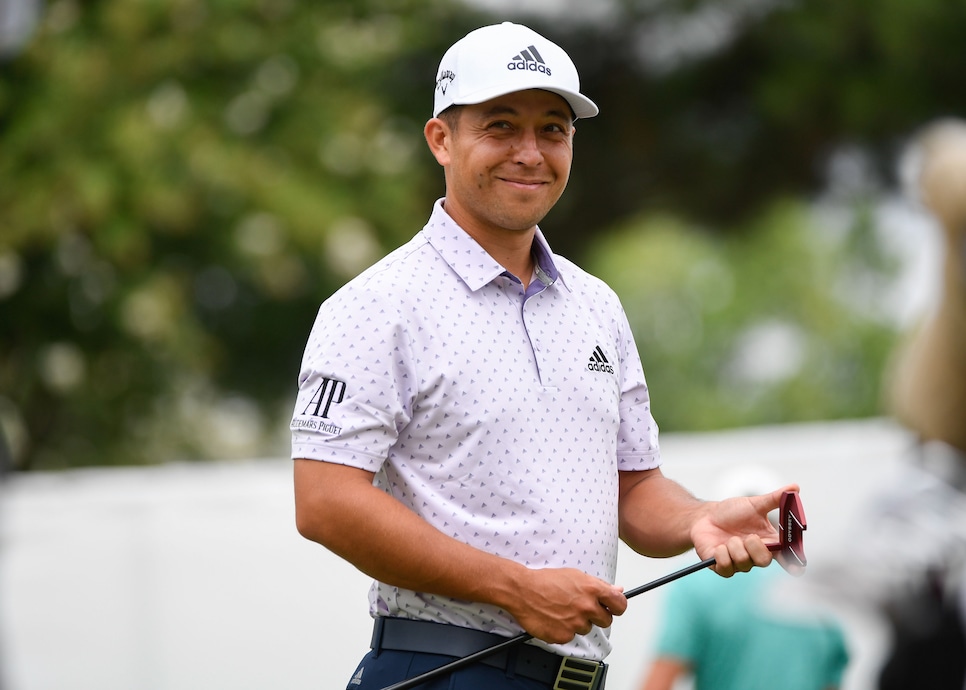 By the way, Dan Hicks said during Monday's broadcast that Xander eats at the same restaurant every night at the Tour Championship just like I do at the Players Championship! Except, of course, I eat at Chili's, and I don't make millions of dollars at the end of the week.
Daniela Holmqvist's hops: This is rather specific training for this week's ANA Inspiration, where the winner traditionally leaps into Poppie's Pond:
If you told me Daniela can dunk like Dustin (did you know he can dunk?!), I'd believe it. That's impressive.
How Brooks met Jena: Jena Sims went on the Home Team Podcast and gave the deets on one of the sports world's most-talked-about relationships. Apparently, it all started when Sims slid into Brooks Koepka's DMs with a selfie in a donut tank top while standing in front of a plant with the line, "Does this plant make me look tan?" Shortly after, Jena told Brooks she was going to be in Augusta the week of the Masters (she wasn't going to be) and they agreed to meet up. Then she actually made plans to go to Augusta and the rest is history.
If that isn't the plot for the next great rom-com, I don't know what is.
The "Nappy Factor": At least, we're selling it this week. The interesting betting theory first posited by British economist Keith Elliott in a 1996 book on golf gambling states new dads tend to get a baby bump. After Rory McIlroy's opening 64, I was ready to believe, but he stalled the rest of the way. That being said, it seems another star is buying into this. "I no longer keep the figures, but I know from two different sources that DeChambeau disclosed recently to fellow pro Andrew Landry that he's worked out the percentage win-rate of new fathers and it's abnormally high," Elliott told The Telegraph. Wow. If you thought Bryson bulking up drew a lot of buzz, can you imagine if he makes this his next experiment?! Speaking of golf gambling …
My Tour Championship bets: This tournament presents weird scenarios for gamblers as well because you can bet on the "winner" or the actual winner. Of course, yours truly botched this royally. I wagered on Justin Thomas, Webb Simpson and Daniel Berger to shoot the low 72-hole score while taking Xander (the week before) to claim the FedEx Cup. Whoops. Xander owns East Lake, and yet I didn't bet on him to shoot the lowest score at East Lake. I hope this baby doesn't inherit my critical thinking ability—or my slice.
Hitting a shot this close to a gator:
I appreciate not wanting to mess up a good round, but, NOPE!
The PGA Tour heads to Napa Valley for the Safeway Open, AKA that event where people are always like, "Wait, another PGA Tour season is starting already? This must be a mistake!" But it's not a mistake. And actually, thanks to the Tour Championship's Labor Day finish, this off-season is only two days instead of the usual three. Not exactly a lot of time to bulk up like Bryson. Or become a dad.
Random tournament fact: Cameron Champ's emotional win that was capped with a phone call by his dad to his ailing grandfather on the 18th green was an incredible way to start the 2019-'20 PGA Tour season. Of course, that seems like last millennium and not last year.
RANDOM PROP BETS OF THE WEEK
—Dustin Johnson cares about only having one major right now: 15 MILLION-to-1 odds
—Phil Mickelson will win the Safeway Open: 20-to-1 odds (Actual odds, co-favorite!)
—This week's winner will show more emotion than Dustin Johnson: LOCK
I immediately thought this was Golf Digest's Chris Powers, but then I remembered he was on his honeymoon. Then I also remembered he participated in our weekly gambling podcast from his honeymoon earlier in the week … so maybe this was Chris.
Check out World Long Drive champion Kyle Berkshire hitting a lob wedge longer than I can hit a driver:
That's 260 yards. With a lob wedge. Good lord. OK, maybe it's a good thing I'm taking an extended break from the game. That's just depressing.
THIS WEEK IN TOUR PRO PUBLIC DISPLAYS OF AFFECTION
Tony Finau's wife, Alayna, cheering him on as the only fan following him was delightful:
THIS WEEK IN TOUR PROS ARE JUST LIKE US
Rory ChunkIlroy, everybody!
I know that rough is gnarly, but that was, well, unexpected. And, yes, heartening to hackers around the world. Thanks, Rory.
"Yeah, it's amazing. I don't think … you see other people having kids and babies, and you'll say congratulations and you're happy for them, but you have no real … you don't really know how it feels. Now that I do, anyone that I know that has a child, there's even more … there's so much admiration for the mother, what they go through, and it's just amazing that this … you feel like you get to know your baby while she's still in her mother's belly, but to go from not having met this person to having unconditional love for them from one minute to the next is just … there's nothing like it in the world. And so many people have went through it and so many people have experienced it. It's probably the best part of being a human being, and I'm glad that I got to experience it." —Rory McIlroy seems to always have just the right words. Well said. And congrats. And hopefully our baby daughters can be friends. Forget about that whole "ChunkIlroy" thing I said …
Congrats to John Catlin for winning his first European Tour title just a few weeks after being DQ'd from an event for going out to dinner with his caddie. From breaking the bubble to breaking out the bubbly, quite a turn of events. … Catlin won at Valderrama with a 72-hole score of two over par. The USGA was intrigued by Valderrama hosting a U.S. Open until it realized the course is in Spain. … With the forecast calling for temperatures ranging from 105 to 115 degrees at this week's ANA Inspiration, caddies will be allowed to use carts. Allowing daily access to Poppie's Pond might be needed as well. … And, finally, somehow I just discovered these mini-ice cream cones from Trader Joe's: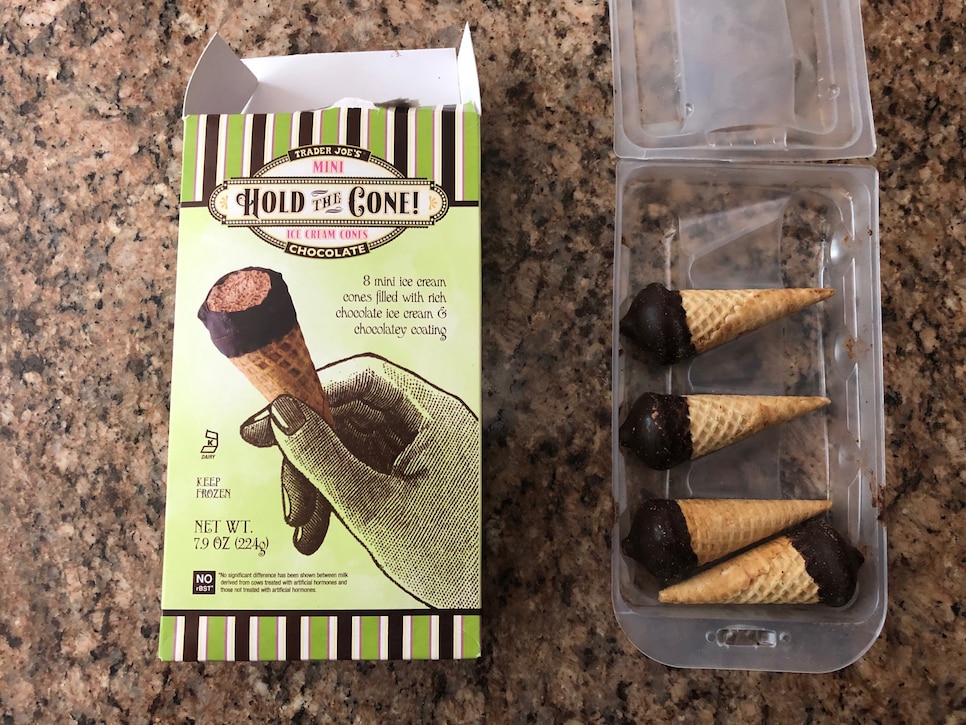 RANDOM QUESTIONS TO PONDER
How the heck did DJ shoot those back-to-back 80s?
How the heck is DJ going to spend that $15 million?
When will I get to play golf again?