The Loop
Dustin Johnson comments on the U.S. Women's Open rules fiasco -- sort of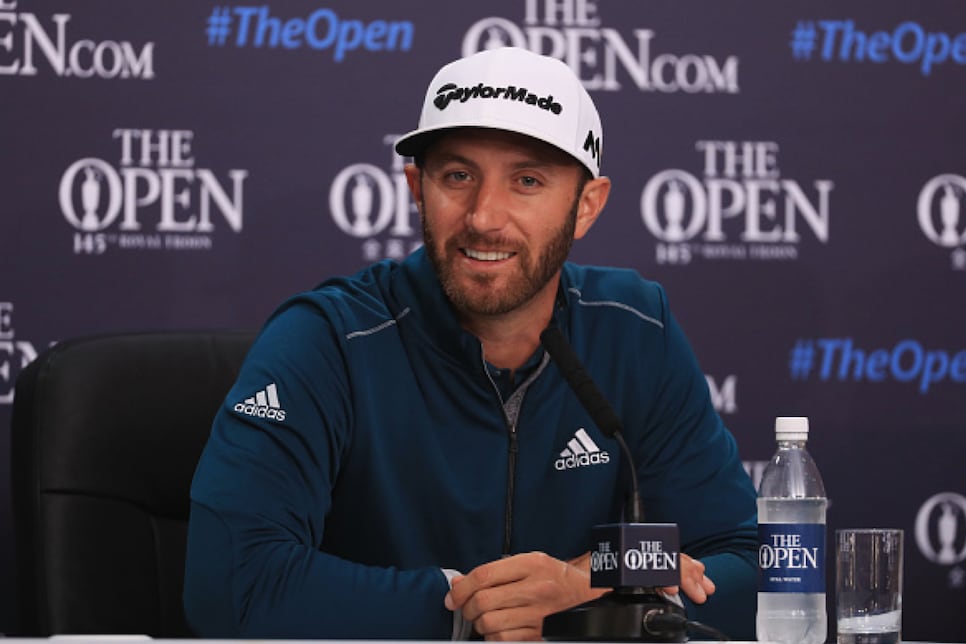 TROON, Scotland -- The hottest player in the world's pre-Open Championship press conference went pretty much how you'd expect. Dustin Johnson is happy to have shed the major-less tag. He's feeling pretty good coming off of back-to-back wins. And he had a lot to say about the rules situation that marred the finish of Sunday's Women's British Open.
OK, not so much on that last point.
Anna Nordqvist's penalty for grounding her club in a bunker on the second playoff hole -- and the way the USGA handled it -- came up of course because of Johnson's own run-in with the rules during his U.S. Open win last month.
"I didn't see it," Johnson said. "Obviously, when I got here quite a few people told me about it. It's another unfortunate situation."
Then he paused and smiled. "But, yeah, I shouldn't talk about it."
What he did talk about was the No. 1 ranking, something he's never been so close to. Johnson's U.S. Open and WGC-Bridgestone Invitational titles have vaulted him to No. 2 behind Jason Day.
"Yeah, it's definitely something I'd like to get to. I've still got a little ways to go," Johnson said. "Jason's in front of me pretty well, so just got to keep putting myself in position to win golf tournaments and keep getting it done."
That prompted a series of questions in which Johnson displayed a lot of confidence -- not that you can blame him based on how he's played of late. When asked about being a betting co-favorite with Jason Day:
"Honestly, I don't care. I mean, I like my chances, but I go into every tournament liking my chances."
If he plays his best, will he win this week?
"If I have my best stuff, I believe so."
Does he feel like he's the best player in the world right now?
"I mean, I always feel like I'm the best player in the world, but that's just me. I've got a lot of confidence in my game. Obviously I'm playing very well right now."
And how would he handle the status of being World No. 1?
"I don't know. I'll let you know when I get there."
With another great week, Johnson could potentially let us know by Sunday evening.