The Loop
Dustin and Paulina's major PDA, the USGA's latest controversy, and a big letdown regarding the Dalai Lama
Welcome to another edition of The Grind, where our urge to hit golf balls after watching the U.S. Open was so strong we bribed someone to re-open our local driving range. "I just need a little taste," were the actual words that came out of my mouth as I slipped the dude a $10 for a couple handfuls of balls. That's what a long week of watching the world's best take on one of the world's best courses from the couch can do to someone. Let's just say I was not very active. In fact, here's a look at my U.S. Open scripting: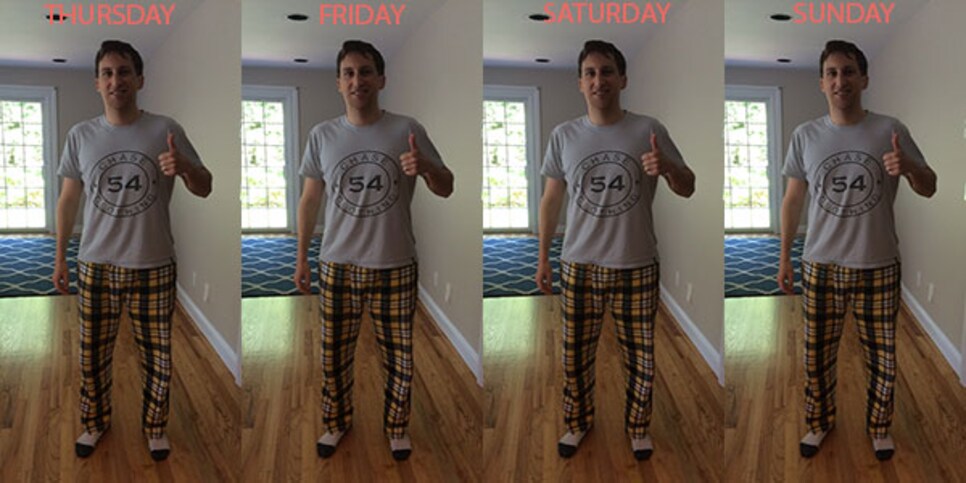 Yes, the struggle with golf addiction is real, and so was the drama that unfolded at Oakmont. Now let's break it all down before the USGA slaps me with a penalty for bedhead.
Dustin Johnson: At long last! Forget about all the heartbreaks and blunders, DJ will forever be known as a major champion now. Good for him. What a performance to overcome Oakmont, the field, a rules controversy, and even Protracer causing him to back off his final approach shot on Sunday. Johnson proved he really lets nothing bother him. Even better, he proved me right for picking him to win before the tournament started! Woo!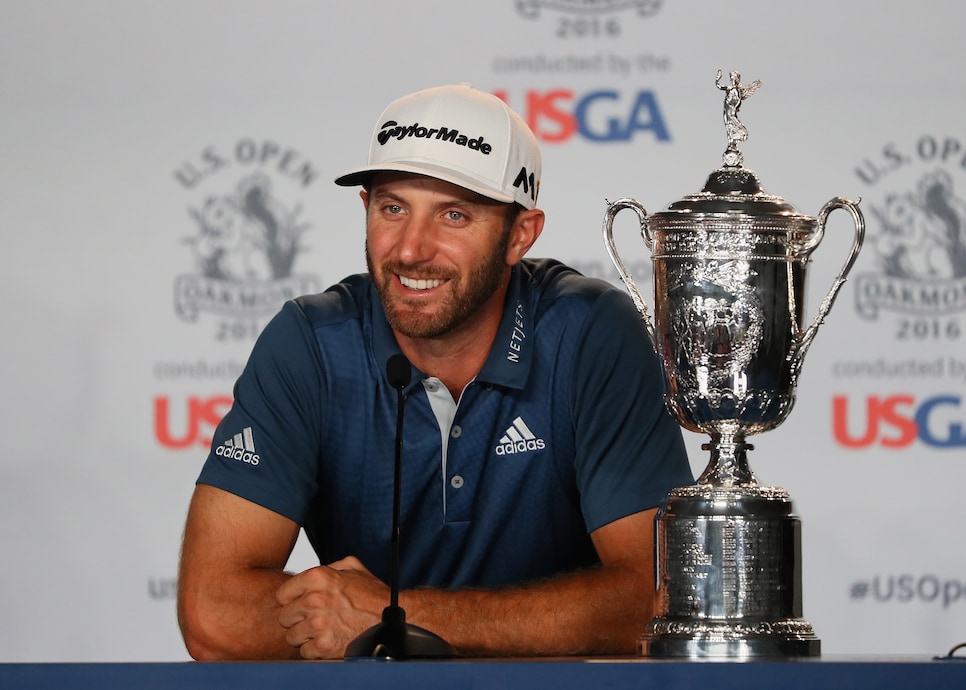 Now if I'd only put my money where my mouth was. . .
Dustin Johnson's driving: If it seemed like DJ tore apart Oakmont with his driving, that's because he did to the tune of an incredible 2.4 strokes gained driving (Jason Dufner was second in the field at 1.5). That means Johnson gained nearly 10 shots on the field over four rounds with his tee shots. Oh, and he averaged 317 yard off the tee, including hitting one with a 328-yard CARRY after the USGA official talked to him on the 12th tee. Now that's causing the ball to move.
Oakmont: What a course. Difficult enough that you always got the sense it was a U.S. Open and yet easy enough in spots for there to be plenty of birdies and eagles to keep everyone happy. It was a bit of a bummer to have to stay home and watch, but I think my boss had a feeling DJ would win and he was worried about potential Paulina-stalking charges. . .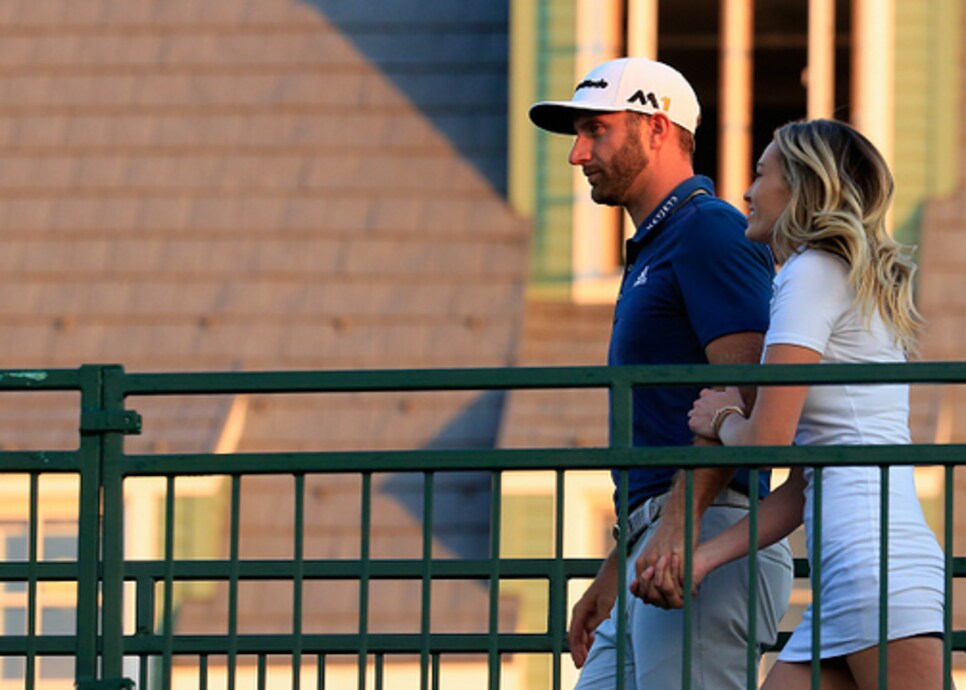 Players having DJ's back: As the final round unfolded, Rory McIlroy called it "amateur hour" and Jordan Spieth asked, "This a joke?" After, Tiger Woods even made a rare social media appearance to congratulate DJ and call the rules controversy a "farce." These guys are good – at taking care of their own. On the course, Lee Westwood, a man still searching for his own first major, and his caddie turned into cheerleaders for Dustin down the stretch. Total class.
The USGA: We get that it's tough to be the teacher having to enforce the rules, but this was absurd. Johnson, his playing partner and a rules official all agreed he had done nothing wrong on the fifth hole and that should have been the end of the story. Instead, DJ was informed nearly seven holes later that he still could be penalized and he, the rest of the field and everyone watching were left wondering where the leaders actually stood for the rest of the day. Can you imagine the NBA waiting until a game was over to review if a shot from the first quarter was a 2 or a 3?!
Shane Lowry: Lost a bit in Johnson's win and the rules controversy was the fact that Lowry blew a four-shot lead through 54 holes and lost by three with a disastrous 76. A first career runner-up at a major is good progress, but this one is going to sting for a while.
Rory McIlroy: I may have picked Johnson to win before the tournament, but I bet on McIlroy when I was in Vegas last month. I felt pretty good when rains drenched Oakmont ahead of Rory's first-round tee time, but it was MCilroy instead of McIlroy who showed up. To add to his rough week, McIlroy got bounced out of the top three for the first time in nearly two years. By the way, with DJ winning a major and moving to No. 3, it has to be a Big 4 now, no?
"Caddyshack": Thanks to this movie, I've grown up my entire life believing the Dalai Lama was a big hitter off to the tee -- but now it turns out to be a big lie. At the end of a serious sit-down interview with his holiness, Fox News' Bret Bair asked him about this reputation and the movie it came from and got this reply:
It's disappointing the Dalai Lama has never seen the movie. And he's never even played golf. But there's still a chance he's been penalized by the USGA.
The PGA Tour heads to Rory's favorite U.S. Open site for the Quicken Loans National. Of course, it was at Congressional about a month ago where Tiger Woods hit three straight ceremonial shots into the water.
Random tournament fact: Woods will not play this week, but he will still play host at the event. Word of advice to those who are playing: Don't ask him his strategy for playing the 10th hole.
RANDOM PROP BETS OF THE WEEK
-- Someone will hit three straight balls into the water on No. 10: 1 MILLION-to-1 odds
-- Dustin Johnson will win the British Open: 12-to-1 odds (Actual odds)
-- Dustin Johnson will not be having tea with the USGA at the British Open: LOCK
THIS WEEK IN DUSTIN JOHNSON-PAULINA GRETZKY PUBLIC DISPLAYS OF AFFECTION
FINALLY! Some MAJOR PDA. And there's so much to choose from!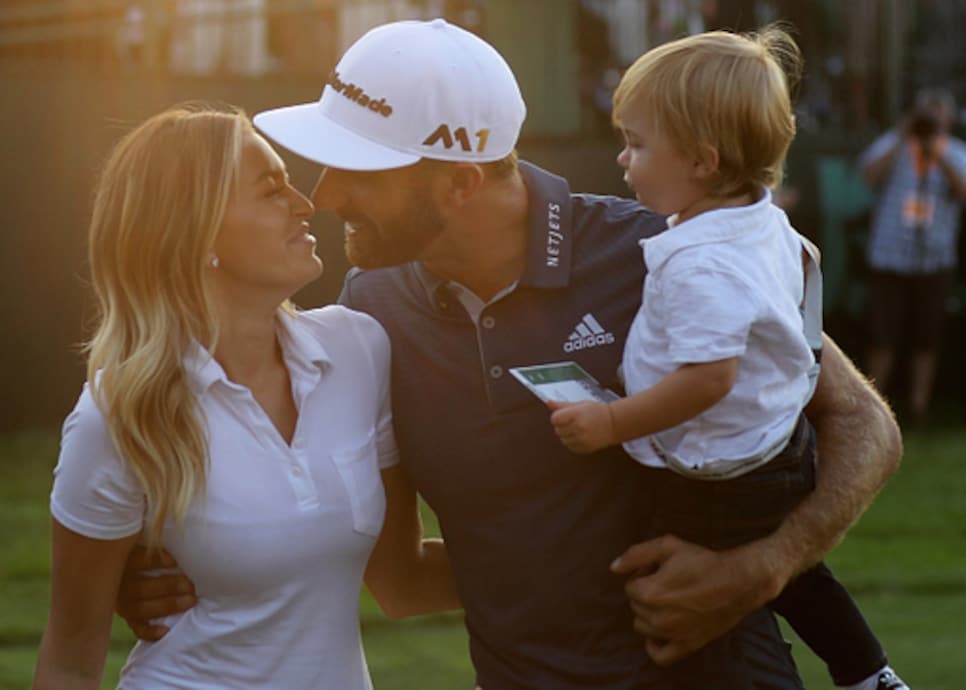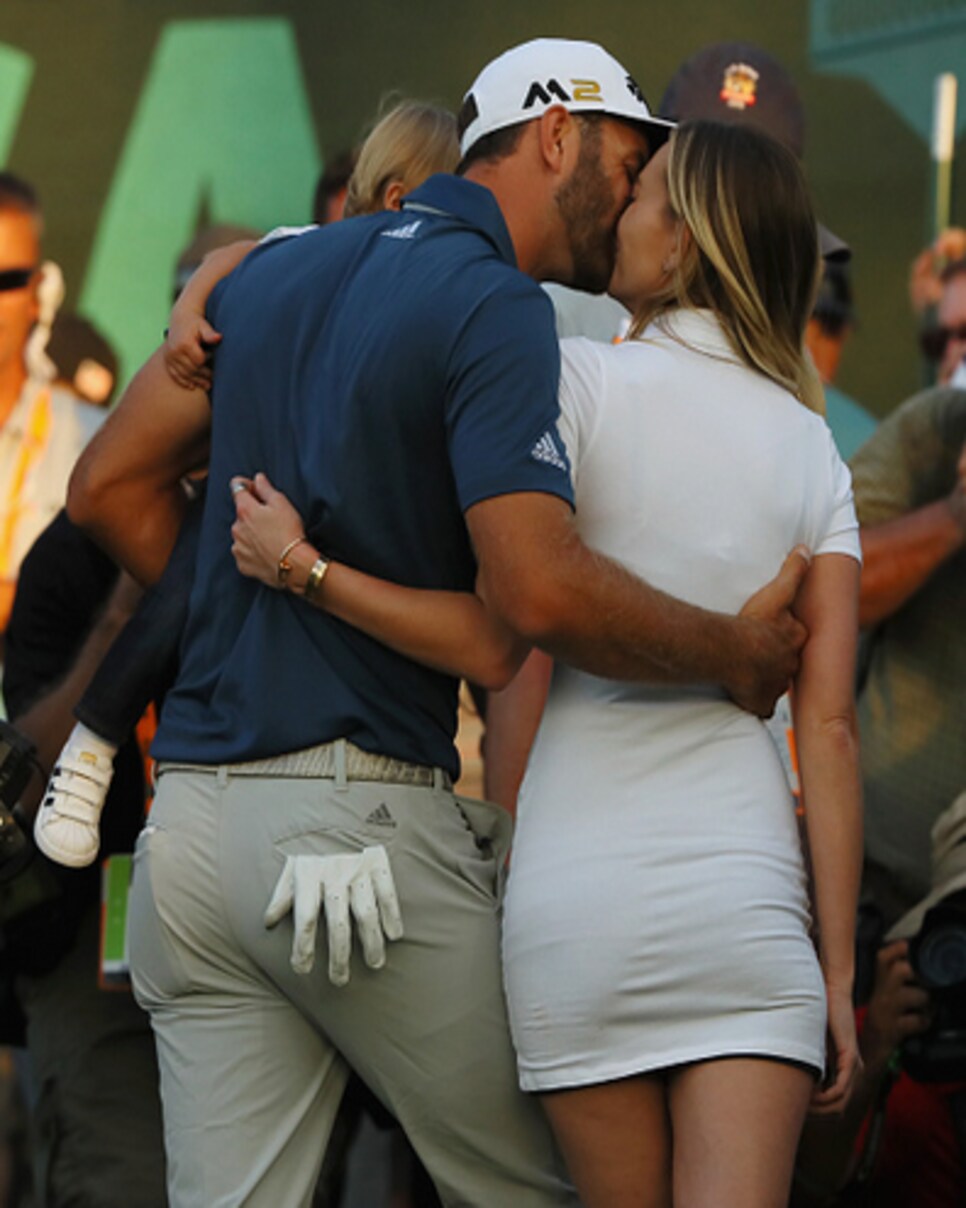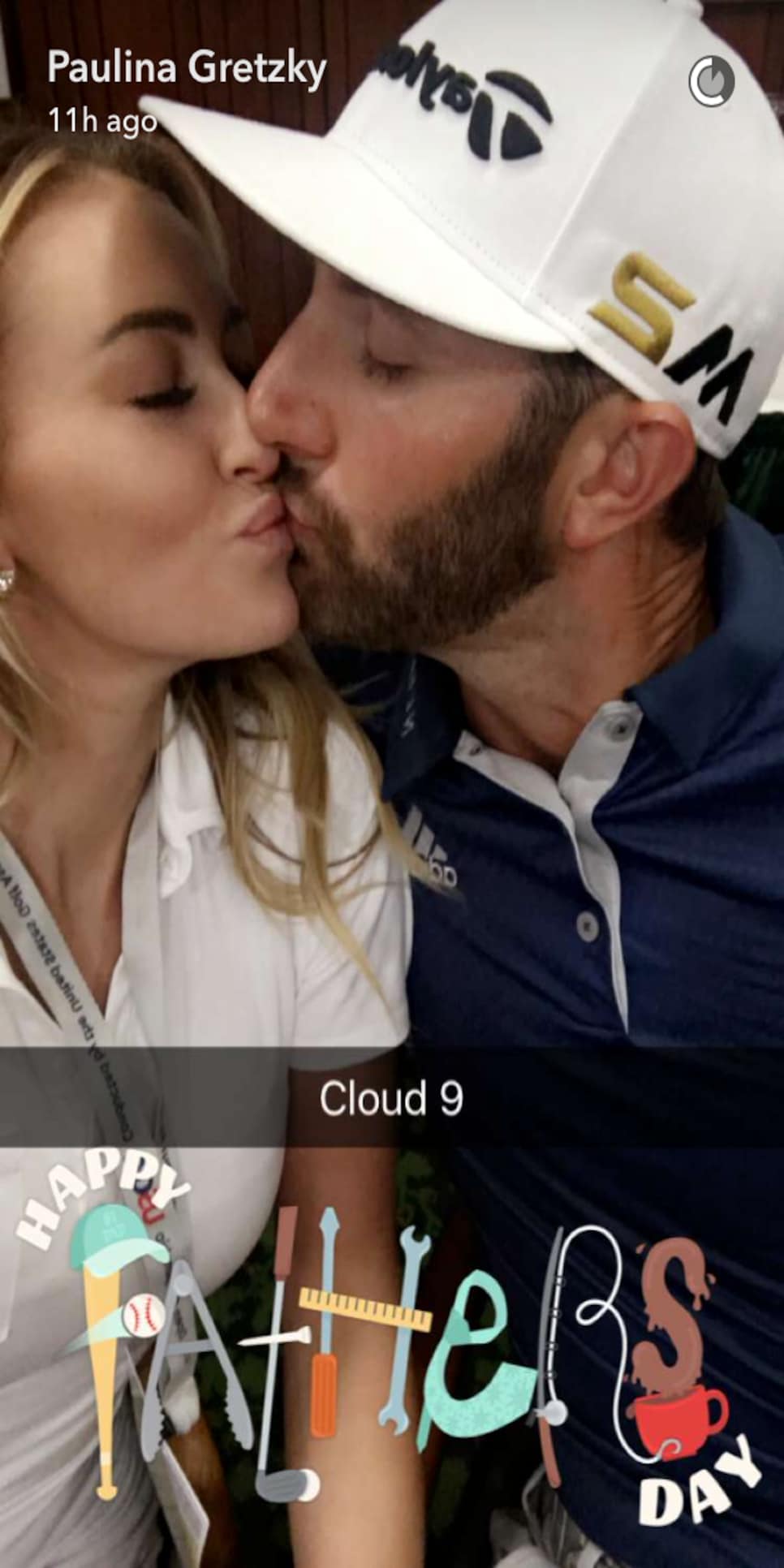 And here's Paulina celebrating with the trophy: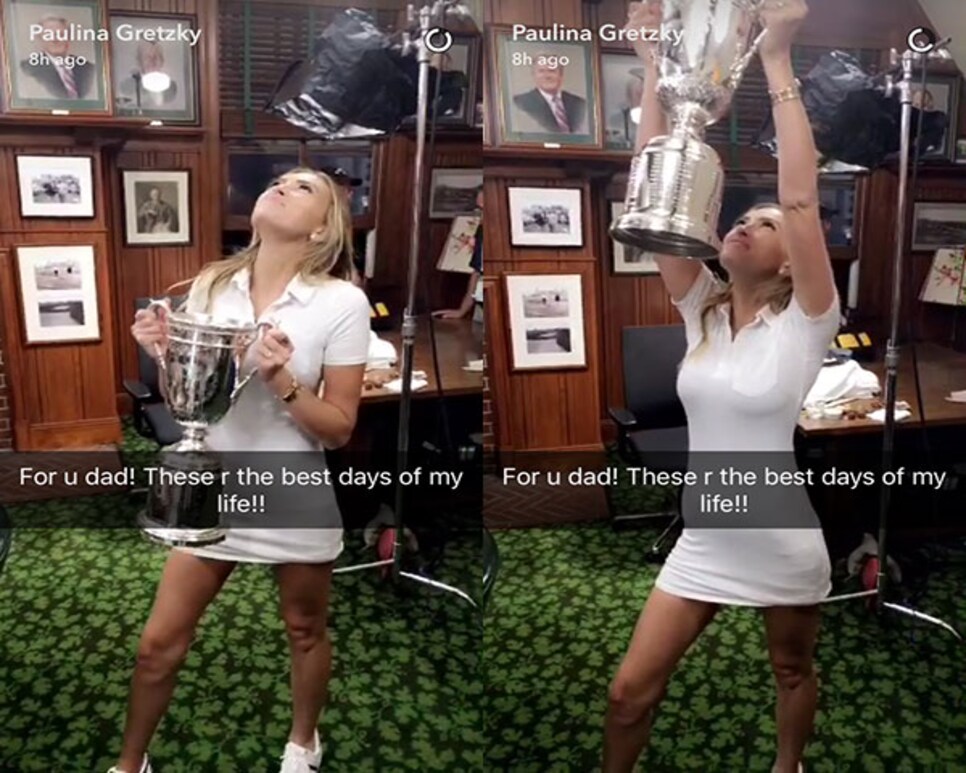 And for those of you (including my wife) who were knocking Paulina's outfit, maybe she did just come from playing tennis, OK?
Disc golf! Check out Philo Brathwaite making an albatross at the 2016 Beaver State Fling:
What a shot toss! Love the "Philo! Philo!" chants as he walked to the hole basket. The scene was reminiscent of the "DJ" chants at Oakmont on Sunday.
And then there was John Daly pulling the old "hit a ball teed up in someone's mouth" trick again.
Fortunately, he keeps pulling this off without anyone getting hurt. Although, we wonder where that ball went. . .
"I've played golf for 40 years. I have never nor have I ever seen anybody make a practice stroke that caused a ball to move. Have y'all ever seen anybody make a practice stroke . . . and a ball move? Ever heard of it?" – A visibly agitated Brandel Chamblee confronting USGA officials on Golf Channel. Brandel coming in hot!
THIS WEEK IN PAIGE SPIRANAC BEING PAIGE SPIRANAC
Paige was back in Las Vegas for the grand opening of the new Topgolf there:
What a swing. She also gave us "another saucy selfie."
THIS WEEK IN CELEBRITIES PLAYING GOLF
Here's Drake hitting a shot -- what looks to be a very thin shot -- wearing a suit with sandals:
Hope he was using biodegradable golf balls, at least.
THIS WEEK IN BELEN MOZO MAKING US FEEL BAD WITH HER TRAINING
You're welcome. For the helpful fitness video, of course.
Sei Young Kim won her fifth LPGA Tour title at the Meijer Classic. Yes, the LPGA held a tournament the week of the U.S. Open for some reason. . . . The best golfing team in the NBA couldn't repeat, but we're happy for J.R. Smith, arguably the biggest golf fanatic in the league, earning a breakthrough first title like DJ on Sunday. J.R., your next task is to get LeBron into golf this summer. . . . Who is in charge of Holly Sonders' scripting? She wore a blue dress two days in a row! No, they weren't the same blue dresses. The second one had a slit near the neck: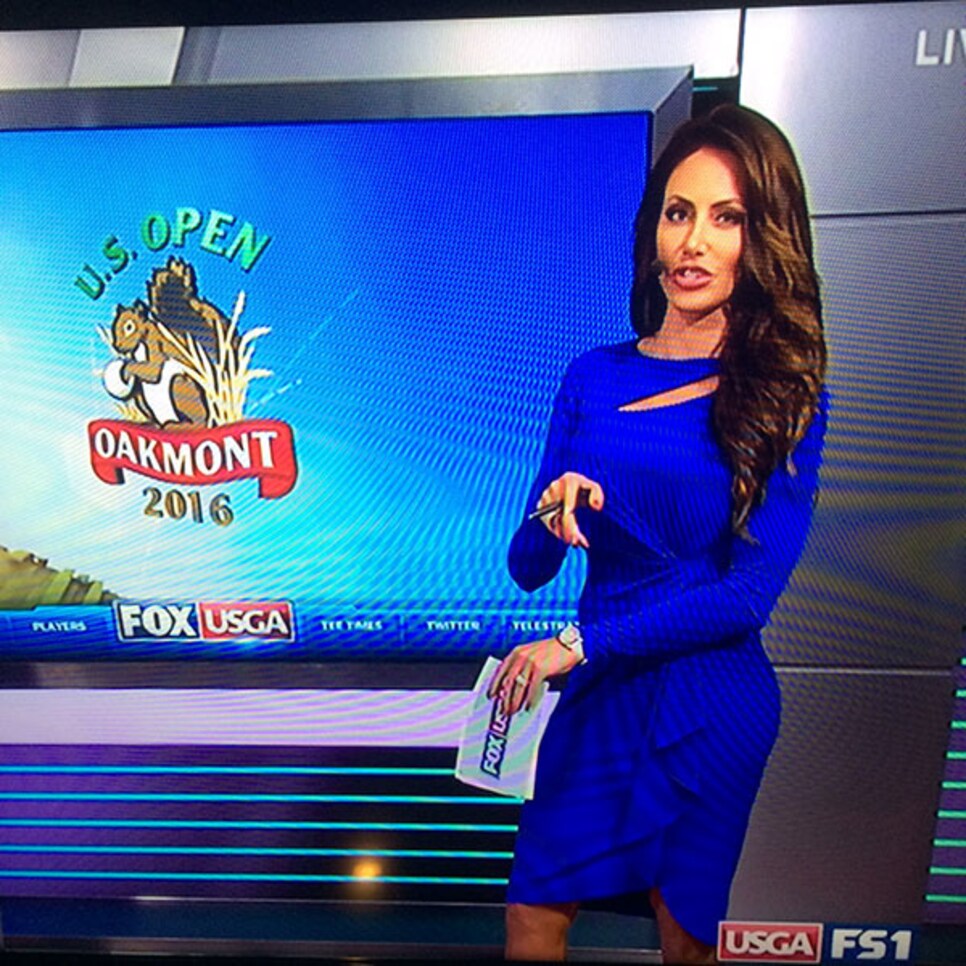 OK, I should probably stop talking now.
RANDOM QUESTIONS TO PONDER
Can we stop the Lebron-Steph debate now?
How many majors will DJ wind up with?
How many penalties have I committed without knowing?