The Loop
Dude Perfect's 'All Sports Golf Battle' is back and now features canoe paddles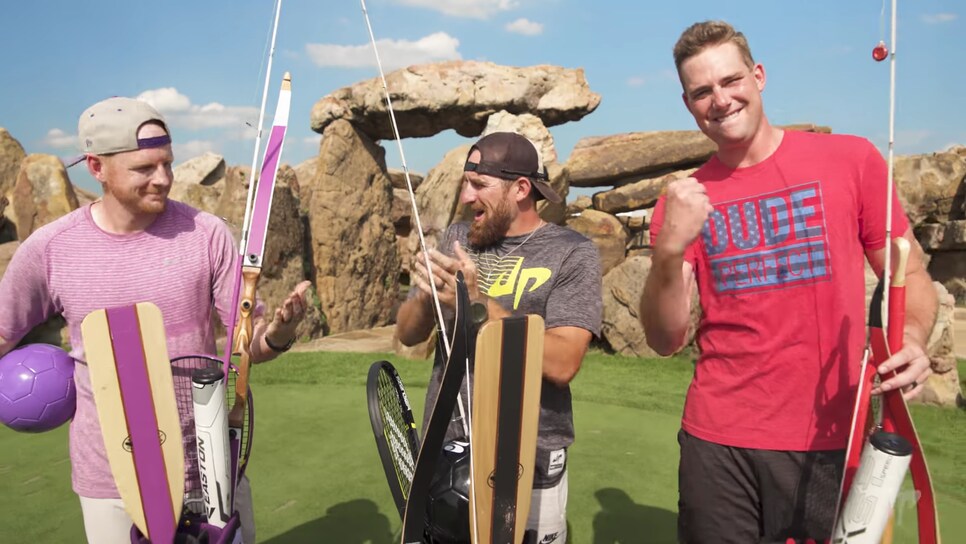 It's that time of year again. No, not the PGA Championship or football season. It's time for the third annual Dude Perfect All Sports Golf Battle, where a bunch of trick shot dweebs-turned-multi-hundred-thousandaires attempt to play an actual golf course with a dusty garage shelf's worth of random athletic implements, from a clay target thrower to a canoe paddle (this year's edition is sponsored in part by Bass Pro Shops, in case you didn't notice). Buckle up for tons of gorgeous drone shots, a soundtrack your little sister will probably like, and our specialty: Five grown men suffering on a golf course.
In the end, once the the dust settled and the tears dried, Garrett took home the ASGB championship trophy (which makes The Shiva Bowl Trophy look like a pawn shop knick knack) and, more importantly, bragging rights until next August. First, however, they'll all have to survive another holiday season of Dude Perfect x Kay Jeweler commercials, AKA the worst idea in the history of American marketing (Pepsi Blue included).
We sincerely hope someone at Kay lost their job for that.