The Loop
Dream Trip to Scotland, Part II: More Background
*I'll start posting the specific courses he played, how much golf and lodging cost by day, pictures and some of the best anecdotes starting on Tuesday, but for now, here's more background about Kevin and his preparation and planning for his dream trip to Scotland:
As you might know by now, at Christmas a few years ago, my oldest brother Mike gifted me with James Dodson's Final Rounds, a book about a father and a son, their shared passion for golf, and a magical links adventure to Scotland. The seed of my own adventure was planted.
Then, in June 2010, I played links golf with close friends at Royal Porthcawl in Wales, and Royal Dornoch in Scotland. Love at first sight, yet I instantly recognized that I didn't have the necessary shots in my bag to truly enjoy links golf. The following month I found myself melting into my couch with a 103-degree temperature as I watched Louis Oosthuizen win The Open at St. Andrews. My excitement reached fever pitch: I wrote an email to my brothers, which would alter the course of my 39th year. Who's coming with me?
Born less than a 9-iron away from the 15th hole at one of Matty G's favorite municipal courses, Coronado Muni in San Diego, my brothers placed a sawed-off 5 iron in my hands at the age of 4. To date, my best golf took place in high school, where I was a 7 handicap. Since then my game has deteriorated, and I'm now a 14. And although I enjoy the random round with friends, by living in Austria, where there's only a six-month golf season, I secretly knew that I had been cheating on my bond with the sport I love. And thus, and in preparation for this trip, I sought out a golf coach willing to revamp my game.
In October 2010, Paul Hunt, a British PGA Advanced Professional, became a key component to my journey. As I hit long, high-drawing 8 irons for a few minutes, he finally spoke: "Kevin, your grip, posture, swing and ball trajectory will not hold up under the demanding conditions of links golf. Should you be ready to make sweeping changes, I'll have you ready for Scotland in 10 months." Humbled, I said, "OK."
As a self-employed "life coach," I started practicing time-management fundamentals that I preach to my clients. I cleared my Friday afternoons for the next 10 months to work on my new swing, as well as being tutored on the fine, dying art of shots specific to true links golf.
Upon seeing our itinerary (21 rounds in 12 days), an English friend wrote, "I can sense what you have in store -- a real rite-of-passage examination of your body, golf game, and character." Determined to be ready for the physical and mental demands of such a blissfully masochistic adventure, I reconnected with yoga for four hours a week, cardiovascular fitness for two hours a week, and began following a strict gluten/lactose-free diet. Oddly enough (or not), a tango course I joined (an active alternate to, say, match.com) has inadvertently helped my golf in that among many parallels, tango also requires balance, improvisation and living in the absolute present -- the pull-hooked drive, or the failed birdie attempt are totally irrelevant to the shot I have the opportunity to create right now.
In Scotland, you can play The Open rotation, a sprinkling of established classics like Prestwick and Cruden Bay; hidden gems like Brora, plus take a trip to Islay without breaking the bank. You just need to get yourself organized early and use info-rich websites such as golfnook.com and theindependentgolfer.com.
Since September 2010, I've invested roughly 20 hours in research, phone calls, emails, etc. I've enjoyed every minute of it! I prefer being my own agent, as opposed to being gouged by a golf tour agent.
Exactly one year after writing that original email to my brothers in July 2010, I'm ready for this rite of passage. In 39 years, I've never felt better physically, mentally, emotionally or spiritually. My personal mosaic set, I'm prepared to wholeheartedly embrace the soul, tradition and history of links at the home of golf, while simultaneously basking in the hospitable spirit of the Scots, as well as meeting international characters who'll undoubtedly provide texture to our colorful trip.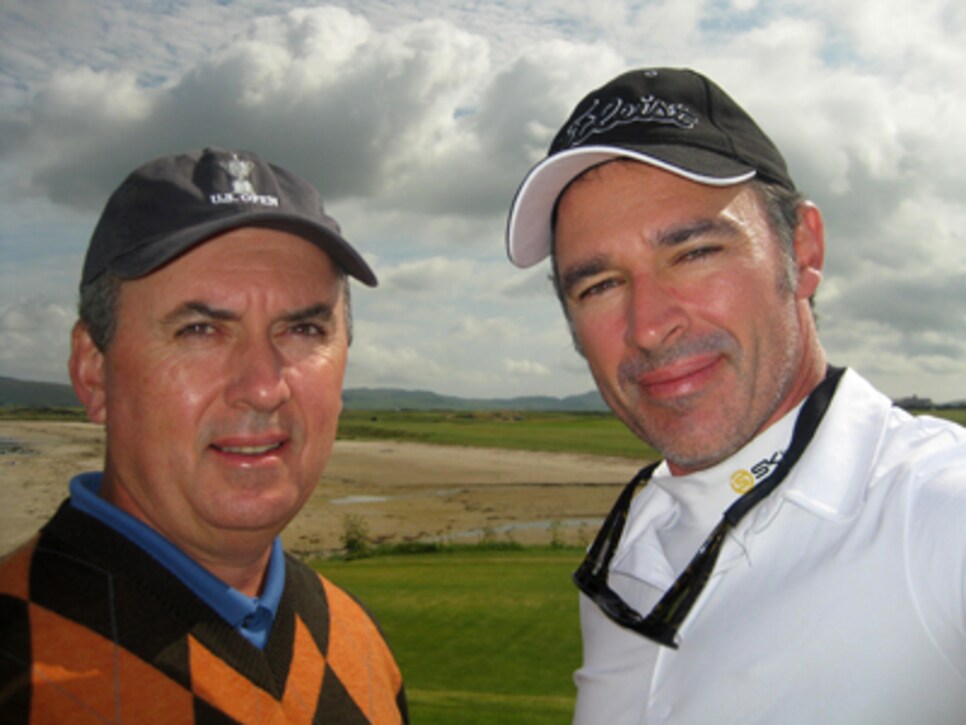 My brother Mike and I invite you to follow us over the next few weeks as we share anecdotes, images, organizational details, expenses, mistakes, highs and lows. Our intention is to help you realize that you too can craft your own magical experience in Scotland.--Kevin Daly