The Loop
Dream Trip to Scotland, Day 8: Cruden Bay
********The 195-yard fourth -- "Port Errol" -- is one of the scariest par 3s I've ever seen: ********
**********[#image: /photos/55ad7406b01eefe207f6a796]|||Cruden_4b.jpg|||***One of Matty G's readers remarked that the 455-yard fifth -- "The Buck" -- "is a wonderful driving hole." He was right, but unfortunately we needed The Force to find the fairway. ***
Here******'******s what we saw at the 10th tee: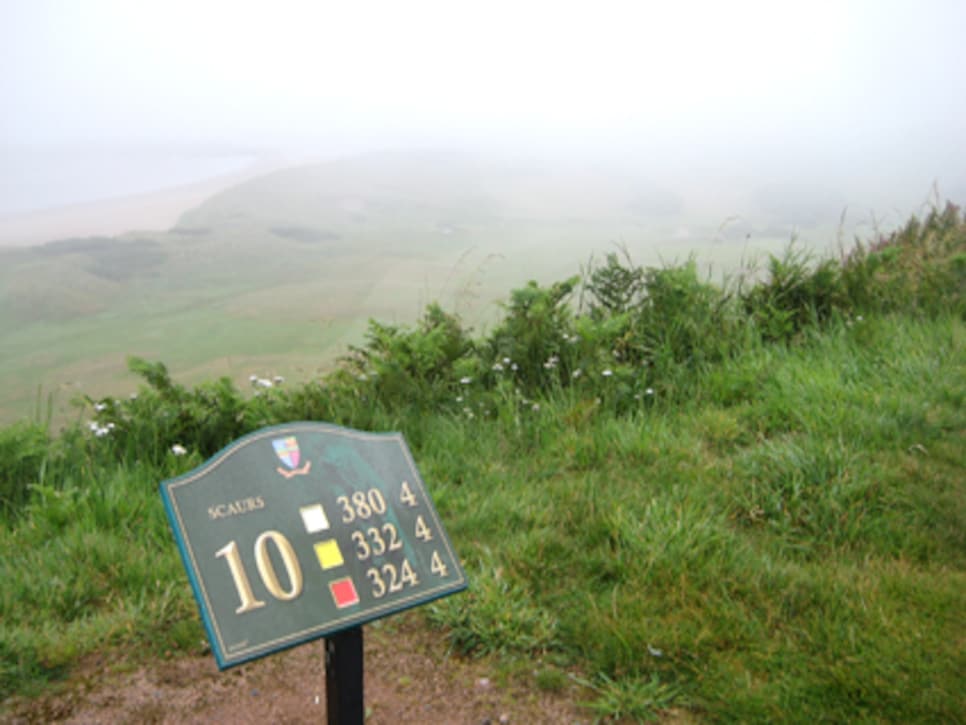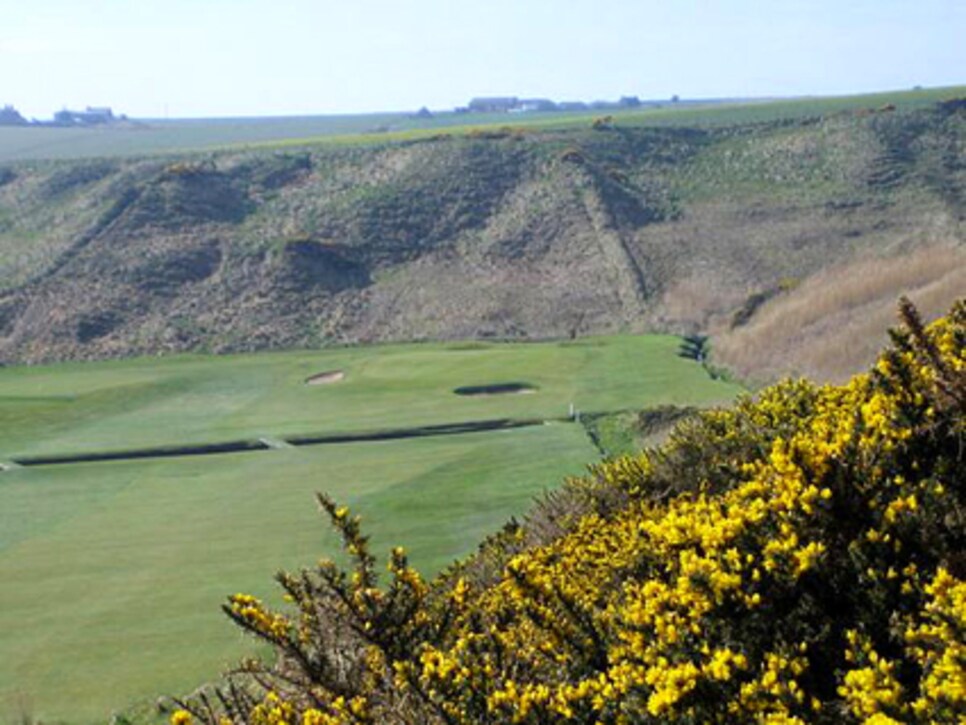 ***[#image: /photos/55ad7406b01eefe207f6a794]|||Cruden_14b.jpg|||The blind 236-yard 15th is the only dogleg par 3 I've ever played:
*********[#image: /photos/55ad7406b01eefe207f6a79a]|||Cruden_15.jpg|||Simply put: Cruden Bay is a testimony to the quality of links golf in Scotland.
At lunch ($11), looking down on the course and out to the North Sea, we watched the sun burn away the fog just in time for us to go back out and play the beautiful beast again. It was also time to call the Old Course at St. Andrews (before 2 p.m.) to enter the daily ballot for play on the following day. We were prepared to make the call three days in a row. Experts say there's a 50/50 chance of getting a tee time.
Here was my conversation with the friendly female voice of the Old Course:
"Hello, my name is Kevin Daly and I was hoping to get a tee time at the Old Course tomorrow. We have a twosome."
"What time would you like to play, Mr. Daly?"
"We start tee times at 6:30 a.m."
"Would you mind being paired with another two ball?"
"We'll play with anyone at any time."
She laughed and told me I could check online or call back at 4:30. **At which point, I said to Mike, "I've got a good feeling about this." **
(I had applied for a tee time in September 2010, but we were rejected. Click here for more details and options of getting on the Old Course.)
After the call we turned our attention back to Cruden Bay. By the time we stepped on the first tee, which was 1:30, the fog was back. Regardless, we enjoyed the course again.
At 4:30 we were standing on the 16th tee, which is where I called back to St. Andrews.
"This is Kevin Daly . . . "
"Yes Mr. Daly, we have a tee time for you at the Old Course tomorrow at 7:50 a.m. Does that suit you?" I*****'ll say.******* I made all pars at Cruden****'**s three fantastic finishing holes. Scores: Mike 76, 77; Kevin 93, 90.
After the round, and with bird in hand, (we had a tee time at the Old Course), we hopped in the car and had a sweet two-hour drive to St. Andrews. (Here's an updated map of our travels.) In addition, Paul, my swing coach, gave a ring to check up on my swing. I told him I had left it on the driving range in Vienna. We also discussed the idea of introducing the belly putter into my life. (So I have that in common with Phil Mickelson.)
__Bottom line:__I paid a deposit of $32 in January; a balance $80 at the end of June. The $112 green fee to play 36 at Cruden Bay (replay rate is free) was one of the best deals on the trip.
Total cost of day: $203Eight-day total: $2,756
(Day 9, Old Course, will post on Tuesday. Follow me on Twitter @Matt Ginella.)