News
Doug Barron ends seven years in golf's wilderness with wire-to-wire victory in Dick's Sporting Goods Open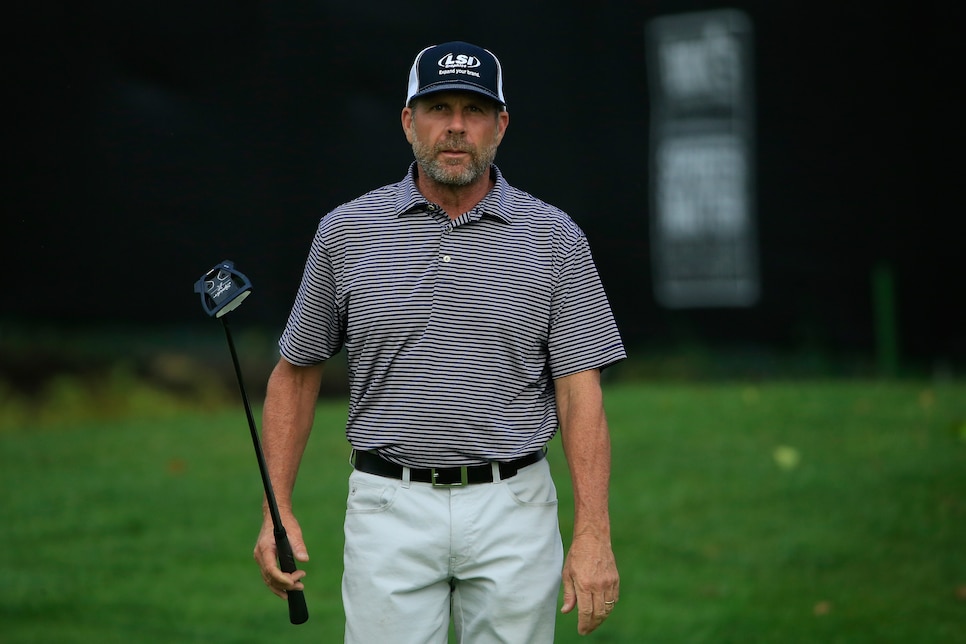 The game is not a benevolent one and would give you nothing, if it weren't for heartache. Doug Barron has experienced more than his share of it, and in the wake of his victory in the Dick's Sporting Goods Open on Sunday, the tears were a visible reminder.
"My wife, it's hard to back someone who hasn't played in seven years," he said, his emotions not enabling him to finish the sentence.
Barron, 50, is best remembered for having been the first player suspended by the PGA Tour under its anti-doping policy. In 2009, a random drug test at the St. Jude Classic revealed he had taken supplemental testosterone and a beta blocker.
He argued that he was taking them on advice of doctors, the former to address low testosterone, the latter for a heart murmur. He was suspended for a year and sued the PGA Tour. The suspension was lifted in the fall of 2010, the suit was settled and he was granted a therapeutic use exemption for testosterone.
And he never played in another PGA Tour or what then was the Web.com Tour event.
He was unable to regain his tour cards and played mini-tour golf while biding his time until his 50th birthday in July, then traveled to the United Kingdom and qualified for the Senior British Open. He tied for fifth there.
Barron got into the Dick's Sporting Goods Open through Monday qualifying, then shot 65, 68 and 66 at En-Joie Golf Club in Endicott, N.Y., to win wire to wire. He was the first Monday qualifier to win on the senior tour since Willie Wood won the same tournament in 2012.
"I think any win is a surprise," he said, "but I've been playing so good for the last year. It's just been so fun."
He and Fred Couples shared the lead when play was suspended by inclement weather. Couples had completed his round, but Barron was on the 15th hole. When play resumed, Baron holed 15-foot birdie putts at 15 and 17 and won by two.
"I had a number in my mind when I teed off today and I kind of got to that number," he said. "I know we all look at them, and it's intimidating when you see all of these Hall of Famers right behind you. And then Freddie, I hung out with him for an hour and a half in the rain delay."
What the victory means, besides a payday of $307,500, is a senior tour exemption for the rest of this year and next year.
"Well, I got a place to play right now," he said. "I've got to reset my goals a little bit. It's not the Emerald Coast Tour anymore."