News
Don't tease us unless you mean it, Alexis
After finishing 10th in the U.S. Women's Open at a treacherous Oakmont CC two weeks ago, Alexis Thompson moved on to grab an oh-so-exciting tie for second place in the LPGA Tour's unofficial fifth major, the Evian Masters. In three starts as a professional, she's earned $315,000 -- enough, if she were a tour member, to put her in 18th place on the 2010 money list, ahead of players like Se Ri Pak, Michelle Wie and Christina Kim. And oh yeah, she's 15 years old.
Let's pause for a moment to consider that last piece of information: She's 15 years old. Try as I might, I can't remember accomplishing anything more substantial than memorizing every Duran Duran lyric and successfully wallpapering my entire room with Rob Lowe posters when I was 15. At that age, you're not supposed to be strong enough to average 280 yards off the tee. You're not meant to have the wherewithal to shoot 67-67 on the weekend on one of the most difficult courses on tour. And you sure as heck shouldn't possess the nerves to hold up under pressure against the best players in the world.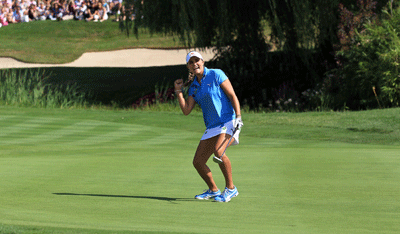 This is more than newsworthy; it's a potential new era in women's golf. It's a female Tiger in the making. It's what could turn the LPGA into women's professional tennis. We should be ranting and raving and shouting Thompson's praise from the roof tops. But like women scorned who are afraid to ever trust another lover, we're too afraid to believe this girl is actually going to deliver on her immense promise in the long term. Call it post-traumatic Wie syndrome.
Michelle Wie basically ruined everything for Alexis Thompson (I still can't bring myself to call her "Lexi," even though that's the name embossed on her golf bag and the moniker adapted by Golf Channel announcers -- perhaps I don't feel like I know her well enough, or maybe it's too strong a reminder of just how young she is). If there had been no Wie five or six years ago, Thompson would be front-page news right now. She'd be raking in unprecedented sponsorship dough and appearing on Leno and Letterman. She'd be a household name, even among households without golfers. But because Wie's young star rose and faded so quickly -- and so embarrassingly -- Thompson will likely have to win a grand slam of majors before she'll really be taken seriously. And even then, we'll still be waiting for the dreaded burnout to rear its ugly head.
After all, the similarities between the two girls are too eerie to ignore. They're both tall, long-hitting American child prodigies with overzealous parents more than willing to sacrifice their own lives to spend every waking hour promoting and furthering their daughters' golf careers. Wie wasn't home-schooled the way Thompson is, but she might as well have been; her curriculum consisted mostly of golf from a very early age. Thompson's mom isn't sitting on the grass in front of her daughter teeing up ball after ball during practice sessions the way Wie's did, but she may as well be; the girl's typical weekday includes school work the first two hours and last two hours of the day, with range practice, workouts and 18 holes of golf in between. They both have crazy game and stellar amateur records, and seem experienced beyond their years on the golf course. Then they open their mouths off the course and you realize they sound just like your 12-year-old niece. And they both turned pro before they were old enough to have a driver's license.
I so badly want to believe that Thompson won't fall into the same traps Wie did. Maybe she will be the one who ends up as the greatest thing that ever happened to women's golf, the one who wins everything, and does so with humility and grace. Perhaps even she can remain happy and healthy, and avoid the drama that inevitably comes along with being thrust into the limelight at such a young age.
But do I believe she will? Ask me in five years.