The Loop
Don't get on the wrong side of the crows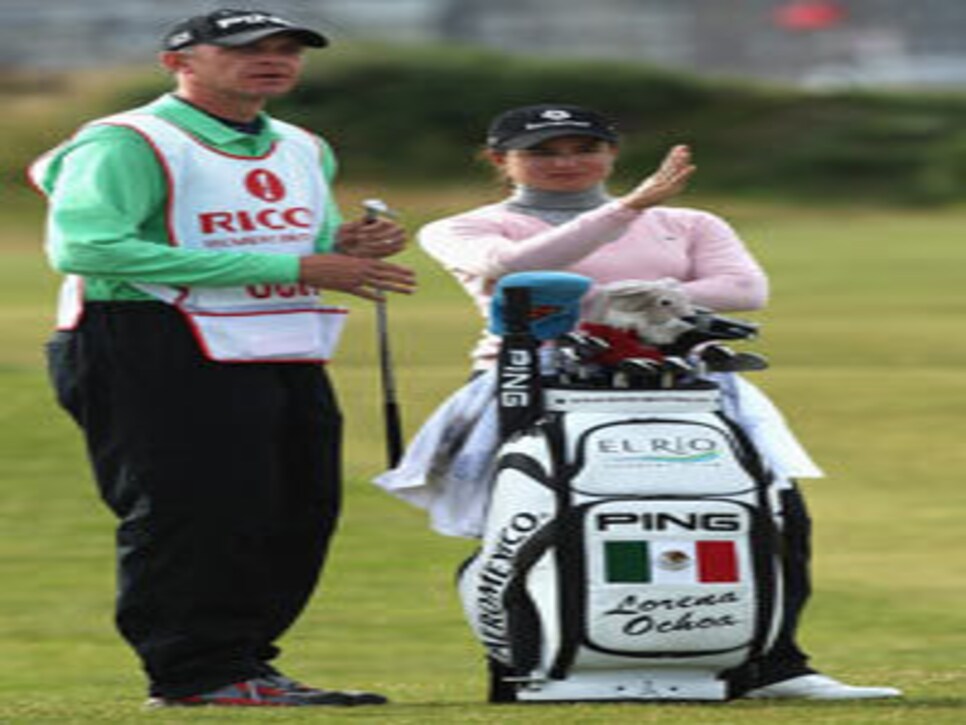 ST. ANDREWS, Scotland -- U.S. Solheim Cup team captain Betsy King is on hand to scout perspective team members as they perform under the pressure of a major championship. King will also take a bunch on her likely players to Halmstad, Sweden the Monday after the Ricoh Women's British Open for a practice session. Those going are King, assistant captain Beth Daniel, Cristie Kerr, Stacy Prammanasudh, Morgan Pressel, Brittany Lincicome, Sherri Steinhauer, Brittany Lang and Nicole Castrale. Paula Creamer, who will be on the U.S. team, has a previously scheduled commitment in Japan. The competition between Europe and the United States is Sept. 14-16 at Halmstad Golf Club.
Another team member who won't make the practice session is Juli Inkster, but King has to like what she saw from the 47-year-old Hall of Famer on Friday at the Old Course. Furious after opening with a 79 in which she used 38 putts, Inkster played the first 10 holes of the second round six under par on her way to a 68 that put her at one-over-par 147 after 36 holes and right back in the mix -- especially if the wind comes up as predicted. "I didn't come all this way to go home early," Inkster said. Asked how much easier the course played on Friday compared to Saturday she said, "About 11 strokes."
Apparently forgetting that par for the Old Course had been changed from 72 to 73 for the women, the operator of the main leader board by the first tee and 18th green had Catrin Nilsmark finishing at level-par 145 and Annika Sorenstam in at three-under-par 142. That had every one scratching their heads trying to come up with a math in which par after 36 holes can be an odd number. After some consultation the numbers were changed to 146 for Nilsmark and 143 for Sorenstam.
One of the hot rumors circulating among the caddies is that David Clarke will quit as looper for Michelle Wie after the Women's British Open. Clarke, who once worked for Justin Rose, is said to be fed up with constant second-guessing after the rounds, and the fact that during the round much of his advice is ignored. Greg Johnston, the caddie fired by Wie after last year's Women's British Open, got a $125,000 guarantee for the bag, so the pain of his dismissal was lessened significantly. Clarke is apparently not getting such a guarantee, or he wouldn't jump before he was pushed -- and the push is inevitable.
Caddies at the Old Course are nothing if not colorful. Mike McGee, Annika Sorenstam's significant other, was playing in the pro-am when he was told by his caddie he should hit "a wee 6-iron." When McGee said, "It looks like a full 6 to me," the caddie replied: "Aye, I just say 'wee' for effect." Speaking of caddies, about 20 LPGA bag-toters met at the Jigger Inn, a royal and ancient pub off the 17th fairway, to hoist a few after which they traipsed out onto the course to take group photos in the Road Hole bunker and on the Swilken bridge.
Sophie Gustafson has the unique distinction of being the only person to defend a major championship without having won a major championship. She was the defending champion in 2001, the first year the Women's British Open was an LPGA major. She has also been runner-up in the last two.
Let's talk about the crows at St. Andrews. They are the size of small dogs and not only do they only reluctantly get out of your way but they give you a dirty look when the amble off.
(Photo: David Cannon/Getty Images)