The Loop
Did Jordan Spieth choke at St. Andrews? Absolutely not
There's an epidemic in sports. And it needs to be stopped.
In the past decade, the utilization of "choking"  has more and more found its way into our collective narrative. Historically, choking signified a moment where defeat was snatched from the jaws of victory. Certain indelible moments were associated with this concept: Bill Buckner in the World Series, Nick Anderson at the NBA Finals, General Cornwallis during the American Revolution. (Sorry, have to prove to my parents that my History minor wasn't a big waste of time.)
Alas, "choking" has now become synonymous with "losing." The two are not necessarily interchangeable.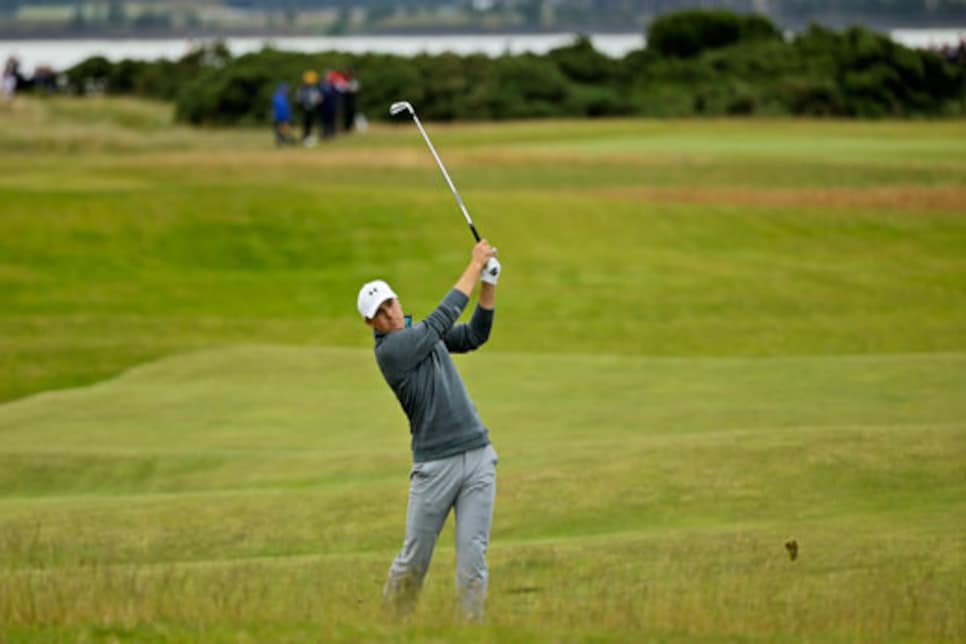 Winning two majors and finishing in the top five of another is the type of resume that wins one Player of the Year honors. Hell, that vita makes a person's career.
Instead of celebrating this epic run, however, a prominent storyline from St. Andrews became, "Did Spieth choke away his chance at history?"
Forget that Spieth hurdled unfathomable playing conditions in his drawn-out second round, rebounded from a four-putt on the eighth hole with back-to-back birdies or dropped a bomb on the 16th to put himself in contention. To many, Spieth's bogey on the Road Hole -- only the hardest hole in golf -- and his performance on No. 18 - a hooked drive and an approach that sucked off the green -- illustrated that the young gun withered in the spotlight.
Make no mistake, Spieth will have to serve penance, and make peace, with his endeavor into the Valley of Sin. Yet, despite these tribulations, he still had an opportunity to tie for the lead. And it came damn close to going in.
One could argue that part of this conversation stems from the outcome of Monday's playoff. No offense to Zach Johnson -- which means offense will probably be taken -- but, after the drama that unfolded over the last two rounds, almost anyone not named Jordan Spieth or Paul Dunne raising the claret jug would have seemed like a letdown. Moreover, Spieth is not immune to bouts of shakiness, with his double-bogey on the 71st hole of the U.S. Open evidence to that sentiment.
Conversely, "choking" has mutated into a cancerous beast, one that has no bias in its havoc. Spieth is merely the latest victim. LeBron James submitted one of the best Finals performances in NBA history and has two rings under his belt, yet continues to face questions about falling short. The Kentucky Wildcats won 38 straight games this winter, but because they didn't capture the title, they are considered botch artists. The Seattle Seahawks...OK, bad example. But think you get the picture.
It's easy to chalk this up to the advent of social media, an uncontrolled environment whose cadence is becoming more malicious by the day, and this aspect does factor into the equation. But the discourse being set by national media entities isn't helping, as the hyperbole and faux-fluster that's become omnipresent on sports shows is fueling this poison.
For whatever reason, we like to tear down the famous, to bring them down to our level. Perhaps it's insecurity on our part, or maybe we've just become more mean-spirited as a society.
Whatever the reason, know this: the 2015 British Open was filled with storylines. "Did Jordan Spieth choke?" was not one of them.