Play
Destination Guide: Where To Eat In Atlanta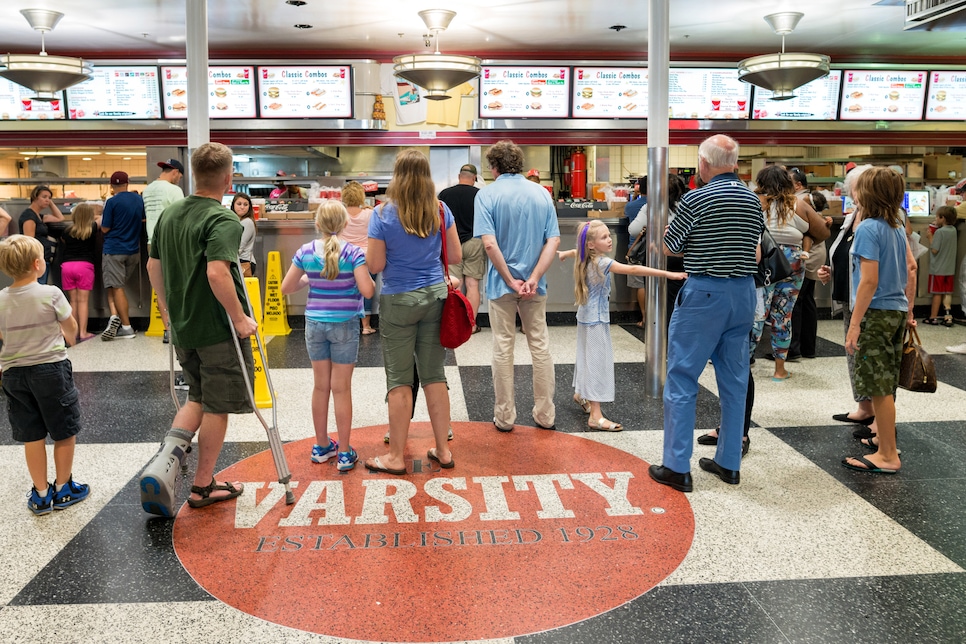 Like any great metropolis, Atlanta has a mind-boggling number of restaurants to choose from in every part of town. Logistically, it makes the most sense to dine near your hotel, since Atlanta traffic can be a challenge. Neighborhoods to focus on are Buckhead and Oakhurst/Decatur for their abundance of great restaurants and their proximity to our highlighted courses.
On steak night, head to Buckhead, where you'll find a number of classic steakhouses with an old-school clubby feel. Bones is an Atlanta institution in the heart of Buckhead, and many say the place to go for perfectly cooked sirloins, not to mention the truffled mashed potatoes. Hal's "The Steakhouse" is another oldie but goodie in the neighborhood—it even allows cigar smoking in the basement. It has a New Orleans flavor, with dishes like shrimp remoulade and crawfish tails, and a lively piano bar.
King & Duke has a slight Southern accent with offerings like pimiento cheese hushpuppies and deviled eggs, but the real focus is on American seasonal cuisine. South City Kitchen, which has locations in Midtown and Vinings as well, will satisfy any craving you might have for Southern comfort food. The traditional buttermilk fried chicken is reason enough to go, but don't miss the fried green tomatoes, shrimp and grits, pork chops and banana pudding. (southcitykitchen.com)
South of Buckhead and just west of downtown you'll find The Optimist. This local favorite is noteworthy not only for its outdoor patio putting green, live music and lounge chairs but also for its excellent seafood and raw bar, which features an ever-changing roster of bivalves, from PEI to Alabama. It's a perfect post-round stop, but it gets busy so go early.
On the east side of town (perfect if you're on your way to East Lake or Charlie Yates for golf), Oakhurst Village is a bustling neighborhood in Decatur with an active central square and numerous bars and restaurants. The Universal Joint Bar, dubbed U-Joint by locals, is a favorite neighborhood hangout. It has a large patio and serves a casual mix of burgers, salads and quesadillas. U-Joint has a golf connection too: the Charlie Harrison Room features some of the Georgia Golf Hall of Famer's memorabilia (he is said to have beaten his hero Ben Hogan in a practice round at Augusta in 1960). U-Joint will go onsite at the Tour Championship this year as part of Taste of Atlanta. Just across the street is Steinbeck's Ale House, a cozy, casual gastropub with an esoteric beer list (alcohol levels top 10.5% in some of these brews) and one of the best burgers in Atlanta. The menu is ever-changing, depending on what's in season, but the truffled mac and cheese, kale salad, and steak tartare are staples.
After all the rich food, sometimes you just need a hot dog. And this being Atlanta, you are going to have to make a stop at The Varsity, which has been serving classic chili cheese dogs, burgers and shakes since 1928. With seven locations throughout the city, and drive-thru service, there are no excuses.