The Loop
Derek Ernst's less-traveled road to PGA Tour success
Derek Ernst didn't come from nowhere -- it just appeared that way because of whom he beat and how he won the Wells Fargo Championship. The unheralded 22-year-old rookie from Northern California emerged from a pack of faltering world-class golfers that included Phil Mickelson, Lee Westwood, Rory McIlroy and childhood idol Nick Watney before winning a playoff against David Lynn, runner-up in last year's PGA Championship.
Ernst got in as the fourth alternate at Wells Fargo and ranked No. 1,207 in the world when he arrived in Charlotte. He exited Quail Hollow with a spot in this week's Players and next year's Masters -- but that's not the most impressive part of his career. Not to Dwaine Knight, his college coach at the University of Nevada-Las Vegas.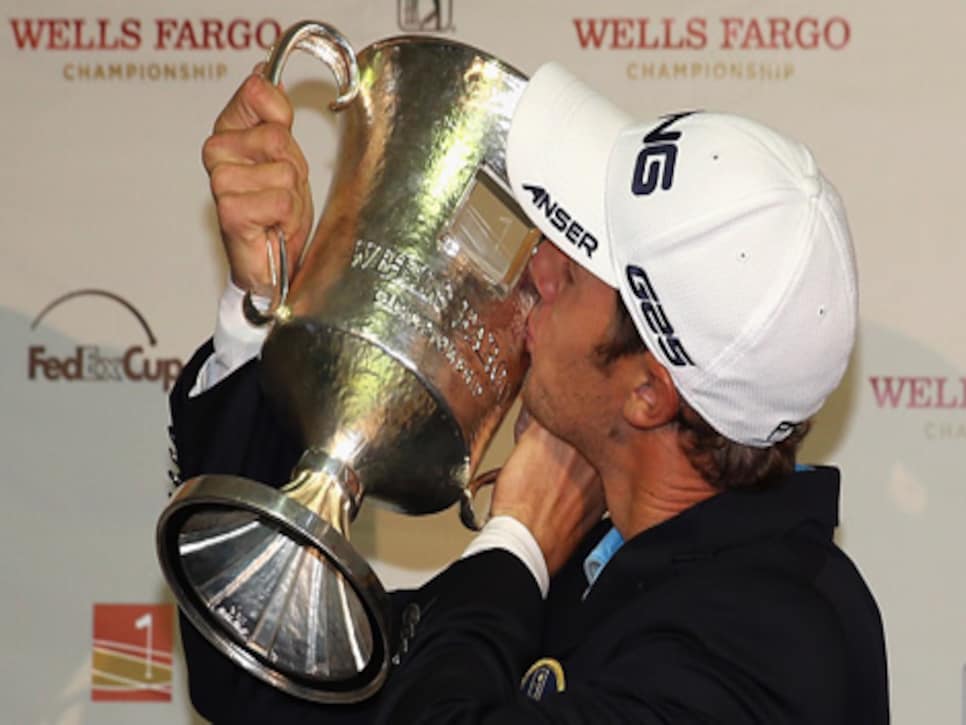 To Knight, it was Ernst going through four stages of last year's Q school with a college degree. "It's interesting they don't get that shot any more," said Knight, referring to the emphasis put on the Web.com Tour and what that means to 2012 graduates like Ernst.
There is also a decorated amateur record that includes a runner-up to Corbin Mills in 37 holes of the 2011 U.S. Public Links and a victory over Billy Horschel in the opening round of the 2007 U.S. Amateur at The Olympic Club in San Francisco as a 17-year-old. But Ernst flew under the radar because his parents didn't have the resources to play an AJGA schedule.
"We're just humble, middle-class people," said his father, Mark, a risk manager for Financial Pacific Insurance. "He didn't jump on a plane [to play the AJGA] because we didn't have the $30-$40 grand, but I always felt you have to learn to win at whatever level you're on. I know they're all working guys [in the Northern California GA], but they're all 2-handicaps."
As a boy, Ernst played NCGA events like the Napa City Amateur and the Salinas Valley Amateur. It wasn't until college that he played events like the Sunnehanna and the Pacific Coast Amateur, learning from an instructor at a driving range near his home in Clovis called "Hank's Swank Par-3 Golf Course and Driving Range." His caddie at Quail Hollow, Aaron Terry, was his instructor.
Terry's deal was to charge Ernst minimum wage. He also worked with former Web.com Tour player Tommy Masters, who was Watney's coach before Watney moved over to Butch Harmon. But the person who helped him break through the mental barrier of missed cuts just came into his life last month.
That would be former LPGA player Susie Meyers at Ventana Canyon in Tucson. Meyers has been curator of Michael Thompson's career and was given props for Thompson's win at this year's Honda Classic. Ernst was on the alternate list that week, but when he didn't make the field drove to TPC Sawgrass for practice rounds, even though he was long way from qualifying for the Players.
So this is definitely not a kid from nowhere. He knew where he was going all along.