Takeaways
Jon Rahm leads loaded board, big names exit and tour monitoring potential hurricane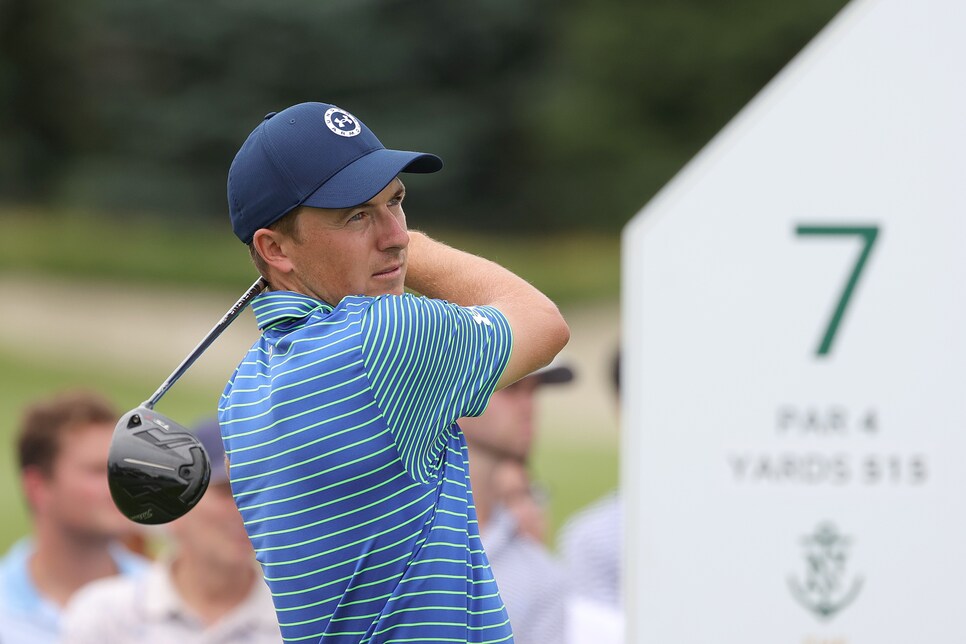 There's a tendency to digest the spectacle of professional golf not for what it is but for what it means. Fans, media, even players are prone to this perspective, and the why is understandable. With so many events on the calendar—50 in this superseason—it's somewhat irrational to think that each round in each event, in a vacuum, matters. So to make it matter we view it through a broader prism for added significance. This is especially true in a Ryder Cup season, in which every good performance by an American or European is correlated to the biennial match.
So long as it's not forced, this is not necessarily a bad thing. It can make for fun discussions and enriched storylines. In that same breath, sometimes we are so busy playing the long game we lose sight of what's in front of us. Which is a long-winded way of saying this: Friday at the Northern Trust was a damn fine display of golf.
Jordan Spieth and Xander Schauffele tied Liberty National's course record with a pair of 62s. Spieth did so off back-to-back eagle hole-outs, Schauffele with two eagles of his own thanks to his stone-cold tee-to-green game. Six players, including Brooks Koepka and Tony Finau, weren't far behind with 64s. Jon Rahm continued to make the case that he's the best golfer in the world and no one else is close. First-round co-leader Justin Thomas looked as lost as a pro can look on his first nine (three-over 38) then bounced back with a finish (five under on his last five holes) signalling that while even the best can have bad days they remain the best for a reason. There was even an amusing viral moment thanks to Hideki Matsuyama, whose tee ball, somehow, found its way into a spectator's shirt.
Because it's the first leg of the playoffs, this is not a day consumed as its own entity. One of those 64s belonged to Keith Mitchell, who started the week on the outside looking in at 101st in the FedEx Cup standings and now has a chance not just to advance to next week but to earn a trip to East Lake. And because it is a Ryder Cup year, we see Finau solidifying his case for a captain's pick.
That is all well and good and true. What's more, what happens on Friday can be easily forgotten thanks to Saturday and Sunday. Still, Friday was a reminder that Fridays, or any day, no matter the event, can matter on their own.
Three things you missed from Day 2 at the Northern Trust.
PGA Tour monitoring storm
The PGA Tour announced Friday afternoon that play will continue at the Northern Trust Saturday as the East Coast braces for a potential hurricane. Sunday, however, may be a different story.
The National Hurricane Center issued a hurricane watch for New England Friday morning, with Tropical Storm Henri likely to develop into a hurricane. "Strengthening is forecast during the next couple of days, and Henri is expected to become a hurricane by Saturday and be at or near hurricane strength when it makes landfall in southern New England," the center said in a statement.
For now, the tour doesn't expect this week's event at Liberty National in Jersey City, N.J. to be impacted on Saturday, yet in its statement said it is possible Sunday's final round may be moved to Monday.
"We are closely monitoring Tropical Storm Henri and its potential impacts on the Northern Trust," the tour said in a statement. "There is no impact from the storm on Saturday's forecast, and therefore play will be as scheduled in twosomes from the 1st tee with a 6 pm scheduled local finish time. We will evaluate the track of Henri throughout the day tomorrow and expect to issue the plan and schedule for the final round by late afternoon Saturday. Henri is not currently predicted to have any effect on the forecast for Monday. Depending on the forecasted track of the storm, it is possible that the final round may be rescheduled for Monday."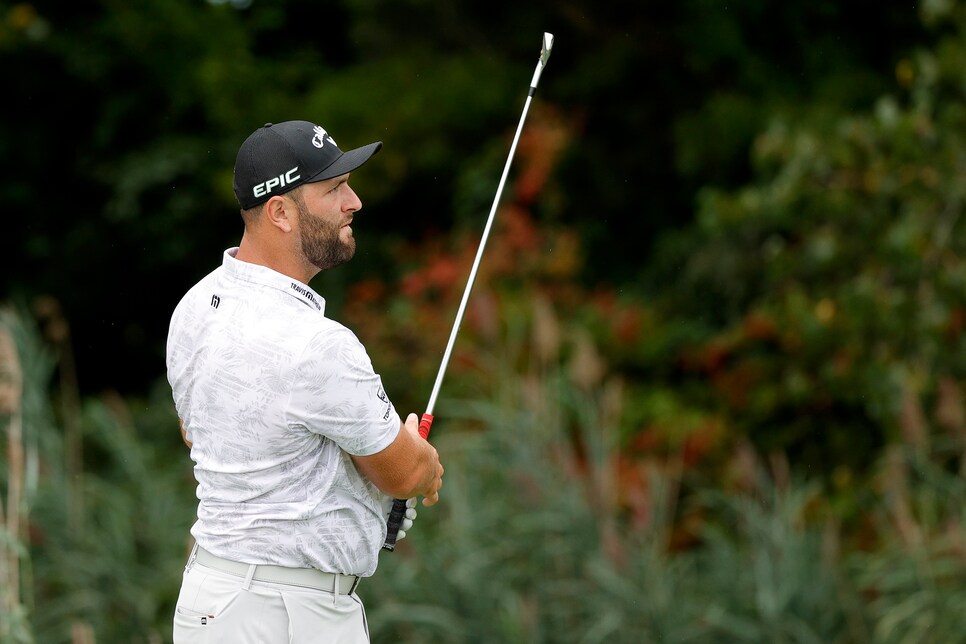 Jon Rahm watches his shot from the 16th tee during the second round of the Northern Trust.
Sarah Stier
Some of the forecasts call for winds up to 75 mph, five inches of rainfall and a storm surge of three-to-five feet come Monday. The storm-force winds could reach the area as soon as late Saturday.
The World No. 1's worst finish in his last five starts is a T-8 at the PGA Championship. Well, technically it's a WD at the Memorial, but now is not the time for semantics. What's important is that Rahm remains on his heater, owning a one-shot lead at the Northern Trust thanks to a bogey-free trek through 36 holes.
"I would say the way I've kept my composure. I definitely, believe it or not, hit my fair share of bad shots today," Rahm (12 under) said afterwards. "Much like yesterday, I was able to save a couple of good ones. Just accepting that I can miss shots, I guess that's the best way to explain it, is what happens here. You get a little too greedy, miss the green, and you can have a tough up-and-down, and I've been able to save those so far."
But chasing behind him are the likes of Thomas, Koepka, Finau, Schauffele and Spieth. Perhaps the most surprising name in that bunch is Finau, who is coming off a very so-so summer compared to his lights-out start to the year.
"I feel like I've played some nice golf," Finau said. "My last couple tournaments, the results haven't shown I've played great, but I've played some really clean golf. I felt like I was really close to putting it all together, and so far this week, after 36 holes, I've kind of done that. I've played some clean golf and more putts have dropped, so you kind of find yourself at the top of the leaderboard when that happens."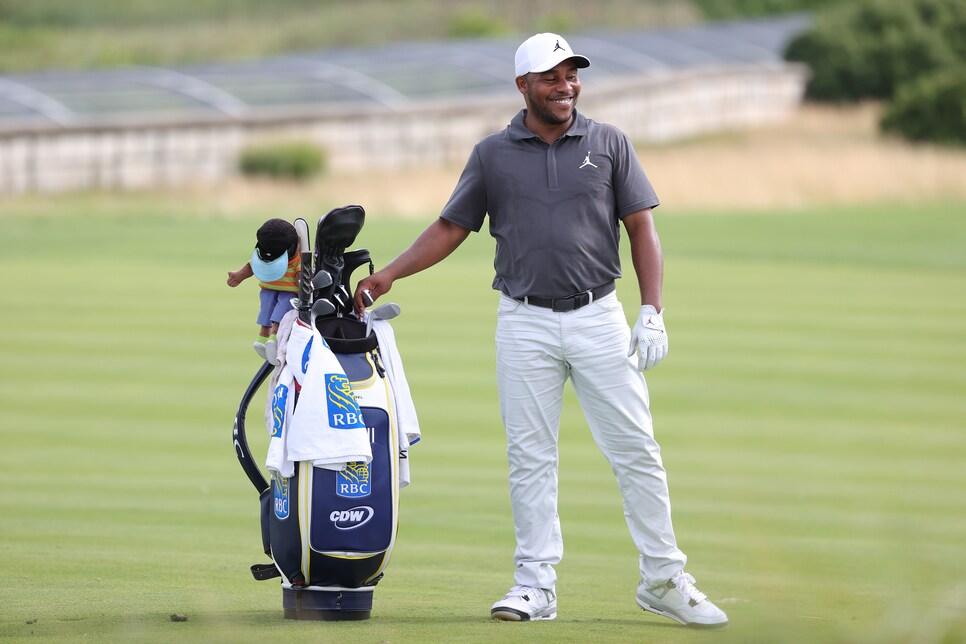 Harold Varner III stands with his bag on the 18th hole during the second round of the Northern Trust.
Stacy Revere
Also on the fringe: Bryson DeChambeau, whose second-round 65 has him six back of the lead. Other notable names in the mix include Kevin Na at eight under with Victor Hovland and Patrick Cantlay at seven.
Since it is the postseason, there is the proverbial game-within-the-game at Liberty National, with the Northern Trust board sharing importance with the FEC standings. Through two days in northern Jersey, Mitchell has enjoyed the biggest jump in standings, vaulting up 64 projected spots in his current position (T-3). Behind him is Tom Hoge, who leaped from 108th to 62nd thanks to a 69-64 start. Other notable moves up the FEC board are Alex Noren (T-6, up to 52nd from 91st), Harold Varner III (also T-6, 72nd to 44th) and Robert Streb (T-12, 68th to 51st).
Unfortunately there's another side to that coin. Matt Fitzpatrick entered the week 60th in the FEC standings, but after missing the cut stands in 72nd. He's joined by fellow Englishman Tyrrell Hatton, whose quick exit dropped him from 63rd to 73rd. Matthew Wolff's eight-over score transferred him from 59th to the current cut-off man at 70th.
While there fates are not sealed, others saw their seasons ended. Former major winners Adam Scott, Bubba Watson and Jason Day will end their campaigns at Liberty National. Scott's is a particularly cruel fate, given he had a chance to win last week's Wyndham Championship that would have guaranteed passage to the second leg of the postseason.