These kids are good
This round with 14 birdies might be the best all-time by a junior golfer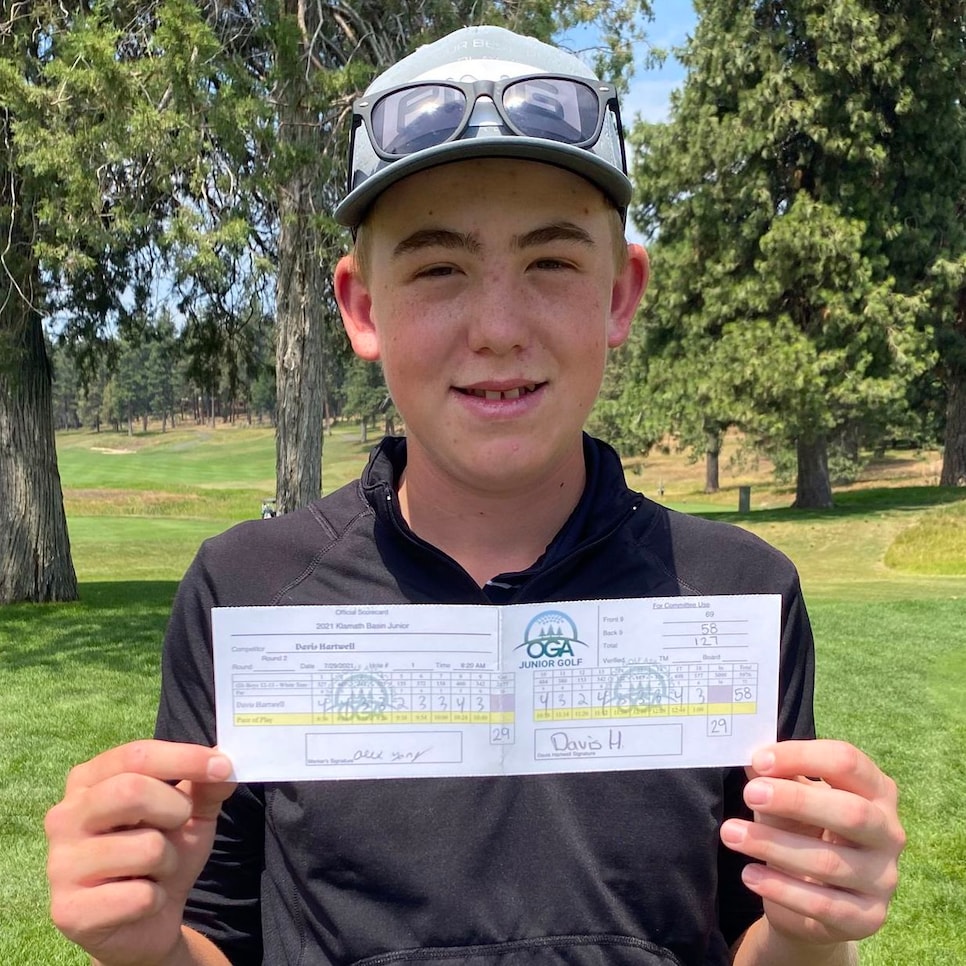 On Thursday, mini-tour pro golfer Jhared Hack shot a 15-under-par 57 on a 6,300-yard muni in Las Vegas with his buddies. An incredible round, obviously. And it might not have been the best scorecard in America for the day.
Seven hundred miles to the northwest in Oregon, Davis Hartwell had his own extraordinary day, and he's only 13 years old. Playing in a junior event sanctioned by the Oregon Golf Association, Hartwell drained 14 birdies and didn't suffer a bogey in shooting 14-under 58 at the Running Y Ranch Resort in Klamath Falls.
Fourteen birdies. Think about how good, how precise a round has to be to achieve that. In the 11 scores of 59 shot on the PGA Tour, along with Jim Furyk's all-time low of 58, none of those players recorded 14 birdies in their round. Adam Hadwin and Chip Beck had the most with 13. Annika Sorenstam holds the top mark on the LPGA, with 13 in her all-time record round of 59.
And even if Running Y Ranch won't be confused with Winged Foot or Oakmont, Hartwell was playing the whites at the very reasonable length—for a 13-year-old— of 5,976 yards.
Hartwell is a native of Klamath Falls and Running Y is his home course. His previous best score from the whites was a very impressive 64, but this was an otherworldly effort.
"I was shaking and in shock, I still am," Harwell told the Medford Mail Tribune.
An upcoming eighth-grader this fall, Hartwell made seven birdies on each side of the course. He opened with a par and then reeled off five straight birdies from Nos. 2-6. He parred the seventh and went on another five-birdie run from the eighth though 12th. Hartwell made another birdie at the 14th and finished the round with three straight birdies.
"I was just kind of focused on the next hole, the next drive," Hartwell told the Mail Tribune. "I was working on my driver all day because it's a little inaccurate right now. I was feeling confident with the putter, and I just kept making birdies."
The 57 was 11 shots better than Hartwell's opening score in the 36-hole event, and he won by a whopping 16 strokes. It was his second junior victory in the span of a couple of days.
Davis Hartwell. We'd probably all do well to remember the name.