The Loop
Davies truly is 'The Package'
He has just one semester left to play in college golf, but on a cold February morning in Johnson City, Tenn., Rhys Davies really isn't thinking about that right now. The focus is on the here and now, the next event on the East Tennessee State schedule, the Puerto Rico Invitational in two weeks. After that, it will turn to the Seminole Intercollegiate, set for the first week of March.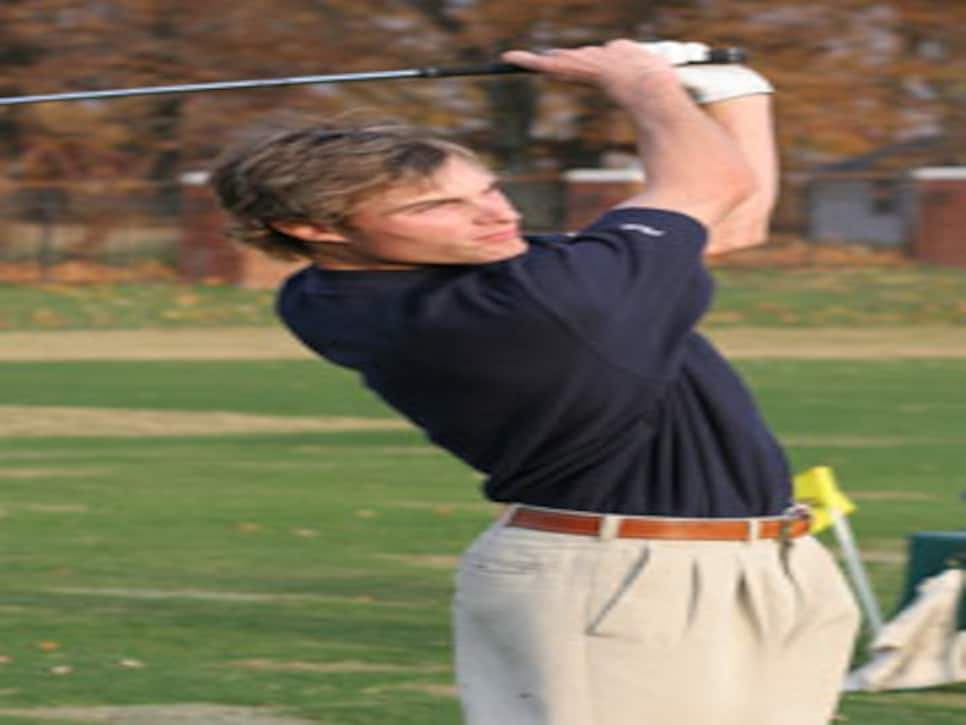 "I've had a great time here and really enjoyed playing on the team with coach [Fred] Warren and the other boys," Davies says. "In that respect it will be a little sad to leave. But there's still a lot to play for between now and then."
Indeed, having earned first-team All-American honors the past two seasons and cemented his place as the best golfer in school history, Davies has the opportunity this spring to turn a great college career (71.28 career average; 25 top-10 finishes) into a historic one, particularly if he were to make a run at the NCAA title come June.
Again, though, that's getting ahead of himself.
Interestingly enough, if not for a broken thumb Davies suffered before a junior golf tournament in his native Wales, the college golf world might never have heard of the well-spoken, 6-foot-1 lad with the wavy brown locks. As a teenager, Davies was just as proficient on a cricket pitch as he was on the links, an impressive statement when you consider he won the British Boys golf championship over Pablo Martin in 2003.
"I just sort of had a gut feeling," Davies explains on why he ultimately chose golf. That and the fact that the way he actually broke his thumb was during a cricket practice. So it was that he came to the U.S. on a golf scholarship, picking East Tennessee over Oklahoma State.
Upon arriving stateside, the reputation that proceeded Davies emphasized a skill seemingly rare in young golfers: an impeccable short game. Of course, you need to have some talent with your wedge and putter when you struggle as he did hitting fairways and greens.
"He was an inconsistent ball striker. I think he'll even admit that," Warren says. "But he's not afraid of hard work. He's a wonderful competitor and he set out to improve his game tee to green."
In Davies' mind, there wasn't really much of an alternative. "I had to improve in order to give myself chances to make birdies," he says, explaining his dogged pursuit of grooving a repeatable swing he wouldn't have to fight on a regular basis. "I was always capable of holing putts. But I wasn't always capable of knocking it close and giving myself a chance."
While refining his game physically through repeated visits to the driving range, Davies had to do the same mentally as he adapted to American-style courses and the depth of competition among the college ranks. The turning point in Davies' maturation came in the summer 2004 when he was selected to play in the Palmer Cup, an annual team competition between collegians from the U.S. and Europe, after a freshman season that had both ups and downs. Competing against some of the top amateurs in the world, Davies won both his singles' matches and posted a 3-1 record at Ballybunion GC while the Europeans sprinted off with the overall victory.
"When I went to that event," Davies says, "and competed against those boys and had a lot of success against them, I think that definitely gave me a boost to say 'I'm good enough to play at this level,' and I progressed from there."
In part, too, Davies very much enjoyed college life and as a B student on track to graduate with a business management degree this spring, the challenges of balancing athletics and academics motivated him. "The professional game will be around a long time," he says. "I'm still only 21. I am eager to get out there and show what I can do, but at the same time I'm patient enough to realize there is plenty of time ahead of me."
Warren believes for as good a golfer as Davies is, he's a better person. It's why the nickname "The Package" is so fitting.
"I spoke at a Boy Scout banquet once and was talking [to the team] about what I was going to say," Warren recalls. "And he helped me with the opening lines. He said 'Coach, this is a good one. Here's how I would do this.' And I used the line. I thought this guy is sharp."
Warren, too, appreciates the impact Davies has had on the ETSU program, one that was a perennial top-15 school in the 1990s but was starting to lose its way until the Welshman arrived. "We've got a solid team, and I think we can surprise a lot of people this spring," notes Davies, the inflection in his voice providing the lone hint of melancholy about any sand slipping through the college hour glass.
There will be time, though, for reflection on a college career well played. For now, there's still a tournament to focus on. And it's time for Rhys Davies to go back to work.