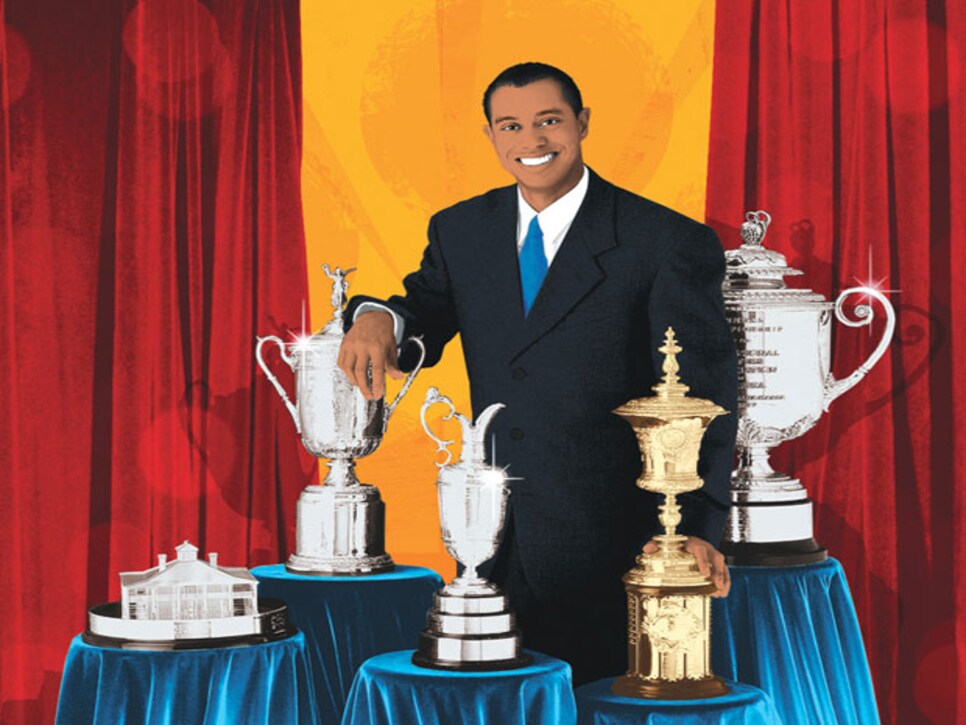 Tiger Woods' January 2001 cover shot with (from left) trophies from the Masters, U.S. Open, British Open, U.S. Amateur and the PGA.
A random "who would have thought?" sports-trivia fact before I get to the heart of my column: The world's oldest golf grounds (St. Andrews) and tennis court (Falkland Palace) are both in the Kingdom of Fife, Scotland, only 20 miles apart. Yes, the fully functioning court at Falkland is of the "real tennis" (aka, court tennis) variety, but the sport of court tennis, circa 1539, is far more similar to today's game than mid-16th-century golf--played along the St. Andrews coastline with wooden balls and wooden clubs without any formalized rules or golf course--is to what we see played on the Old Course today. (Sorry, I've been wanting to get this on paper for a while, but I couldn't make a full column out of it.)
Now that I've lobbed that bit of information out for your consideration and by doing so have exhibited a bit of my odd nature, I'll move on to a contemporary debate point, shared by golf and tennis: the importance of four annual competitions (the majors) as a measure of greatness--and one's legacy.
Here's my litmus test for male professional golfers who were in their prime in 1934 and after: To be considered one of the true, without-a-doubt greats, the player must have won, during his career, at least three of the four legs of the modern professional Grand Slam: the Masters, the U.S. Open, the (British) Open and the (U.S.) PGA Championship. I place more weight on winning different majors than just the total number. Why? Because, thankfully, golf (and tennis) stage the Big Four on venues that require different talents and expose different weaknesses in one's game. The Masters is a far different test than the British Open, just as the red-clay courts of the French Open are very unlike the grass courts of Wimbledon.
My golf-legacy list is short (only 11 names as of this writing).
Five men have won all four of the major professional titles in their career: Gene Sarazen, Ben Hogan, Gary Player, Jack Nicklaus and Tiger Woods. (I'm giving Gene credit even though I doubt, when he won the 1935 Augusta National Invitation Tournament, that he exclaimed, "I've won the modern career Grand Slam!")
Six male golfers have won three of the four professional majors since the inception of the Masters in 1934: Byron Nelson, Sam Snead, Arnold Palmer, Lee Trevino, Tom Watson and Raymond Floyd. There are seven active players (not counting those who play mostly on the senior circuit) who have won two of the four major titles: Angel Cabrera (Masters and U.S. Open), Ernie Els (U.S. and British Open), Rory McIlroy (U.S. Open and PGA), Vijay Singh and Phil Mickelson (Masters and PGA), and Padraig Harrington and John Daly (British Open and PGA).
Before you think I'm impugning any of the great players who are members--present and future--of the World Golf Hall of Fame, that's not my intent. There have been plenty of excellent golfers--unquestioned Hall of Famers--who have won two legs of the career Grand Slam (and some who have won only one of the four; and even a few who have never won a major). But I'm not going to budge off of my opinion that one needs to win three of the four to be a legacy player. Which means--to put it to the harsh barroom debate--I'm putting Floyd ahead of greats like Nick Faldo (three Masters, three British Opens), Greg Norman (two British Opens), Hale Irwin (three U.S. Opens), Johnny Miller (one U.S. and one British Open), Billy Casper (two U.S. Opens, one Masters) and Seve Ballesteros (two Masters, three British Opens), just to name a few. Lists are subjective, whether they deal with presidents, athletes or colleges--and they can drive some folks wild. But what fun.
P.S.: I would have included the women's game in this legacy debate, but the fact that there have been eight tournaments deemed "majors" by the LPGA at one time or another over the past 50 years made comparisons tough. At least for me.